2024 GMC Sierra EV Denali Lands with 400 mile range, 10 foot bed storage
GMC is adding Denali luxury to the electric truck market, starting with the 2024 Sierra EV Denali. The Ultium-powered pickup will come with an estimated range of 400 miles, the ability to power a home with a charged battery, and a 16.8-inch digital touchscreen display. Like the Hummer, the first model will be the most expensive and will carry the Edition 1 badge.
Building a truck like the Sierra in the electric age was a challenge, as pickup truck hallmarks don't usually work well when it comes to efficiency.
"GMC started out as a truck brand. It's always been about trucks, so we knew we had to have a vertical, upright profile, but still meet all the elements of an electric vehicle, in a traditional cabin, all the things that make a truck, but still meet our aerodynamic air performance," said Exterior -Design manager David Gifford news week.
"So we know that historically, grills have been used for cooling in a gas engine. We knew we had to interpret it differently in that regard. The entire front opens, giving you that easy loading access [the eTrunk]. We also have a lighted element around it. They all animate as you approach and move away from the vehicle.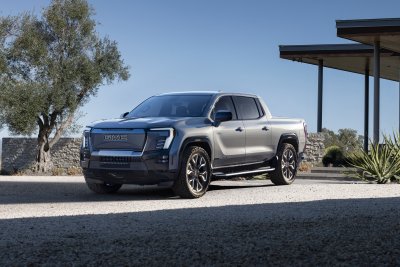 The 2024 GMC Sierra EV has a Max Power Mode feature, like the GMC Hummer EV Watts To Freedom feature, which delivers 754 horsepower (hp) and 785 pound-feet (lb-ft) of torque through a motor at each end. GMC would not confirm the Sierra EV specs in normal use.
Following the Ford F-150 Lightning's Intelligent Backup Power, the Sierra EV will have 10.2 kilowatts of off-board power, which GMC says can power everything, including the essentials in a home, for up to 21 days. It is available with 10 outlets including 110 and 220 volts. On a DC fast charger, it can regain 100 miles in 10 minutes.
Traditional Sierra features like the Multipro tailgate are standard on the Edition 1, which has six adjustments to make the tailgate more helpful. The new Multipro Midgate separates the passenger compartment and bed and can be opened to accommodate cargo up to 10ft 10in long when the tailgate load stop is engaged. The standard single bed length is 5 feet, 11 inches. The 2024 Sierra EV can tow 9,500 pounds and carry up to 1,300 pounds of payload.
It features customizable ride modes including Standard, Tow/Haul, Off-Road, My Mode and Max Power. All-wheel steering and the company's CrabWalk feature are available, as is single-pedal driving. CrabWalk mode angles all four wheels in the same direction to move the car at an angle at slow speeds. Adaptive air suspension can raise or lower the truck by about 2 inches.
"Not surprisingly, most features and specifications are familiar from the Hummer EV and Silverado EV. What stands out is the Sierra EV Denali, which brings an upscale package and a level of refinement not seen before in an electric pickup," says Paul Waatti, Industry Analysis Manager at AutoPacific news week.
"The Denali version will come with an expected high price tag, but truck buyers and early EV adopters have proven we haven't hit the ceiling yet, and the GMC brand is already adept at the high end of the market."
Inside, GMC tried to balance the new technology with ease of use, adding toggle switches and knobs for key functions. Also, the new screen has become customizable, giving drivers front and center access to everything they need.
"You will immediately notice that things are very bold and very simple and really focused on materials. When we started we knew we had to really rely on fit and finish because those things become the main voice of what you see. said GMC design manager Phil Kucera news week.
"And from a technological point of view, the 16.8-inch screen is the first time you'll see this in a GMC. It's huge, the contrast is great, the color is amazing. It's full of touch, you'll notice that there are some tactile controls. There is an on-screen volume control and a set of switches. You don't have to look for it," he said.
The rest of the Sierra EV Denali Edition 1 interior features a panoramic fixed glass roof with UV coating, quilted seats with embroidered logos, and open-pore wood. This untreated wood is also used in the mobile phone charging area. Bose premium audio is standard on this top-of-the-line model, as is GM's Super Cruise driver-assistance technology, which can drive hands-free on select roads.
"As on the internal combustion engine side, Chevrolet will continue to deliver mainstream volume with the Silverado EV, but Sierra EV will eventually fill out the bottom line with the highly profitable Denali and AT4 sub-brands, which essentially define the GMC brand," Watti said.
Deliveries of the 2024 GMC Sierra EV Denali Edition 1 are expected to begin in early 2024 with a starting price of $107,000. Less expensive Sierra EV models will be announced closer to the start of production, with prices around $50,000.
The 2024 GMC Sierra EV Denali Edition 1 is assembled at GM's Factory ZERO Detroit-Hamtramck Assembly in Michigan. They will later be produced at GM's Lake Orion Assembly in Michigan.
https://www.newsweek.com/2024-gmc-sierra-ev-denali-lands-400-mile-range-10-feet-bed-storage-1753531 2024 GMC Sierra EV Denali Lands with 400 mile range, 10 foot bed storage