5 children of 8 family members found dead in Utah home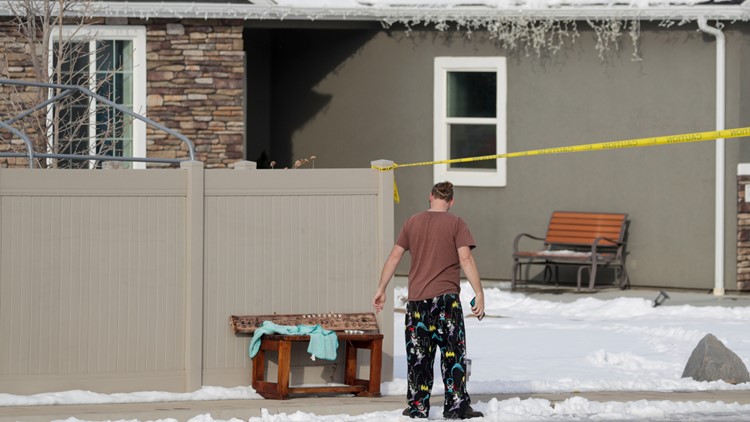 Officials believe Michael Haight, 42, killed his wife, mother-in-law and the couple's five children.
SALT LAKE CITY — A Utah man fatally shot his five children, his mother-in-law and his wife, then killed himself two weeks after the wife filed for divorce, according to authorities and public records.
Enoch Police Chief Jackson Ames said during a news conference Thursday that officers had been involved in investigations into the 42-year-old man and his family "a few years earlier." He didn't elaborate.
The crime rocked Enoch, a small town in southern Utah about halfway between Salt Lake City and Las Vegas.
It is one of the fastest growing areas in the country, and new home communities are made up of large families who, like most in Utah, belong to The Church of Jesus Christ of Latter-day Saints, widely known as the Mormon Church.
Enoch City Manager Rob Dotson said the deceased were well known in the city.
"A lot of us have ministered with them at church, in the community, and gone to school with these individuals," Dotson said Wednesday night. "This community is hurting right now. They feel loss, they feel pain, and they have many questions."
Officials said they believed Michael Haight killed his wife, mother-in-law and the couple's five children and that each of the victims had gunshot wounds.
Court records show Tausha Haight, 40, filed for divorce from her husband on December 21. Her attorney said Thursday that Haight's divorce papers were served on December 27.
Tausha Haight and other family members were seen at a church group for young women the night before the killings, Mayor Geoffrey Chesnut said.
Police were dispatched to the family home for a social check on Wednesday afternoon after someone reported that Tausha Height missed an appointment earlier in the week, city officials said.
The victims were found in the house. The children were between 4 and 17 years old and included three girls and two boys, authorities said. The other victim was Tausha Haight's 78-year-old mother, Gail Earl.
James Park, who represented Tausha Haight in the divorce case, said she had expressed no concern that her husband would physically harm her, but he declined to elaborate, citing the investigation into the murders. Park said he's only met her twice, most recently on Tuesday, and said she's "an incredibly nice woman."
The house where the victims were found was decorated with Christmas lights and was in a neighborhood of newly built single family homes on a ridge overlooking the farming community of Enoch. It has a view of houses with snowy roofs and mountains in the distance. Half the surrounding block was cordoned off with police tape.
Enoch is located on the outskirts of Cedar City, one of the fastest growing cities in Utah, one of the fastest growing states in the United States. Cattle and sheep line the highway that runs through town, along with signs advertising "Custom New Homes" and recreation in southern Utah's famous national parks and recreation areas.
Cedar City's Sharon Hunstman arrived in the neighborhood Thursday morning with a bouquet of white flowers. She said Iron County was deeply shocked by the deaths and cried as she arranged the bouquet.
"It's just a big community," she said. "We all have a Heavenly Father."
Local paper archives show that Haight's first birthday was celebrated in 1981 with an announcement in the local paper, along with a smiling baby photo.
As a young boy he was in the Boy Scouts and received the Faith in God award as a fourth grader. Two years later, in 1992, another newspaper article revealed that he had won the Gospel in Action award from his church.
His picture reappeared in the newspaper in 1998 when he was a finalist for an academic award at the High School of Business and Marketing. After high school, he served a church mission in Brazil and then married Tuasha in a church temple in St. George in 2003. She was from Overton, Nevada, just two hours south of Cedar City, where he grew up.
As an adult, Haight worked as an insurance agent and Allstate gave him a Customer Satisfaction Award. His wife's Facebook page shared pictures of the family looking happy in scenic Utah surroundings and in front of a large statue of Jesus. Haight would have turned 43 on January 7th.
https://www.kvue.com/article/news/nation-world/8-dead-utah-family/507-e724e916-ae8d-4019-b05e-30f258660353 5 children of 8 family members found dead in Utah home