5-year-old preacher Luke Tillman with Jennifer Hudson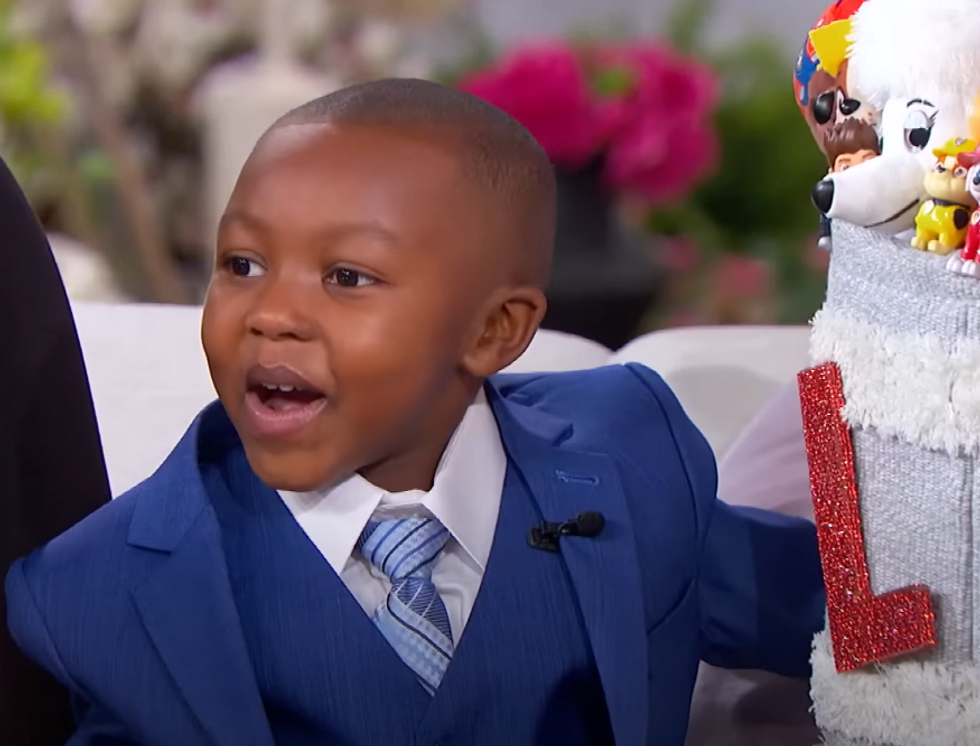 A 5-year-old boy has gone viral for his burgeoning career as a preacher with millions of views online and on TV.
Luke Tillman is a 5-year-old boy from Flint, Michigan. Young Luke wants to be a pastor at First Trinity Missionary Baptist Church in Flint, Michigan, just like his father – Ezra Tillman Jr.
Luke began preaching to his congregation from the age of three – his toys in the living room of his house.
In late December, Tillman became an internet star when one of his Instagram videos went viral. Luke garnered more than 6 million views for a video naming one of his Paw Patrol toys Chase.
The video was captioned: "I shocked my mom today. I told her all my toys need to be christened… today was chase day. Say Amen Church."
Tillman's mother asked Luke, "Are you sure Chase wants to be baptized?"
Luke quickly replied, "Yes! He needs the Holy Spirit."
Luke took Chase into the bathroom to baptize him in the bathtub. Luke started singing the Nina Simone song "Take Me to the Water".
The 5-year-old boy raised his hand and said, "Obedience to the command, I baptize you in the name of the Father, the Son and the Holy Spirit."
Luke then dunked Chase into the water.
Luke now has more than 105,000 followers on his Instagram account.
After the video went viral, Luke was invited to appear on The Jennifer Hudson Show.
On the daytime talk show, Luke talked about becoming a minister, recited his favorite scripture at John 3:16 and sang "Take Me to the Water" with the Grammy winner.
Luke exclaimed, "When I grow up I'll be a pastor and a Christian."
When asked if his son is following in his pastor's footsteps, Ezra Tillman said, "It's a blessing. You know the pressure is always on PKs (Pastor's children) and this whole development. For him, to decide to do it and really want to do it is a blessing."
Luke's proud dad said of his son, "He preached to 20 million people in a week – I haven't done that in 20 years – and I'm very happy about that."
Hudson advised the boy, "You lifted us all up. You have an amazing calling in your life, so you keep doing what you're doing, okay? And go according to God's will.
Luke replied, "I will never forget God. Amen."
Luke is launching his own coloring book for kids next month Book entitled "Bible Adventures with Luke".
Luke Tillman's video for The Jennifer Hudson Show has been viewed more than half a million times on YouTube alone. Watch the full segment below.
JHud sings with Kid Preacher, who went viral for toy baptismwww.youtube.com
Like Blaze News? Bypass censorship, sign up for our newsletters and get stories like this straight to your inbox. Sign up here!
https://www.theblaze.com/news/5-year-old-preacher-boy-luke-tillman 5-year-old preacher Luke Tillman with Jennifer Hudson