8 passengers rescued from broken cable car in Pakistan
"I am relieved to know that Alhamdolillah successfully and safely rescued all the children," Anwaar-ul-Haq Kakar wrote.
Seven school children and one adult were left hanging 900 feet above the ground in Battagram district of northeast Pakistan's Khyber-Pakhtunkhwa province after a cable ruptured around 8:30 am geo newsa Pakistani news channel.
It remains unclear what caused the cable car, which is regularly used by local children to go to school, to malfunction. Zafar Iqbal, a teacher, told Geo News, "150 children come to school by cable car every day."
According to Geo News, the Pakistani military was able to evacuate some passengers by helicopter, but had to re-evaluate their efforts due to poor light after sunset and changed tactics to rescue the remaining two passengers using a second, smaller cable car.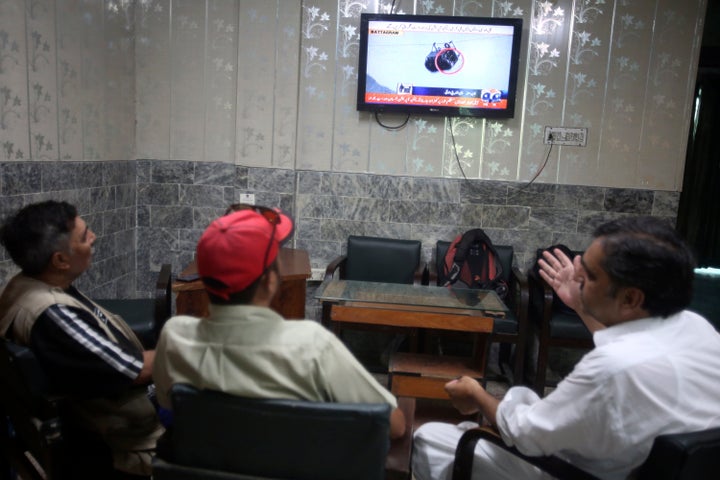 The family members of the passengers could only watch the rescue.
"They are in front of us, but we are helpless – we are watching them and we are unable to help them," Mufti Hasan Zaib, a religious scholar whose son was among the passengers, said in a telephone interview The New York Times as he watched the helicopter operation from a hilltop.
"We don't even have drinking water on the cable car," said Gulfaraz, a 20-year-old passenger, who confirmed that most of the commuters are students. said Geo News by phone on Tuesday during the cable car ride. "The first cable broke after the cable car had traveled a mile."
According to Geo News, Gulfaraz said one of the passengers was 16 and had a heart condition. The teenager, who was taking the cable car to a local hospital at the time of the incident, passed out at the time of Gulfaraz's call and remained unconscious for three hours.
"My cellphone battery is draining fast," he told a local TV news station, according to the Times.
The incident has reminded locals like religious leader Maulana Qasim Mehmood of the importance of essentials like health care and transport to the region – as they did during an earthquake in 2005 killed more than 80,000 people and depleted infrastructure.
"The villages in Allai are several decades behind global development standards," he said, according to the Times.
The nearest hospital and secondary school are 90 and 6 kilometers away, respectively, meaning that childbearing women often give birth en route and people who have become dangerously ill die en route, according to the Times, while children are two to three a day spend hours going to school.
That all changed about five years ago, when engineers from a nearby town built a cable car across the valley, cutting the long commute for students to 10 minutes.
Kakar said on X that the incident prompted him to direct authorities to "perform safety inspections of all of these private chairlifts and ensure they are safe to operate and use."