A brutal Mexican massacre near Acapulco has killed 20 people, including a mayor whose father may have been associated with the gang responsible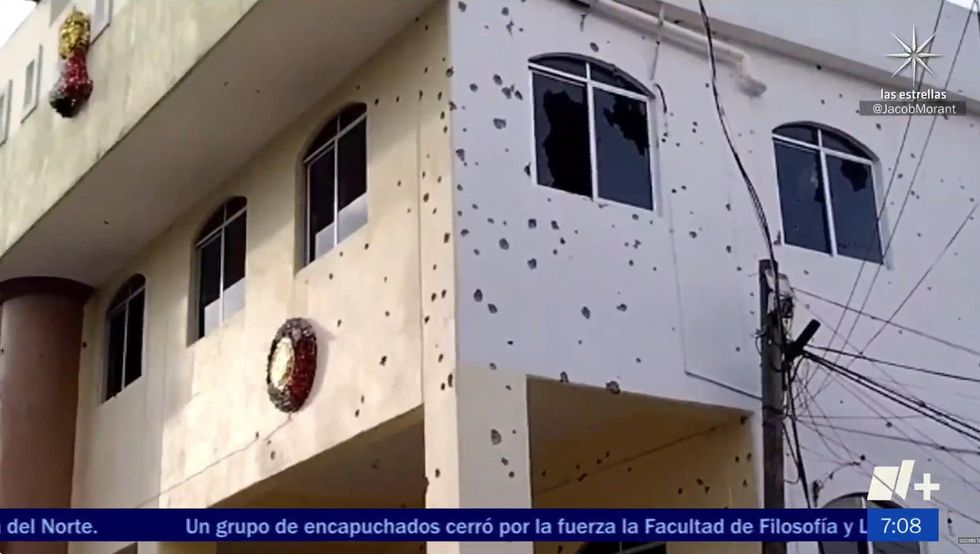 Terrorists were killed on Wednesday in San Miguel Totolaplan, a municipality in the southwestern Mexican state of Guerrero (about five hours from Mexico City and Acapulco). 20 people and three wounded. Mayor Conrado Mendoza Almeda and his father, the former mayor, were among the victims of the massacre.
Two groups of armed men wearing face coverings arrived in SUVs. They carried out attacks on the town hall and on a private house at the same time. First, they disrupted a meeting between the mayor and city officials by rifling all participants and the surrounding building with bullets.
Mexico's Deputy Secretary of State for Public Security Ricardo Mejia specified, "This act took place in the context of a dispute between criminal gangs." The BBC reported in 2020 that this is a claim often repeated by Mexican politicians.
The Los Tequileros Gang claimed responsibility for the massacre. Los Tequileros is affiliated with the Jalisco Nueva Generación Cartel (JNGC) and is in an ongoing territorial dispute with the Familia Michoacana gang in the region.
Mejia stated that the "tequileros ruled the region for some time" by kidnapping, extorting, murdering, smuggling and distributing opiates.
Evelyn Salgado Pineda, the governor of Guerrero, condemned the attack and pointed out that those who committed this aggression against the mayor and local government officials would not go unpunished.
The Almeda-linked left-wing party issued a statement saying it condemned the "cowardly murder" and its members "demanded justice."
It is unclear if Almeda knew his killers, but his father, who was also gunned down on Wednesday, had encountered them before.
In 2015, following the June 7 Guerrero state elections, in which Almeda's father himself was elected mayor, a video spread online in which Mendoza Acosta was drunk with members of the Los Tequileros gang. The gangsters stated that Mendoza was elected with their help: "Just as we brought you to victory, help us too."
When asked if he would work with them, Mendoza replied, "We will! I will never work with other cochos."
Mendoza had been a month before the election kidnapped but released shortly thereafter.
Al Jazeera reported that, as seen in the video, Mendoza may not have met with the gang voluntarily but rather under duress.

Entrevista con la Fiscal de Guerrero tras masacre en San Miguel Totolapan – Despierta

youtube

According to analytics company Etellekt ConsultoresAlmeda's assassination brings the number of mayors assassinated during the tenure of Mexican President Lopez Obrador to 18. Another 31 councilors and 11 trustees were assassinated during Obrador's tenure.
In the last few months, Obrador has regained consciousness leave more on the military than on the civilian police to curb Mexico's incredibly high levels of violent crime. Finally, police may no longer be well equipped to deal with an increasingly militarized threat.
Vanda Felbab-Brown, director of the Brookings Institute's Initiative on Nonstate Armed Actors, told Metro.co.uk: "Over the past 15 years, the operational pace of these groups in terms of hits, counter hits and other attacks has matched that of the Taliban. "
Cartels and related gangs "are capable of taking over entire cities like an invasion force in the context of a riot, they use drones to evict people from areas, they use pretty amazing forms of violence," Brown said.
August was a particularly bad month for antitrust violence in Mexico.
Edgar Garcia Carrillo, doctor in the Mexican city of Celaya, said the New York Times that the region was engulfed in "all-out warfare."
Cartels and gangs were reportedly rampaging across the country, firing on police and troops. They set shops on fire, blocked roads and carried out executions in broad daylight. In Celaya, homicides rose 32% in the first four months of the year.
in the such a case of brazen violenceOn February 27, gangsters lined up mourners at a funeral, shot them, then cleaned up the crime scene, leaving only a bag of brains.
The JNGC cartel has begun using drones for bombing, as seen in this video showing one such bombing in Michoacan.
The violence spreads along the southern border of the United States. In Juarez, next to the American city of El Paso, Texas, a prison fight between members of two rival Mexican cartels spilled onto the streets this summer. Kill at least 11most of whom were civilians.
On August 13, 24 cars were set on fire in Tijuana, Mexico, amid sporadic shooting. Members of the JNGC, whose proxies carried out the massacre in Guerrero this week, are preparing to terrorize the city. Finally the city problematic an accommodation arrangement.
The US State Department recently warned American citizens about traveling to Mexico and stated, "Violent crimes — such as murder, kidnapping, auto theft and robbery — are widespread and common in Mexico. The U.S. government has limited ability to provide emergency services to U.S. citizens in many areas of Mexico."
The State Department said it should not travel to the following Mexican states: Colima, Guerrero, Michoacan, Sinaloa, Tamaulipas and Zacatecas.
It suggested that Americans should reconsider trips to Baja California, Chihuahua, Duranjo, Guanajuato, Jalisco, Morelos, and Sonora. The US government also stressed the need to exercise "excessive caution" virtually everywhere in Mexico.
https://www.theblaze.com/news/brutal-mexican-massacre-leaves-20-dead-near-acapulco-including-mayor-whose-father-may-have-been-league-with-the-gang-responsible A brutal Mexican massacre near Acapulco has killed 20 people, including a mayor whose father may have been associated with the gang responsible