A chaotic attempt at a true crime comedy
Fans and critics of the internet's true crime cottage industry will find plenty to hate Based on a true story, a new Peacock series trying to spark public fascination with the genre. While aiming for laughs, it succeeds less in finding humor and more in presenting a cast of obnoxious characters that viewers would probably wish someone would ditch.
Based on a true story follows troubled Los Angeles couple Ava (Kaley Cuoco) and Nathan (Chris Messina) as they soon have a baby and whose income stream is dwindling. The couple lives in a beautiful home near the beach, which may be beyond their means given Ava's job as a real estate agent and Nate's work as a tennis coach. Adding to the couple's troubles is that a serial killer known as the "Westside Ripper" is on the loose in their neighborhood and kills a local bartender the same night Nate visits their restaurant. The police initially suspect Nate, but he and Ava soon discover the true identity of the killer – Matt (Tom Bateman), Nate's friend and the couple's new handyman.
Rather than hand Matt – who has killed at least seven women – to the police, Ava and Nate hatch a plan. They will launch a true crime podcast about the Westside Ripper and feature exclusive interviews with Matt. The money the podcast generates will solve their financial problems and create a portrait of the mind of a killer…if that killer doesn't kill them first.
Deadly premise
Longtime TV fans will remember how, before the days of unlimited cable channels and streaming services, broadcasters happily copied each other's successes, often to diminishing returns. For each X-FilesViewers would end up with one Baywatch nights. Peacock, the streaming service that follows a traditional churn 'em out television model more than any of its competitors, is following the same idea here. Based on a true story is inspired by the success of Hulu Only murders in the buildingwith a touch of dexteris endowed with black humor. And like so many TV replicas, it pales in comparison to the series it's trying to emulate.
Only murders in the building struck gold with the delivery of two loser jerks as leads, played by two comic book legends in the form of Steve Martin and Martin Short. The manic Short was able to exploit Martin's stoicism and vice versa in a way that made her characters compelling, no matter how selfish their choices. The chemistry between Cuoco, Messina and Bateman is strong enough, but their typical LA goof characters weigh them down with leaden material. only murders There was also a secret at the center, something Based on a true story is missing. As a result, the plot lacks an engaging plot.
killer idiots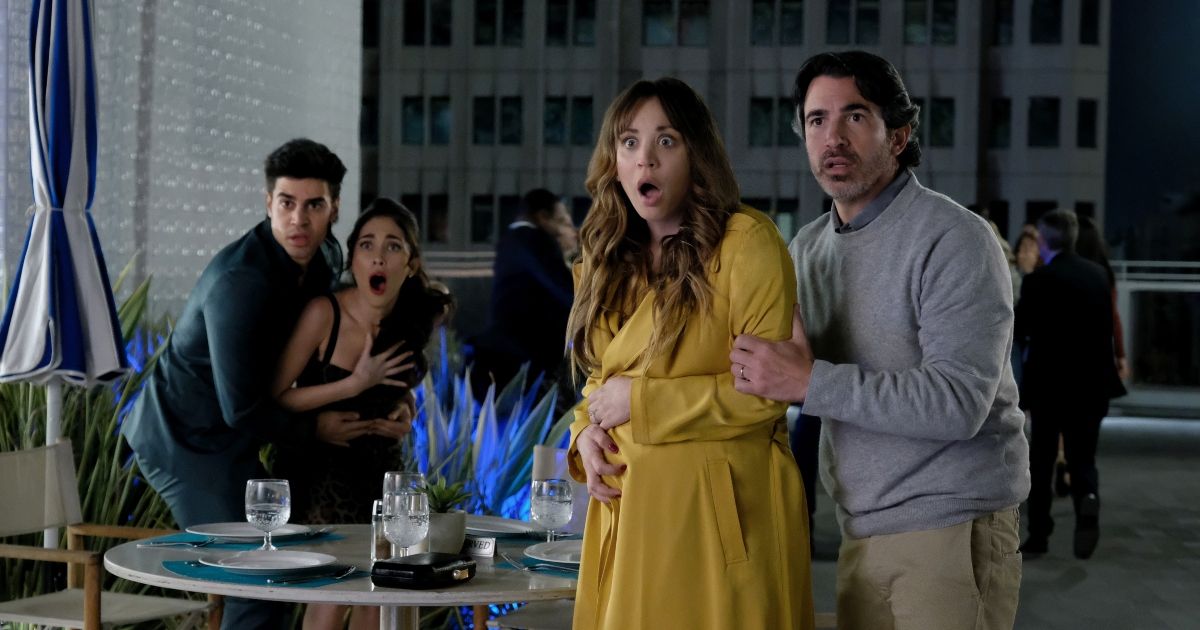 The same applies True story's attempts to capture the macabre humor of dexter. This series benefited from a complex antihero in the title character: Dexter was a mass murderer, but he was also a loving son, friend, and father. His bloodlust extended only to other murderers who had evaded justice.
In other words, he was a good man as far as his nature would allow. True story makes every effort to show Bateman's Matt as a good father, although the show is not intended to instill anti-hero themes in him. He kills women because he enjoys it. As a character, that makes him hideous, which makes Nate and Ava seem even more gross for hatching their podcast schedule. The main characters of True story are not only terrible, they are also terrible to look at.
Related: Kaley Cuoco's 6 Best Performances, Ranked
The Westside Rippers' penchant for innocent victims, too, seems like a missed opportunity given that Ava and Nate surround themselves with wealthy elites in a vision of Los Angeles devoid of any sign of smog or urban inequality. The characters sit around McMansions drinking wine and discussing how they all have affairs with personal trainers, bikini waxers, or other "lower-class" employees.
We wish Matt had the common sense to dismember some of those disgusting yuppies instead of poor innocent bartenders. A better show would have taken the opportunity to comment or mock Angelino's snobbery. We're not even sure True story sees his characters for the eye-rolling jerks that they are.
A peacock problem?
Series creator Craig Rosenberg manages to squeeze out a few genuine laughs in episode three, in which Matt calls for more creative control over his podcast efforts with Ava and Nate. That could signal that Based on a true story finds its place in later episodes (three were submitted to the critics for review). Other hit streaks – rings of power, For example, it took a full two or three episodes to really get going.
Related: The Best Peacock Original Series, Ranked
However, given that this is Rosenberg's debut as a series creator, fans of his recent credits are The young And preacher, probably not suitable for something so everyday. That may have less to do with Rosenberg's writing skills and more to do with Peacock's attempt to do more traditional television and uncompromising streaming content in the same show at the same time. Like the reboots of the streamer from Bel Air And Queer than Folkor the obsolete retread Joe vs Caroleit is not entirely clear what Based on a true story should be or should say and which target group it wants to address.
We can't help but see a touch of irony in the tameness of Based on a True story. Three of Peacock's best works to date – the scripted drama dr Death, Who Killed Robert Wone? And Casey Anthony: Where the Truth Lies – are all true crime stories with pointed observations on their subjects and the public fascination with them. It's hard to imagine that a service that focuses so heavily on the true crime genre could have so little to say about it, or about the audience's obsession with it.
On the other hand, maybe this is the problem: Based on a true story might be afraid to offend Peacock's crime-loving audience. Combine the tedium of the show with the ongoing Writer's Guild Strike, then we can't imagine it Based on a true story survive a second season. We hope Rosenberg and Peacock both sharpen their blades before venturing into anything else.
Based on a true story debuts on peacock 8th June.