A child rapper's song about transgender people burning in hell has been viewed 1 million times
Teenage rapper Toby James went viral with a song harshly critical of transgender people, garnering over 1.8 million views on social media.
In the tune, shared on his dad Tyson James (@nottysonjames)'s TikTok account on September 2, the 11-year-old claims, "If you're a Suzie, you can't be a Scott" and "Only two genders." . You can't go to heaven with nail polish.
The lyrics also explain that transgender people are going to hell, including the line "It'll be hot where you go, that's hell."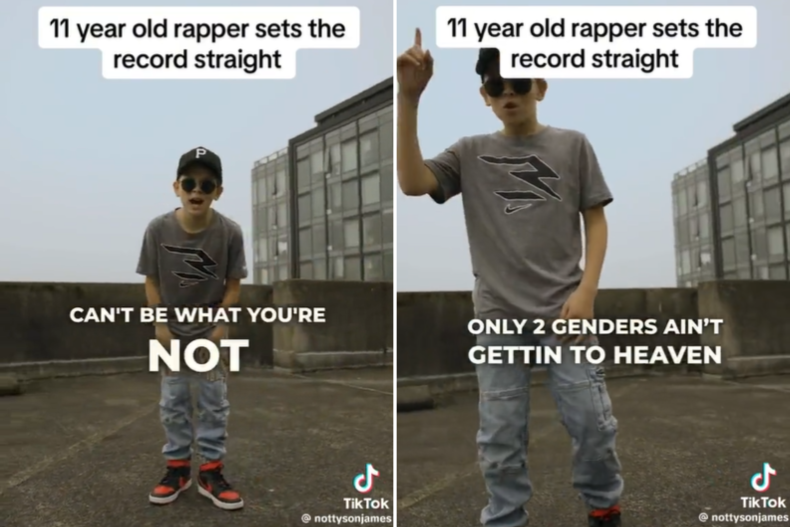 The Christian musician's song received 25,000 views on his father's account, but went viral after it was shared with X– the social network formerly known as Twitter – from user @ChristnNitemare.
"This is what indoctrination looks like…" he wrote alongside the clip that caused an uproar on social media.
"Call Child Protective Services," Aadan commented.
"What a little clown," Chuck Salamone said. "It's a difficult lesson. Freedom of expression does not mean being free from ridicule."
"Hopefully he'll be embarrassed at some point," Jen wrote.
"If you believe you will meet God when you die…be prepared for Him to ask you why you treated His other children so hatefully," Lorraine Gardner said.
However, other users agreed with the child rapper's views, with Roger Ap Joe commenting: "I personally like the children's message."
"Would you rather have him rap about climate change and white privilege? Every child is 'indoctrinated,'" said The Pudy Tat.
"Whether or not you think that's a bad attitude, whether it's acceptable for children to choose gender-affirming care and to what extent, it should also be acceptable for the children who are critical of it to choose one have a voice," Tsulaa wrote. "Neither side has any business accusing the other of indoctrination. There are a lot of thrown stones and glass houses."
This is a recent story and will be updated.