A college degree is not a requirement. Are employers finally listening?
After a two-year pandemic-related hiatus, many Americans are urging President Joe Biden to completely eliminate student loan debt for federal borrowers before the pause extension expires this summer. In a letter to the president earlier this year, more than 80 Democratic lawmakers argued that "resuming student loan payments … would be catastrophic for millions of borrowers and their families."
However, some critics of the loan forgiveness claim that wiping off debt only exacerbates problems that already exist. former US Treasury Secretary Lawrence Summers described the extension of the deferral of student loans as "highly problematic". Others said forgiveness doesn't address "the fact that some college degrees don't lead to decent paying jobs."
No matter which side of the debate you're on, one thing is clear — the ongoing debate over student loans and the rising cost of four-year college degrees are causing many students to reconsider the traditional high school-to-college path altogether. Many recognize that the conventional route is neither the only route to professional success nor the least expensive. And if the pandemic has a silver lining, it's that employers finally catch up with this knowledge.
A recent study by the Burning Glass Institute explains that our country's "degree inflation" is finally falling short of broader possibilities. As the study noted, "Jobs do not require four-year college degrees. Employers do." That is, until the pandemic brought our nation's persistent skills gap into the focus of HD.
Five years ago, an estimated 51 percent of online jobs listed a four-year degree as a requirement. In 2021, that number dropped to 44 percent, according to the study. Based on this ongoing trend, another 1.4 million jobs could be "open to workers without a college degree" in our country in the next five years.
This is certainly positive news for millions of Americans – particularly those from underserved and underrepresented backgrounds – who have been pushed to the edge of opportunity. But lest we repeat our past mistakes, it's important to remember that these recent employer-led revelations didn't spring from a sudden consensus about the value (or lack thereof) of a college degree. Rather, the changes we are seeing have been cautiously embraced out of sheer immediacy and the pull of economic necessity.
As Vanessa Fuhrmans and Kathryn Dill from The Wall Street Journal pointed out that "Companies struggled to hire all the talent they needed, so dropped many pre-qualifications such as prior work experience or a four-year college degree." What has become clear to many employers? That the potential for future greatness in a job, coupled with strong on-the-job training and professional support, is more indicative of success than the name of the college one attended.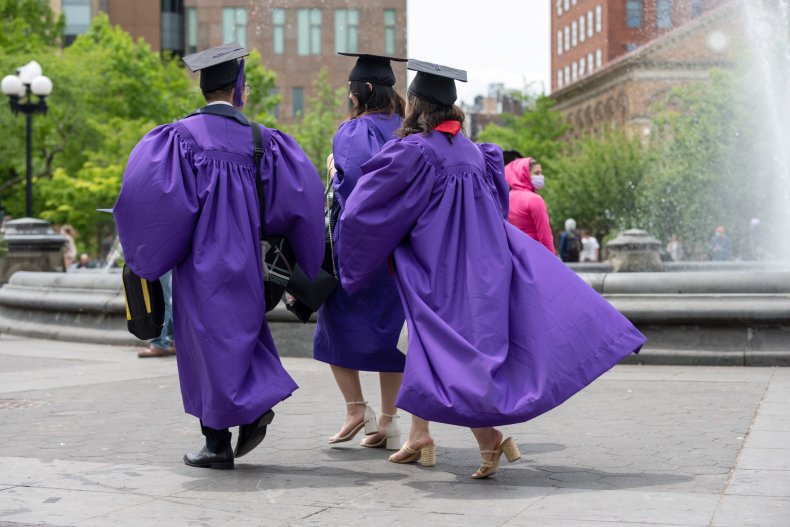 Perhaps that's why more institutions are considering offering three-year college degrees to reduce costs. And a growing number of companies—particularly those with IT roles—are hiring people with industry certifications, relevant experience and specialized skills. Many earn these certifications and qualifications through online boot camps and immersive learning experiences. With an average cost of $13,500, these boot camps and immersives cost a fraction of the price of a four-year college degree.
Which brings us back to the beginning: the student loan debate. While conventional financial wisdom suggests that education-related loans should not exceed a freshman's salary, reality disagrees. Here are the facts: Average starting salaries for new grads are $50,000 or less, a college graduate has about $37,000 in student loan debt, and the nation's collective student debt has surpassed $1.7 trillion.
This trend is simply not sustainable. And so many dreams and aspirations are daunted because of it.
I recently interviewed dozens of applicants for a job that didn't require a college or college degree. I was fortunate to have met the perfect candidate: a bright and ambitious young woman eager to learn and work hard on the job.
When I asked her why she was applying for the position, her answer was simple: "I want to help people," she said. "I also wanted to be an immigration attorney and help people in my community. But I can't afford law school."
She was by far the best candidate and I excitedly offered her the job, but her testimony broke my heart. While I hope that one day she can still fulfill her dream of becoming a lawyer, I also hope that we can help her make that dream an accessible reality.
If we are serious about being a country where everyone like this young woman can pursue their dreams and reach their full potential, we must ensure that we do not prioritize one life path over another. Every student and worker deserves the chance to pursue their academic and professional dreams in the way that works best for them.
That's why we need to be realistic and clear-headed about which jobs require a college degree and which don't. Along the way, we must also abandon the notion that student loans are a rite of passage for advancement. The future of our workforce depends on it.
James Rhyu is the Chief Executive Officer of Stride, Inc.
The views expressed in this article are the author's own.
https://www.newsweek.com/college-degree-isnt-necessity-are-employers-finally-listening-opinion-1703573 A college degree is not a requirement. Are employers finally listening?