Abortion rights constitution rejected in Chile's rejection of progressives
Chilean voters have rejected a new constitution that would have legalized abortion and made other progressive changes to the country's laws.
According to the Associated Press, after 96 percent of the vote was counted Sunday night, nearly 62 percent voted to reject the proposed constitution. The constitution consisted of 388 articles that would enshrine many progressive ideals, including universal healthcare, gender parity among government members, and stricter environmental regulations.
However, one element of the proposed constitution attracted the most attention: national legalization of abortion. According to Reuters, the Chilean Assembly voted on March 16 to include abortion rights in the new constitution in the week after a massive women's march in Santiago.
Currently, abortion is legal in Chile only when the mother's life is in danger, when the fetus would not survive the pregnancy, or during the first 12 weeks when the fetus is the product of rape. These exceptions were made in 2017; Before this year, there were no exceptions to the abortion ban in the country.
Although the provision was included in the new constitution, a bill to expand access to abortion in the country failed to pass Chile's Congress in November 2021, according to Reuters.
Abortion is not popular among Chilean citizens. An August 2021 poll by South American market research firm Cadem found that support for a proposed law that would decriminalize abortion in the first 14 weeks of pregnancy was increasing, but only 46 percent backed the law — not even half. In contrast, 52 percent opposed the proposal and 2 percent did not know. The poll showed that the bill was most popular among people aged 18 to 34, with 57 percent in favor.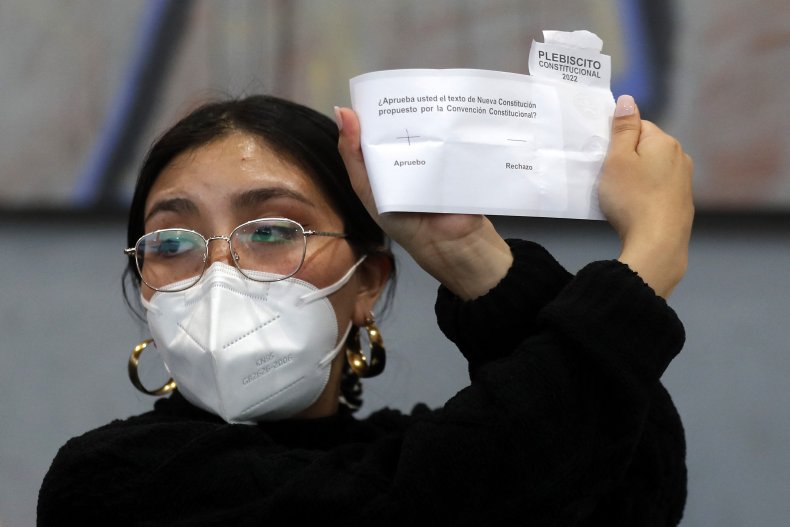 This is an evolving story and will be updated with more information as it becomes available.
https://www.newsweek.com/abortion-rights-constitution-rejected-chiles-rebuff-progressives-1739736 Abortion rights constitution rejected in Chile's rejection of progressives