Acceptance of LGBTQ people is growing and violence will not stop them
Support for LGBTQ rights is at an all-time high, but it hasn't made our society immune to tragedies like the one that unfolded on Saturday night. Minutes before midnight, a 22-year-old gunman opened fire at Club Q in Colorado Springs — an LGBTQ nightclub — killing five people and injuring 25 others. The tribute would have been higher were it not for the exploits of the two brave patrons who disarmed the gunman.
How can we be both a country experiencing a surge in support for gay people and a nation where such deadly massacres occur so often? After the 2016 mass shooting at Orlando's LGBTQ Pulse Night Club, Sunday's events shouldn't come as a complete shock, but they are another wake-up call that queer life is not isolated from America's current right-wing wave of hatred and violence.
It's all part of a larger culture war waged against the will of the majority. A 2021 Gallup poll shows that 66 percent of Americans support transgender people serving in the military and 70 percent support same-sex marriage — a record high. And yet, a record 238 anti-LGBTQ bills were proposed by state lawmakers this year.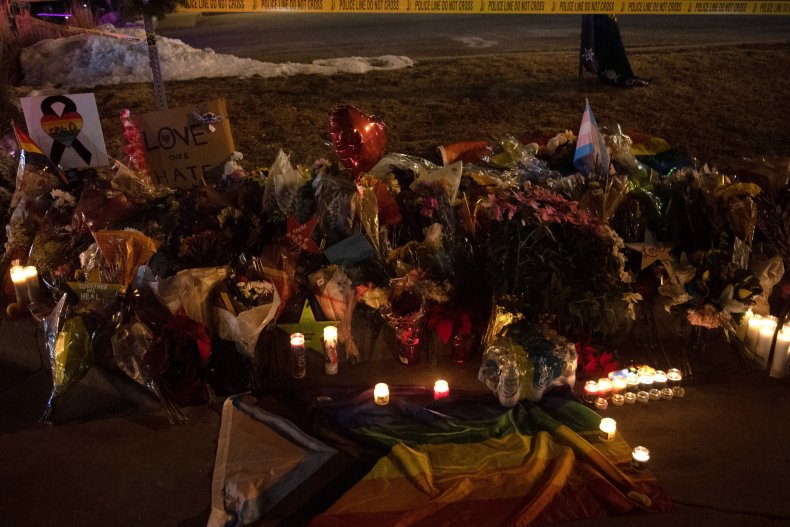 The hyperpoliticization of LGBTQ rights – trans rights in particular – has created a moral panic around an issue most Americans don't think is an issue. To build as much emotional power as possible, the fight for human rights for the LGBTQ community has been twisted and tortured into a war on pedophilia.
These are not new topics. In 1978, Ronald Reagan, then Governor of California, condemned the anti-LGBTQ law known as the Briggs Initiative, which would have barred gay men from teaching in California. The voices calling for the ban also used the false pedophilia claim at the time. In his weekly newspaper column, Reagan dismissed this argument as ignorance, citing the individual's right to privacy as paramount.
With his vocal opposition, Proposition 6 was overwhelmingly rejected by voters at the ballot box. Forty-four years later, we're dealing with a cleaner reboot of the same old prejudice.
When politicians promote ideas like Florida's Don't Say Gay Bill – and Proposition 6 before it – it sends a message to society that being LGBTQ deserves ridicule and ostracism.
The term "safe space" has become synonymous with overbearing sensitivity on the right. But places like Club Q — one of only two gay bars in Colorado Springs — offer a much-needed sanctuary from the demonization rampant in political speeches and a series of harassment campaigns.
Just last month, 200 people protested an Oregon pub hosting a drag queen story event, some armed with guns and smoke bombs. The Proud Boys, a far-right nationalist group that took part in the January 6, 2021 riots, have protested similar events in California, Maryland and North Carolina. This message was also reinforced by popular right-wing account LibsofTikTok, which has over a million followers on Twitter.
The massacre occurred the night before the venue was scheduled to host a drag brunch to commemorate Transgender Memorial Day, which honors transgender people who have lost their lives to violence. At least 32 trans people were killed in the United States this year, according to the Human Rights Campaign. The first victim identified in Saturday's shooting was a trans man, 28-year-old Daniel Aston.
Of course, it's not just the LGBTQ community that's at risk. We live in an age of conspiracy theories and extremism of all kinds is on the rise. The Anti-Defamation League reports hate crimes have risen to their highest level in 12 years. On the same day as the Club Q shooting, two men were arrested in New York for a planned anti-Semitic attack, which fortunately was foiled. If this had not been the case, the nation could have suffered two massacres of minorities in a single day.
When it comes to LGBTQ acceptance, the pop culture war may have been won — just look at the surge in "rainbow capitalism" by big brands that takes place every June during Pride Month — but the political culture war rages on. Just as Barack Obama's presidency has not ended anti-Black racism, the growing acceptance of LGBTQ people and the rise of openly gay politicians has not quashed violent homophobia and transphobia.
It is significant that this shooting took place in Colorado, the first state to elect an openly gay governor, Jared Polis, who was just re-elected by a landslide. The married father of two is the perfect rebuke for the anti-gay hysteria sweeping across the country.
But the visibility of Polis didn't immunize the LGBTQ community against a fanatic on the fringes who turned his hatred into violence.
Before there are bullets, there are words. What we say counts. How we engage in discourse, both casually and politically, is critical to healing the wounds of our broken society.
Until America treats hate crimes – and gun violence of all kinds – as a systemic disease and not just a seasonal allergy, our political body will remain broken and in need of healing.
Peter Fox is a writer and LGBTQ advocate. His work has appeared in The Washington Post, Teen Vogue, CNN Opinion, and elsewhere. He currently serves on the Advisory Board of the Anti-Defamation League in NY/NJ.
The views expressed in this article are the author's own.
https://www.newsweek.com/acceptance-lgbtq-people-growing-violence-wont-stop-it-opinion-1761260 Acceptance of LGBTQ people is growing and violence will not stop them