Act of shooting at Buffalo supermarket, victim, hero security guard revealed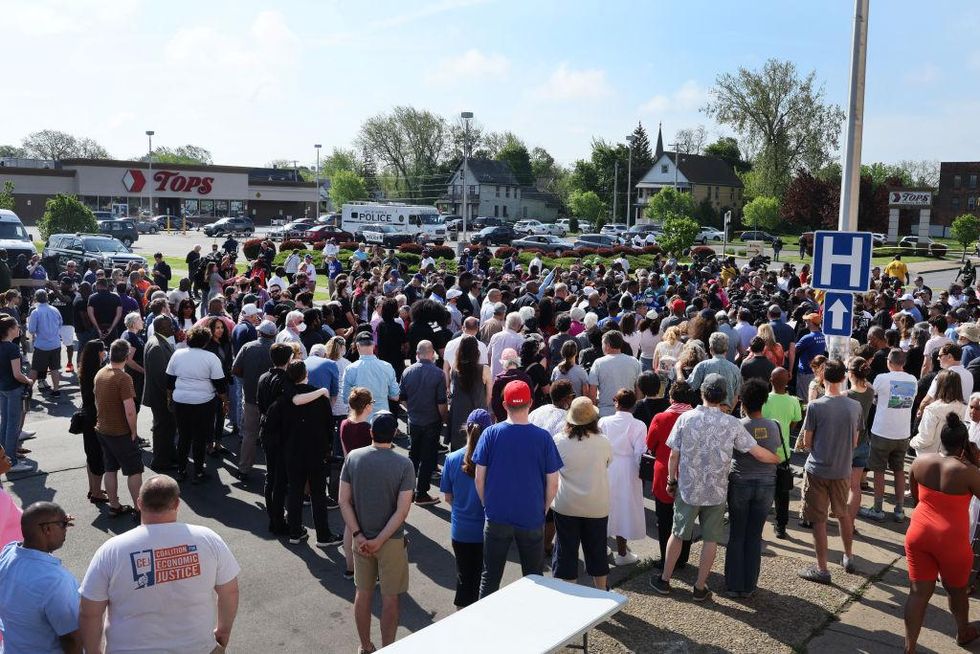 New developments have surfaced in the heartbreaking mass shooting at a convenience store in Buffalo, New York. The tragic shooting at Tops supermarket has been classified as a "racially motivated hate crime" that killed 10 innocent people and injured three others.
Buffalo Supermarket shooter update
Police have named the suspect as 18-year-old Payton Gendron of Conklin, New York. He was charged with first-degree murder on Saturday and was being held without bail. The suspect appeared before a judge while wearing a paper coat as he is on suicide watch. He pleaded not guilty.
If found guilty, the suspect faces life imprisonment without parole. Erie County District Attorney John Flynn said his office is investigating the terrorism charges.
A criminal hearing is scheduled for May 19.
The suspect was investigated by state police in 2021 for a high school threat

The suspect previously threatened to shoot his high school in June 2021, a law enforcement official said Associated Press.
"A school official reported that this very concerned young man had made statements that he intended to engage in a shooting, either at a graduation ceremony or at some point thereafter," said the same government official familiar with the case the Buffalo News.
"FBI officials confirmed that the shooter allegedly intended to commit homicide/suicide upon graduating from high school in 2021 and was taken into custody by the New York State Police and subjected to a mental examination." abc news reported.
Buffalo Police Commissioner Joseph Gramaglia confirmed the then 17-year-old underwent a mental health evaluation following the violent threat.
"Federal law prohibits people from owning a gun if a judge has determined they have a 'mental defect' or they have been coerced into a mental institution — but an assessment alone would not trigger the ban." abc news reported.
No criminal charges were brought against the teenager.
The firearms used in the shooting were legally obtained
The suspect legally purchased a Bushmaster XM-15 semi-automatic rifle from the Vintage Firearms shop in Endicott, New York, a few months ago. abc news reported. The suspect allegedly bought another gun at a Pennsylvania gun store and received another from his father.
Sources told the outlet that there was a handgun and shotgun in the suspect's car.
The daily beast reported that the gun had a racial slur, a white racial symbol and the name of Virginia Sorenson – a victim of the Waukesha Christmas Parade Massacre – written on it.
Suspect may have had manifesto, 'planned attack for months'
Authorities have yet to authenticate a 180-page manifesto said to have been written by the suspect. The alleged manifesto contained anti-Semitic tropes claiming that the New York Times, CNN and Fox News were run by Jews. The alleged manifesto also focused on the "replacement theory," a white supremacist doctrine that non-whites will eventually replace whites.
This was announced by a police officer Associated Press that the suspect repeatedly visited websites promoting white racist ideologies and race-based conspiracy theories. The alleged gunman reportedly praised South Carolina church gunman Dylann Roof and New Zealand mosque gunman Brenton Tarrant online.
That Daily mail reported that the teenager "planned the attack for months before driving three hours to carry out the heinous ambush, which authorities are describing as an act of 'violent extremism' motivated by race."
The suspect – who is white – allegedly targeted this particular Tops Friendly Market because the neighborhood is predominantly black. All 10 of the people killed were black.
Erie County Sheriff John Garcia told reporters Saturday, "That was pure evil. It was a racially motivated hate crime by someone outside of our community…who came into our community and tried to harm us."
The FBI is investigating the attack as a hate crime and a case of "racially motivated violent extremism."
The New York State Police Hate Crimes Task Force has joined the investigation.
The security guard from "Hero" did everything to stop the shooter
The gunman wore tactical gear, including a helmet with a camera attached, which he allegedly used to livestream the carnage on Twitch – a video game streaming platform. Twitch reportedly removed the graphic content within two minutes.
According to Gramaglia, the gunman fired at least 50 shots during the rampage.
The gunman shot dead four people in the supermarket parking lot – three of them died.
The gunman entered the Tops supermarket and was confronted by a security guard, Aaron Salter Jr. The two fired shots, but the gunner's body armor protected him. The suspect allegedly shot and killed Salter, a retired police officer.
Buffalo Police Commissioner Joseph Gramaglia called von Salter: "He's a true hero. He went down fighting. He went for the shots."
Yvette Mack, a frequent shopper at Tops, called von Salter: "He cared about the community. He took care of the store. He did a good job, you know. He was very nice and respectable."
Other victims of the mass shooting include Ruth Whitfield (86), Pearly Young (77), Katherine Massey (73), Deacon Heyward Patterson (68), Celestine Chaney and Roberta Drury (32).
https://www.theblaze.com/news/buffalo-supermarket-shooting-update-victims Act of shooting at Buffalo supermarket, victim, hero security guard revealed