Adam Kinzinger makes Ron DeSantis 'outrageous' for not meeting with Biden in Florida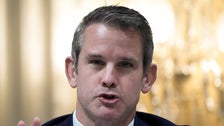 Former Rep. Adam Kinzinger (R-Ill.) pointed to Florida Gov. Ron DeSantis' "absolutely outrageous" move not to meet with President Joe Biden in the wake of Hurricane Idalia.
In a CNN appearance on Friday, Kinzinger slammed the Florida governor after raising logistical concerns about Biden's trip to survey the hurricane damage, noting that the visit "very disturbing."
"There's a one to two percent chance that it's the logistics, the chance that it's the optics is 98 to 99 percent," Kinzinger told CNN's John Berman.
Biden had hinted earlier in the week that he and DeSantis had communicated to the extent that there should be a "direct election" between the two, the Associated Press reported.
But after Biden said he would meet DeSantis, the Florida governor's office on Friday indicated that "safety preparations alone" would help halt recovery efforts.
The Republican presidential nominee's failure to meet with Biden marks a change from previous post-disaster visits, when the president and DeSantis met following last year's Hurricane Ian and the 2021 Miami Beach Surfside Condo collapse.
Kinzinger told Berman that politics has "infected everything" right now, while a decade ago he saw officials "put politics aside."
"And Ron DeSantis has decided, at the expense of the Florida advantage, that his political campaign cannot allow for a meeting with Joe Biden, the President of the United States, who will ultimately sign the checks that Florida will beg for. ' added Kinzinger.
"…I couldn't imagine being governor of a state, witnessing such a tragedy and then turning around and thinking about the impact that might have on my election. It's simple – it's the state we're in right now and people just have to reject that."
The President heard from a number of Florida officials who commended him and First Lady Jill Biden for their support of the Sunshine State, including Sen. Rick Scott (R-Florida), who described the federal government's efforts as "big thing" for the state.