After 22 years on the run, a Rwandan genocide suspect has been arrested in South Africa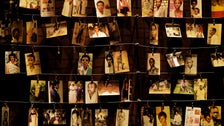 CAPE TOWN, South Africa (AP) – One of the most wanted suspects in the Rwanda genocide, a man suspected of orchestrating the killing of more than 2,000 people, has been arrested after 22 years on the run in South Africa, a special tribunal set up by Das the United Nations announced on Thursday.
According to the International Residual Mechanism for Criminal Tribunals (IRMCT), Fulgence Kayishema was arrested on Wednesday in Paarl, a small town in a wine region about 30 miles east of Cape Town.
He was captured in a joint operation by the tribunal's fugitive-tracking team and the South African authorities, the tribunal said.
More than 800,000 people were killed in the Rwandan genocide that occurred within three months in 1994, when ethnic Hutus turned against the Tutsis minority, slaughtering them and massacring moderate Hutus who tried to protect them.
Kayishema was indicted by the United Nations International Criminal Tribunal on Rwanda in 2001 on charges of genocide, complicity in genocide, conspiracy to commit genocide, and crimes against humanity for manslaughter and other crimes. The court said he had been at large since 2001.
The court said he was accused of orchestrating the killing of more than 2,000 ethnic Tutsi refugees – men, women and children – at a Catholic church during the genocide.
"Fulgence Kayishema has been on the run for more than 20 years. "His arrest ensures he will finally be brought to justice for his alleged crimes," IRMCT Chief Prosecutor Serge Brammertz said in a statement.