All The Shocking World Cup Moments You Probably Missed From Qatar 2022
The 2022 FIFA World Cup in Qatar will be remembered by soccer fans as a showcase of the good, the bad and the ugly sides of the beautiful game.
While on the pitch Lionel Messi ended his long wait for a World Cup, off it the tournament was embroiled in any number of controversies, from the reported deaths of thousands of migrant workers in the run-up to the tournament to the country's anti-LGBTQ stance.
From an American standpoint, plenty of positives can be drawn from this World Cup with Team U.S. emerging from the group stage unbeaten, having held one of the pre-tournament favorites England to a credible 0-0. Though they went on to lose 3-1 to the Netherlands in the second round, that scoreline was not a fair reflection of the match itself.
The lowest point of the World Cup from a U.S. perspective, however, came with the tragic death of journalist Grant Wahl. A pioneering journalist and author who was an authority on soccer in the U.S., Wahl made headlines early in the tournament after he was detained outside Qatar's Ahmad bin Ali Stadium for wearing a rainbow shirt in a show of solidarity with the LGBTQ community.
Yet there were undoubtedly moments of magic and occasional hilarity at this World Cup. Many of these moments didn't even happen on the pitch either, with fans and broadcasters capturing any number of weird and wonderful incidents over the course of the tournament that otherwise might have gone unnoticed.
Here are all the shocking World Cup moments you probably missed from Qatar 2022.
1. Ecuador Silence The Home Support
Hosts Qatar got their World Cup campaign off to the worst possible start with a limp 2-0 defeat to Ecuador. Matters were made worse in the stands though where an Ecuadorian fan was filmed among the Qatari supporters gloating about the result while giving the "money" gesture.
Tensions appeared to boil over when a local fan sat nearby was seen telling the South American to "sit down and shut up" with the Ecuadorian urging him to "relax." Thankfully a follow-up tweet confirmed the pair had kissed and made up.
2. The Netherlands In The Nether Regions
The second day of the World Cup proved to be one to forget for Senegal's Cheikou Kouyate. Not only did his team lose their opening game 2-1 to the Netherlands, but a "coming-together" with Dutch midfielder Frenkie De Jong also resulted in a wince-inducing groin injury that left Kouyate flat-out on the pitch.
As if that wasn't enough, Kouyate tweaked a muscle in the back of the leg in the collision and had to be substituted soon after.
3. One Moment 64 Years In The Making
Wales' first World Cup in 64 years may not have gone the way they would have hoped but the team more than held their own against the U.S. in their opening game, helped on by boisterous support.
No one embodied that more than Dwynwen Morgan, who was caught on camera passionately belting out the national anthem in a video that soon went viral.
"I felt a few pings in my pocket during the match but was a bit shocked by the number of notifications and especially their locations," she told North Wales Live. "This means so much to every one of [the fans] so mine weren't the only tears in the stadium."
4. A Seismic World Cup Upset
Argentina went into the World Cup as strong favorites having won the 2021 Copa America, so their shock 2-1 defeat to Saudi Arabia, having led 1-0 at half-time, was nothing short of seismic.
It was almost quite literally that for one set of fans, who celebrated the victory so raucously they ended up ripping the front door off. Footage of the wild celebrations was uploaded to TikTok by os.nx where it's already been viewed over 7 million times. Watch it here.
5. "We're On The F****** Telly"
You didn't need to be a lip-reader to realize how one Australia fan reacted after seeing himself on the big screen during the Socceroo's 4-1 loss to France.
Appearing in shock at seeing his face in bright lights, the supporter's expletive-laced reaction may not have been audible but it was obvious to anyone watching.
6. Japan Keep It Neat and Tidy
Japan won plenty of admirers at the World Cup thanks to their energetic, attacking displays on the pitch and model behavior off it.
After claiming a notable scalp with a 2-1 win over Germany, the Blue Samurai won further praise after leaving their dressing room in an immaculate condition.
7. The Otter Oracle
While Japan's win over Germany came as a shock to many back home, it was no surprise to Taiyo, an eight-year-old male otter from Maxell Aqua Park Shinagawa in Japan, who had predicted the upset.
A day before the game, Taiyo was tasked to predict the outcome. The otter's handlers tasked him with putting a miniature soccer ball in one of three buckets.
Taiyo had to choose from either a blue bucket featuring the Japanese flag, a red one with the German flag or a yellow one labeled simply "draw." He confidently plumped for Japan.
8. Ronaldo Enjoys A Snack Break
Cristiano Ronaldo racked up yet another record at these finals as the first player to score in five World Cups after converting a penalty against Ghana.
Yet for some CR7 fans online, the big talking point came when the Portuguese star was filmed retrieving a snack from his underpants before eating it.
"Can someone please enlighten me and what Ronaldo is eating?" one Twitter user asked. Good question.
8. A Bold Brazilian Prediction
Ahead of Brazil's game with Serbia, ESPN Brazil sent a reporter to Belgrade to gauge the mood of the opposition support. The results did not disappoint, not least the moment when the reporter asked a young fan his prediction for the game.
"I think that Serbia will win 3-0 against Brazil because Mitrovic will score two goals at the start, and in the second half, Vlahovic will score because the whole defense is terrifying, and Neymar is going to fall and cry like a baby," he said.
That may not have come to pass but the young fan won plenty of plaudits for making the remarks on live Brazilian TV.
9. An Interview To Forget
A Sky reporter from the U.K. suffered a fail while attempting to interview Wales fans departing the stadium in the wake of their 2-0 loss to Iran.
"What is your reaction to the win?" he asked one supporter. "We lost," came the reply. Though he apologized profusely, the reporter was forced to move on to another fan who, when asked for his thoughts on the game, simply replied: "s***."
An interview he would probably rather forget.
10. Weston McKennie Improvises
Team U.S. were arguably the better team when they faced off against England, though the game itself was a largely forgettable encounter save for one moment of hilarity involving midfielder Weston McKennie.
Eager to dry his hands before taking a long throw, but unable to locate a towel, the Juventus midfielder opted instead to use a nearby photographer instead – much to the snapper's obvious displeasure.
11. A Show Of Support
Soccer fans can be fickle at the best of times but one supporter took that to new levels while watching Saudi Arabia against Poland.
Having just watched Poland's Robert Lewandowski score a goal that condemned the Saudis to defeat, he promptly swapped out of a green Saudi Arabia kit to the red of Poland. Gives a whole new meaning to the term "win-win."
12. Messi Leaves One Fan Barking Mad
Defeat to a Lionel Messi-inspired Argentina was difficult to take for many Mexico fans, not least one of the four-legged variety.
In footage shared to TikTok, a small dog being held by a female Mexico fan can be seen reacting angrily to the mere mention of Messi's name.
Watch the ferocious footage here.
13. A Badly Timed Selfie
Ghana and South Korea played out a thrilling group stage game with the African side coming out 3-2 winners. Tottenham Hotspur forward Son Heung-Min was left devastated by the result at the final whistle, and his mood didn't improve much when one member of the Ghana coaching staff attempted to take a sneaky selfie with the Premier League star.
14. Who Needs Neymar?
South American superstar Neymar sat out Brazil's second group stage game against Switzerland but his presence was felt in the stands, thanks to a lookalike who found himself mobbed by the Selecao support.
15. Senegal and Morocco Fans Unite
One of the more positive images to come out of the World Cup surfaced during Senegal's 2-1 win over Ecuador. In footage broadcast around the world a Morocco fan was shown joining in with the Senegal supporters in a heartwarming exchange of cultures.
It helped that his dance moves were on point too.
16. A Warm Embrace
Having lost to Iran back at the 1998 World Cup, Team U.S. were desperate to get revenge this time around and achieved exactly that with a 1-0 victory courtesy of 'Captain America' Christian Pulisic's goal.
However, in the aftermath of the win, which secured their place in the last-16, full-back Antonee Robinson earned the respect of many after sharing an emotional embrace with Iran's Ramin Rezaeian.
17. Mexican Fury
Despite a 2-1 victory over Saudi Arabia, Mexico failed to advance to the last 16 of the World Cup for the first time in 44 years. It was a bitter pill to swallow for one supporter, who ended up trashing his television in footage that eventually went viral.
18. Unhappy Man of the Match
Kai Havertz was fully deserving of the Man of the Match award following Germany's 4-2 victory over Costa Rica. Unfortunately, it wasn't enough to see them through with Japan's 2-1 win over Spain sending the four-time winners crashing out.
Havertz's face upon receiving the Man of the Match award said it all.
19 Scores Then Sees Red
Vincent Aboubakar enjoyed a World Cup to remember, capped by a match-winning goal in the dying embers of Cameroon's group-stage clash with Brazil.
Unfortunately, in taking off his shirt to celebrate, he earned a second yellow card and was duly sent off, much to the amusement of both the referee and Aboubakar himself.
20. Age Is Just A Number
A 76-year-old Argentina fan has been rolling back the years on TikTok with a series of videos showing her support for the national team on their run to the World Cup final.
María Cristina Mariscotti's dances have become something of a ritual in the wake of Argentina wins at the World Cup, with many of the clips featuring her strutting her stuff while waving the national team flag. This video alone has been watched 4 million times.
21. Top Croatian Trolling
Japan may have been everyone's favorite team but that didn't stop Croatia ruthlessly dispatching them on penalties. To make matters worse, Croatian Instagram model Ivana Knoll appeared confident of victory, posting a picture of herself in a Croatia-themed dress, eating sushi alongside the caption: "Japan we are ready for you." Brutal.
22. A Mother's Embrace
Morocco's run to the World Cup semi-final was one of the big talking points of the tournament and a defining moment came with victory over Spain in the last-16 after a penalty shootout.
Achraf Hakimi, born in Spain to Moroccan parents, provided one of the most iconic images of the tournament when he shared a warm embrace with his mom after the win.
23. Brazilian Fan Gets Busted
Footage of a female Brazil fan went viral after she was seen applying makeup during a match, using a man's phone to see what she was doing, before appearing to catch him flirting with someone nearby.
The 15-second clip has been viewed more than 14 million times on Twitter since it was shared during Brazil's World Cup quarter-final defeat by Croatia, in which the Samba Boys were beaten on penalties.
24. No Love Lost In Winning
Argentina's players drew criticism after pictures surfaced of them goading the Netherlands team in the wake of their penalty shootout victory.
However, footage later emerged showing several Dutch players doing their level best to intimidate and psyche out the South American spot-kick takers.
25. An Eerie World Cup Prediction
While there were fewer weird and wild moments towards the business end of the tournament, one tweet from 2015 went viral in the wake of Argentina's win.
On March 20, 2015, Jose Miguel Polanco tweeted: "December 18, 2022. 34 year old Leo Messi will win the World Cup and become the greatest player of all times. Check back with me in 7 years."
Incredibly, he was even in Qatar to witness it.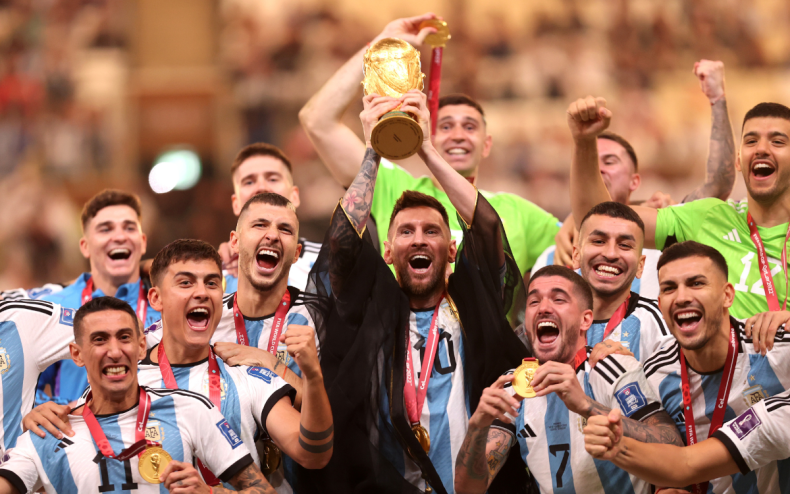 https://www.newsweek.com/shocking-world-cup-moments-qatar-2022-1767966 All The Shocking World Cup Moments You Probably Missed From Qatar 2022