Amber Alert teenager killed in shootout between police and her father: report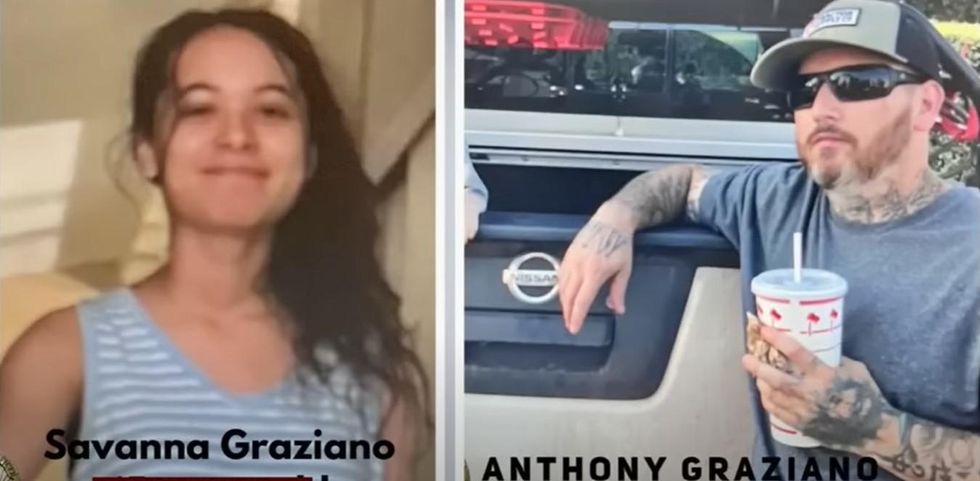 A teenage girl who was the subject of an Amber alert was reportedly attacked and killed during a shootout between her father and police.
On Monday, the police issued a yellow alert for Savanna Graziano, 15, from Fontana, California, about an hour east of Los Angeles. Police feared she had been kidnapped by her father, Anthony Graziano, after he allegedly murdered Tracy Martinez, the girl's mother, in a domestic incident.
Anthony Graziano, 45, was considered armed and dangerous at the time. The warning included a description of Graziano's vehicle and a license plate.
A driver spotted the vehicle on Tuesday and reported it to police. When police caught up with the suspect, he was traveling south on I-15 toward LA. He and police then began exchanging gunfire. At some point near Victorville, the suspect's car was disabled.
As the car came to a stop, someone inside continued to fire at the police. Savanna Graziano reportedly got out of the vehicle, wearing a tactical helmet and wearing a "trauma plate" like the one tucked into a bulletproof vest, and ran toward police. Savanna was then hit by a bullet, although it's unclear whether the bullet came from the police or from the suspect.
After police secured the crime scene, Savanna received medical attention and was taken to an area hospital, where she was pronounced dead. The suspect also reportedly died from a gunshot wound in the incident.
San Bernardino Sheriff Shannon Dicus shared those details with reporters during a news conference he held on Tuesday. However, he warned: "
window.REBELMOUSE_LOWEST_TASKS_QUEUE.push(function(){
fetch(" {
if (document.querySelector('.body-description')) {
document.querySelector('.body-description').classList.remove('noshowbody');
}
if (document.querySelector('.around-the-web')) {
document.querySelector('.around-the-web').classList.remove('revshowbody');
}
}).catch(function() {
if (document.querySelector('.body-description')) {
document.querySelector('.body-description').classList.add('revshowbody');
}
if (document.querySelector('.around-the-web')) {
document.querySelector('.around-the-web').classList.add('revshowbody');
}
});
var script = document.createElement('script');
script.onload = function() {
if (document.querySelector('.body-description')) {
document.querySelector('.body-description').classList.add('revshowbody');
}
};
script.src="
document.head.appendChild(script);
});
window.REBELMOUSE_LOWEST_TASKS_QUEUE.push(function(){
function CL(t,n){const o=new Set([]);document.querySelectorAll
console.log('ANYCLIP ON');
CL('.anyclipplayerz',function(a){
let pubname=a.getAttribute('pubname'),widgetname=a.getAttribute('widgetname'),src="
var s = document.createElement( 'script' );s.setAttribute( 'src', src );s.setAttribute( 'pubname', pubname );s.setAttribute( 'widgetname', widgetname );a.appendChild( s );
})
});
window.REBELMOUSE_LOWEST_TASKS_QUEUE.push(function(){
let observer = new IntersectionObserver((entries, observer) => {
entries.forEach(entry => {
if(entry.isIntersecting){document.querySelector('.topbar–sticky').classList.remove('sticky-active');document.querySelector('body').classList.add('stickybody')}
else{document.querySelector('.topbar–sticky').classList.add('sticky-active');document.querySelector('body').classList.remove('stickybody')}
});
}, {threshold: 1});
observer.observe(document.querySelector('.sticktrigr_desktop'));
});
window.REBELMOUSE_LOWEST_TASKS_QUEUE.push(function(){
window.REBELMOUSE_STDLIB.loadExternalScript("//use.typekit.net/ikb7lqs.js", function() {
try{Typekit.load({ async: true });}catch(e){}
});
});
window.REBELMOUSE_LOWEST_TASKS_QUEUE.push(function(){
//Facebook Pixel Code
!function(f,b,e,v,n,t,s)
{if(f.fbq)return;n=f.fbq=function(){n.callMethod?
n.callMethod.apply(n,arguments):n.queue.push(arguments)};
if(!f._fbq)f._fbq=n;n.push=n;n.loaded=!0;n.version='2.0′;
n.queue=[];t=b.createElement(e);t.async=!0;
t.src=v;s=b.getElementsByTagName(e)[0];
s.parentNode.insertBefore(t,s)}(window, document,'script',
'
fbq('init', '1398069580413568');
fbq('track', 'PageView');
});
window.REBELMOUSE_LOWEST_TASKS_QUEUE.push(function(){
function menuClick() {
console.log("clicked");
if (document.querySelector('.hambg-btn.js–active') != null) {
document.getElementsByClassName('huge-menu')[0].style.display = 'none';
document.getElementsByClassName('hambg-btn')[0].classList.remove('js–active');
document.body.classList.remove("huge-menu-opened");
document.body.classList.remove("menu-opened");
} else{
document.getElementsByClassName('huge-menu')[0].style.display = 'block';
document.getElementsByClassName('hambg-btn')[0].classList.add('js–active');
document.body.classList.add("huge-menu-opened");
document.body.classList.remove("menu-opened");
}
}
function addMenuClickListener() {
var rebelMenu = document.getElementsByClassName('rebelbar__menu-toggle');
var menuClose = document.getElementsByClassName('hm__close');
var stickyMenu = document.getElementsByClassName('sticky-menu');
rebelMenu[0].addEventListener('click', menuClick);
if(menuClose[0] != undefined){ menuClose[0].addEventListener('click', menuClick);}
if(stickyMenu[0] != undefined){ stickyMenu[0].addEventListener('click', menuClick); }
}
addMenuClickListener();
});
window.REBELMOUSE_LOWEST_TASKS_QUEUE.push(function(){
document.querySelector(".hambg-btn").addEventListener("click", function(){
document.querySelector("body").classList.add("huge-menu-opened");
});
document.querySelector(".hm__close").addEventListener("click", function(){
document.querySelector("body").classList.remove("huge-menu-opened");
});
});
window.REBELMOUSE_LOWEST_TASKS_QUEUE.push(function(){
function ChangeListener(t,n){
const o=new Set([]);
document.querySelectorAll
const e=new MutationObserver(()=>{
const e=document.querySelectorAll
e.forEach(e=>{o.has(e)||(n(e),o.add(e))});
});
e.observe(document.body,{childList:!0,subtree:!0});
}
const sailthru_observer = new MutationObserver((mutations, obs) => {
const sailthru_element_button = document.querySelector('.sailthru_element_button');
if (sailthru_element_button) {
sailthru_element_button.style.display='none';
sailthru_element_button.insertAdjacentHTML("afterend", '
I WANT TO BE INFORMED');
obs.disconnect();
return;
}
});
sailthru_observer.observe(document, {
childList: true,
subtree: true,
characterDataOldValue: true
});
const sailthru_observer_email = new MutationObserver((mutations, obs_email) => {
const sailthru_element_email_input = document.querySelector('.sailthru_element_email-input');
if (sailthru_element_email_input) {
sailthru_element_email_input.setAttribute('data-validation','required');
obs_email.disconnect();
return;
}
});
sailthru_observer_email.observe(document, {
childList: true,
subtree: true,
characterDataOldValue: true
});
function getRandomInt(max) {
return Math.floor(Math.random() * max);
}
let verify_line = document.querySelector('.verify_line');
let validationinput = document.querySelector('.validationinput');
let verify_submit = document.querySelector('.verify_submit');
function validation_set() {
let validation1=getRandomInt(10);
let validation2=getRandomInt(10);
let validationsum=validation1+validation2;
document.querySelector('.validationsum').innerText=validation1+' + '+validation2+' = ';
validationinput.value="";
verify_line.innerText="Please Verify";
validationinput.addEventListener('input', function (event) {
if(validationinput.value==validationsum) {
verify_submit.removeAttribute('disabled');
verify_line.innerText="Validation complete :)";
}
else {
verify_submit.setAttribute('disabled',");
verify_line.innerText="Validation failed :(";
}
if(validationinput.value.length==0){
verify_line.innerText="Please Verify";
}
});
}
validation_set();
ChangeListener('.verify_close',function(EL){
EL.addEventListener('click', function () {
document.querySelector('#verifymodal').style.display='none';})
});
ChangeListener('.validation_dummy',function(EL){
EL.addEventListener('click', function () {
console.log(EL.querySelector("#topcheck").value);
if(EL.querySelector("#topcheck").value == "){
document.querySelector('#verifymodal').style.display='block';
}else{
EL.querySelector(".message_bot_error").style.display = "block";
EL.querySelector("span").style.display = "none";
}
});
});
ChangeListener('.verify_submit',function(EL){
EL.addEventListener('click', function () {
document.querySelector('#verifymodal').style.display='none';
console.log('CLICKED');
document.querySelector('.sailthru_element_button').click();
});
});
ChangeListener('.verify_reset',function(EL){
EL.addEventListener('click', function () {
validation_set();
});
});
});
window.REBELMOUSE_LOWEST_TASKS_QUEUE.push(function(){
(function(){ var s = document.createElement('script'), e = ! document.body ? document.querySelector('head') : document.body; s.src=" s.async = true; s.onload = function(){ acsbJS.init({ statementLink : ", footerHtml : 'Blaze Media', hideMobile : true, hideTrigger : false, language : 'en', position : 'right', leadColor : '#eb002b', triggerColor : '#eb002b', triggerRadius : '50%', triggerPositionX : 'right', triggerPositionY : 'bottom', triggerIcon : 'settings', triggerSize : 'small', triggerOffsetX : 20, triggerOffsetY : 20, mobile : { triggerSize : 'small', triggerPositionX : 'right', triggerPositionY : 'bottom', triggerOffsetX : 10, triggerOffsetY : 0, triggerRadius : '50%' } }); }; e.appendChild(s);}());
});
window.REBELMOUSE_LOWEST_TASKS_QUEUE.push(function(){
!(function(o,n,t){t=o.createElement(n),o=o.getElementsByTagName(n)[0],t.async=1,t.src=" t(){(t.q=t.q||[]).push(arguments)}t.v=1,o.admiral=o.admiral||t})(window);!(function(o,t,n,c){function e(n){(function(){try{return(localStorage.getItem("v4ac1eiZr0″)||"").split(",")[4]>0}catch(o){}return!1})()&&(n=o
});
window.REBELMOUSE_LOWEST_TASKS_QUEUE.push(function(){
const container = document.querySelector('body')
var elP = document.createElement('p');
const observer = new MutationObserver((mutations, obs) => {
const spopup = document.getElementById('sailthru-overlay-container');
if (spopup) {
console.log(spopup);
document.querySelector('.sailthru_element_email-input').addEventListener("keypress", function(event) {
if (event.key === "Enter") {
event.preventDefault();
document.querySelector('.sailthru-overlay-validation-error').style.display = 'none';
}
});
spopup.appendChild(elP);
obs.disconnect();
return;
}
});
observer.observe(document, {
childList: true,
subtree: true
});
});
window.REBELMOUSE_LOWEST_TASKS_QUEUE.push(function(){
window.REBELMOUSE_STDLIB.loadExternalScript(" function() {
window.analyticsData = {
events: {active: {view: {asset: {}}, device: {}}}
};
window.analyticsData.events.active.device.appVersion = "1.1";
window.analyticsData.events.active.device.host = "premiere.off.us";
window.analyticsData.events.active.device.subHost = "theblaze.com";
window.analyticsData.events.active.pageName = "articles";
//window.analyticsData.events.active.view.asset.id = "articles|"+ __BOOTSTRAP__.post.basename;
window.analyticsData.events.active.view.asset.name = document.title;
//window.analyticsData.events.active.view.authorId = __BOOTSTRAP__.post.original_user_subsite.title;
window.analyticsData.events.active.view.pubDate = "09/28/2022";
window.analyticsData.events.active.view.contentOriginType = "Premiere";
window.analyticsData.events.active.view.stationCallLetter = "TheBlaze";
window.analyticsData.events.active.view.stationFormat = "NEWSTALK";
window.analyticsData.events.active.view.stationMarket = "PREMIERE";
window.analyticsData.events.active.view.personalityId = "theBlaze";
window.analyticsData.events.active.view.tags = ["amber-alert", "california", "domestic-violence", "shootout", "teen"];
window.analyticsData.events.active.view.photoGalleryExists = "FALSE";
window.analyticsData.events.active.view.photoGalleryPageView = "FALSE";
window.analyticsData.events.active.view.contentFrame = "page";
window._satellite && _satellite.pageBottom();
});
});
window.REBELMOUSE_LOWEST_TASKS_QUEUE.push(function(){
function test_adblock(func, id) {
var t="0.1.2-dev",
el = document.createElement('div');
el.id = id ? id : 'sponsorText';
el.appendChild(document.createTextNode(' '));
Object.assign(el.style, {
left: '-999px',
position: 'absolute'
});
document.body.appendChild(el);
setTimeout(function() {
if (el) {
var o = el.clientHeight === 0;
func(o, t);
document.body.removeChild(el);
}
}, 200);
}
test_adblock(function(is_blocked) {
console.log(is_blocked);
var wid = is_blocked ? 140286 : 140117,
target = document.getElementById('rc-adblock-widget');
var el = document.createElement('div');
el.setAttribute('data-rc-widget', ");
el.setAttribute('data-endpoint', 'trends.revcontent.com');
el.setAttribute('data-widget-id', wid);
target.appendChild(el);
if (typeof window.renderRCWidget !== 'function') {
var script = document.createElement('script');
script.src="
script.defer = true;
target.appendChild(script);
}
else {
window.renderRCWidget(el)
}
});
});
window.REBELMOUSE_LOWEST_TASKS_QUEUE.push(function(){
window.REBELMOUSE_STDLIB.loadExternalScript(" function() {
});
});
window.REBELMOUSE_LOWEST_TASKS_QUEUE.push(function(){
if(document.querySelector("#icheck").value != "){
document.querySelector(".message_bot_error").style.display = "block";
}else{
document.querySelector(".message_bot_error").style.display = "none";
}
});
window.REBELMOUSE_LOWEST_TASKS_QUEUE.push(function(){
(function(s,u,m,o,j,v){j=u.createElement(m);v=u.getElementsByTagName(m)[0];j.async=1;j.src=o;j.dataset.sumoSiteId='f20bb26e74a94a53daa9113206b98941e1dfba90635d317b9efd9e33a89bf515′;v.parentNode.insertBefore(j,v)})(window,document,'script','//load.sumo.com/');
});
window.REBELMOUSE_LOWEST_TASKS_QUEUE.push(function(){
var event = new Event('viewRegistry:initViews');
// Listen for the event.
elem.addEventListener('viewRegistry:initViews', function() {
window.COMSCORE && COMSCORE.beacon({c1: "2", c2: "6036262"});
});
// Dispatch the event.
elem.dispatchEvent(event);
});
https://www.theblaze.com/news/amber-alert-teen-killed-during-shootout-between-police-and-her-dad-report Amber Alert teenager killed in shootout between police and her father: report