An elderly woman foiled an attempted robbery by a gunman on a blue-green bicycle over Christmas in California, police say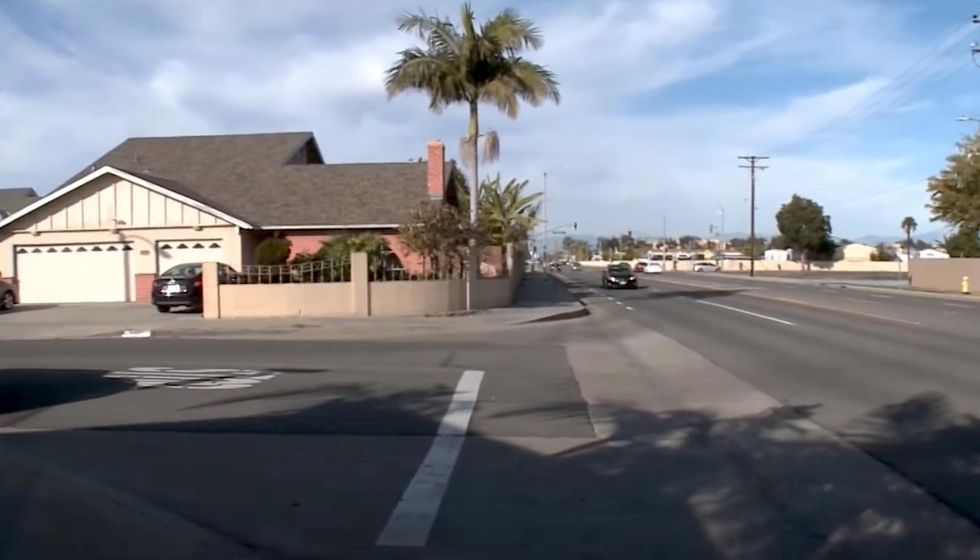 An elderly woman was able to fend off a gunman on a blue-green bicycle tried to rob her on her morning walk on Christmas Day, California police said.
The showdown unfolded very early on Christmas morning when the unidentified woman went for a walk in her Westminster neighborhood around 3am
The woman, in her 80s, was confronted by the man with a gun after he rode his blue-green bicycle near the intersection of Bushard Street and England Avenue. He drew his gun and asked for her purse.
Instead of giving in to his threats, she fought back.
"The victim wouldn't give up her purse, especially at Christmas, took out her pepper spray and used it on the suspect," police said. "Fortunately, the suspect did not shoot the victim and instead fled the scene on his bicycle."
The police could not identify a suspect in the case.
The man was described by police as a Latino male in his 30s, approximately 5ft 9 inches tall and of slim build. They said he has a "chiseled" face and a "pointy" nose and is wearing a black cap and jacket with white writing.
Akesa Oliveti, a resident nearby, told KTLA-TV the attempted robbery was not typical of the neighborhood.
"I think good for them, I mean self-defense, you know you have to do whatever it takes to protect yourself," she said.
"It's unfortunate that this happened in our neighborhood," Oliveti added. "In our experience, we've never heard or seen anything like it around here."
Police are asking residents in the area to check their security cameras for possible Christmas Day footage of the suspect.
Here is a local news report on the incident:
Elderly woman foils attempted armed robbery in Westminsterwww.youtube.com
https://www.theblaze.com/news/elderly-woman-robbery-teal-bike An elderly woman foiled an attempted robbery by a gunman on a blue-green bicycle over Christmas in California, police say