Analysts at JPMorgan say you'll be paying $6 a gallon for gas this summer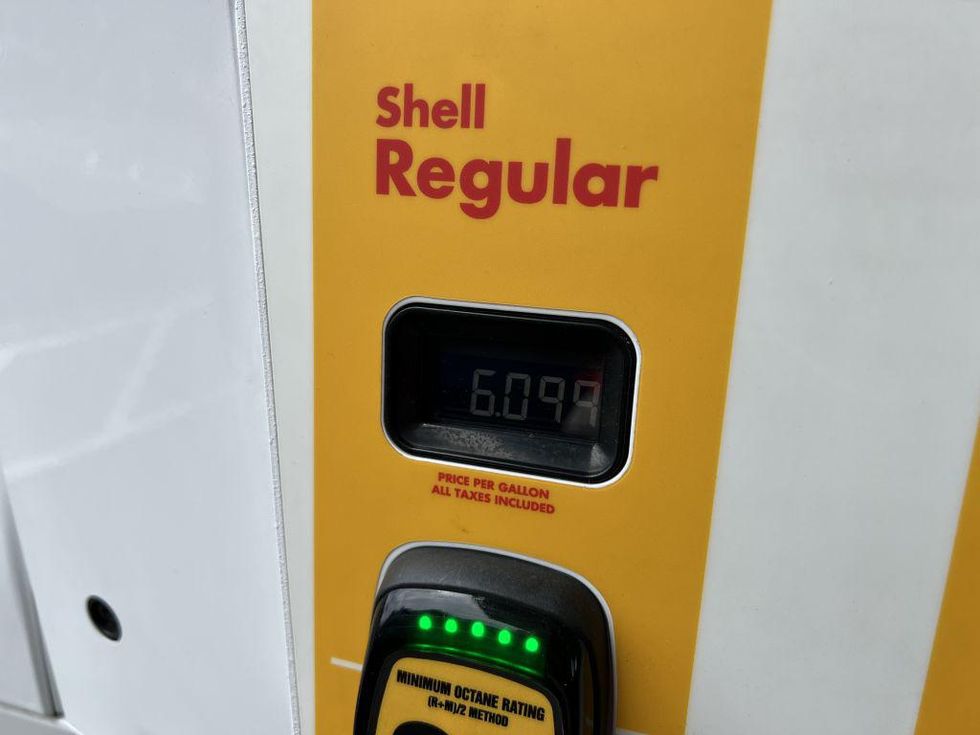 With the average price of gasoline hitting $6 a gallon in California on Tuesday, analysts at JPMorgan are warning that the price could be the norm across the country by the end of the summer.
The national average price of gasoline is now at a record high of $4.57 a gallon, the agency said American Automobile Association. That number is up 16 cents from last week's average, up 48 cents from last month, and nearly $1.50 more expensive than the national average last year, which was $3.04. Every state now has an average gas price above $4 a gallon, with Georgia, Kansas and Oklahoma catching up with the rest of the country as of Tuesday.
Prices are expected to continue rising as the ongoing war between Russia and Ukraine disrupts international supply chains, while at home the Biden administration has canceled oil and gas lease sales. With more Americans expected to travel for work or vacations during the summer, a likely surge in gasoline demand could push prices even higher.
"There is a real risk that the price could reach above $6 a gallon by August," said JPMorgan analyst Natasha Kaneva said CNN on Tuesday. JPMorgan forecasts prices could rise another 37% through August as East Coast gasoline inventories hit their lowest level since 2011.
U.S. and Canadian oil refineries have taken a hit during the pandemic, with some closing permanently and others switching to refining renewable fuels instead of crude oil, CNN reports. The war in Ukraine is compounding the problem by severely curtailing gas supplies for European countries that depend on oil from Russia, which has led to increased demand for US and Canadian exports.
The shift in focus to exports has kept US and Canadian refiners from supplying gas stations in the eastern US, according to JPMorgan analysis.
"If exports continue at this elevated pace and refinery runs – which are already near the upper range for reasonable utilization rates – meet our expectations, gasoline inventories could continue to fall to levels below 2008 lows and retail gasoline prices to 6 dollars per gallon or even higher," wrote analysts at JPMorgan.
If these assumptions are correct, total US gasoline inventories could fall below 160 million barrels by the end of August, which would be the lowest level since the 1950s and result in a national median gas price of $6.20 per gallon.
To avoid this catastrophe, US refiners must reduce exports and increase gasoline production "immediately". If it doesn't, "US consumers shouldn't expect any price relief at the pump until the end of the year," JPMorgan said.
There are other factors that could prevent gas from reaching $6, but none of them are good. If the price rises too high too quickly, some consumers won't be willing to drive as much, and this reduced demand could help stabilize prices. Another bad option is the economic recession: slower job growth would mean fewer people drive to work, which would reduce demand for gasoline. Prices could fall, but would that matter if people lost their jobs?
Government estimates paint a somewhat brighter picture. The US Energy Information Administration Forecast in April that the national average retail price will fall to $3.75 a gallon in July and then $3.68 a gallon in September, citing an expected increase in gasoline production from US refineries to "put downward downward pressure on wholesale margins gradually over the summer." for gasoline and retail prices".
https://www.theblaze.com/news/jpmorgan-analysts-say-you-ll-be-paying-6-per-gallon-for-gas-this-summer Analysts at JPMorgan say you'll be paying $6 a gallon for gas this summer