Ann Coulter criticizes Donald Trump on crime and public safety: 'Isn't your type'
Conservative pundit Ann Coulter has denounced former President Donald Trump over his public safety record, claiming Trump decided to "release all criminals" after the police killing of George Floyd in 2020.
During one PBD Podcast In an interview published Thursday, Coulter praised Florida Republican Gov. Ron DeSantis, Trump's rival in the 2024 presidential election, for passing laws "where you can shoot looters" amid the Black Lives Matter protests, claiming that Florida offers a rare escape to "feel safe" in 2020.
By contrast, Coulter argued, Trump's successes in preventing crime and maintaining public safety amounted to little more than sending all-caps tweets reading "LAW AND ORDER."
Coulter claimed that the former president became more focused on "releasing criminals" after he signed the First Step Act, a 2018 criminal justice reform law that offers some nonviolent drug offenders an opportunity for early release.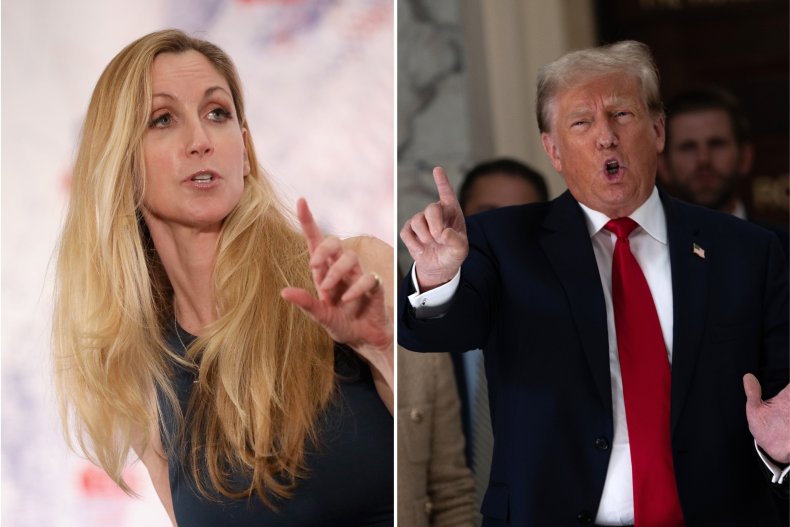 "George Floyd, May 25, 2020, changed the world," Coulter said. "Suddenly, among other things, we have to release all criminals… One place you would have been safe in 2020 was Florida. Thank you, Ron DeSantis, [for] Pass law after law about shooting looters and anti-sedition laws."
"What did Trump do? He sent out tweets in all caps, LAW AND ORDER," she continued. "You know what he said in the first debate [President] Joe Biden? … 'They called them super robbers, I release people from prison.' … He releases criminals. Do you want to feel safe? Donald Trump is not your type.
Newsweek reached out to Trump's office via email Thursday evening seeking comment.
Coulter was once one of Trump's most loyal supporters and was the author of the book In Trump we trust: E Pluribus Awesome! in 2016. Since then, she has had a dramatic falling out with the former president and become one of his harshest Republican critics.
Trump has engaged in an escalating war of words with Coulter for years, most recently calling her a "stone-cold loser" and "intolerably crazy" in two Truth Social posts last month.
Coulter responded to Trump with a heated post on X, formerly Twitter, claiming the ex-president had recently "begged" her to meet with him in Bedminster, New Jersey.
"Trump begged me to come to Bedminster this week, I just said I could do a substack with him, but the GIGANTIC p**** is too scared of me so he did this instead," Coulter wrote.
In August, Coulter described Trump as "a huge baby" who "can barely speak English" and praised DeSantis ahead of the first 2024 GOP primary debate, which Trump declined to attend.
Trump called Coulter a "crazy lunatic" as her criticism of his failure to complete the U.S.-Mexico border wall grew louder in 2019, insisting at the time that he was "winning at the border."