AOC slams Marjorie Taylor Greene over 'petty' complaint in New York City
Republican Rep. Marjorie Taylor Greene of Georgia is the embodiment of a "petty" complaint from the Homeowners' Association, according to New York Democratic Rep. Alexandria Ocasio-Cortez.
During an interview with Fox News host Tucker Carlson on Wednesday, Greene described New York City as "disgusting" and "smelling bad" while complaining that her protest in Manhattan over the arrest of former President Donald Trump was cut short over counter-protesters was previous day.
Greene made the remarks after Carlson referred to New York Mayor Eric Adams' "home" and asked her to provide an overview of the metropolis. Earlier in the week, Adams, a Democrat, warned Greene to look "on her best behavior" ahead of the planned protest and accused her of spreading "misinformation and hate speech."
"His home is gross," Greene told Carlson. "I compared it to what I call Gotham City. The streets are dirty, they're full of people who are basically dying from drugs. They can't even get up, they fall down."
"There's so much crime in the city," she continued. "I can't understand how people live there. It was repulsive. It smells bad. And I just think it's a terrible place."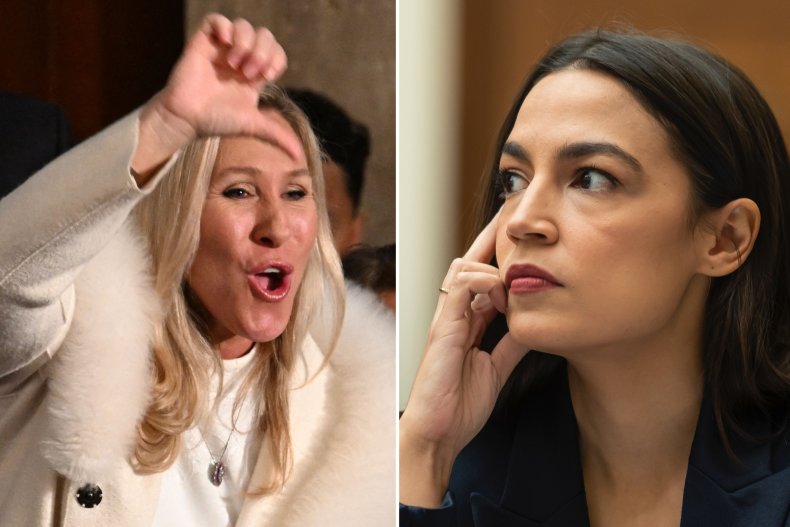 Ocasio-Cortez, who represents a congressional district in Queens and the Bronx, later challenged Greene's assessment in two tweets.
"If a small HOA complaint was a person," Ocasio-Cortez commented in response to a clip of Greene's remarks.
"If someone went on TV and talked about a rural area like this, they would take their gloves off – and rightly so," she said added. "It's no different. If she doesn't like the largest city in the United States, that's her problem. Me [love] New York."
Although New York City's crime rate has risen in recent years, it is nowhere near historic highs and remains lower than most other major U.S. cities. Additionally, an analysis published by Bloomberg last year argued that the city's residents are safer than many in small towns across the country.
Greene's pro-Trump protest was called off after crowds in Manhattan whistled, booed and shouted "liars" at her on Tuesday morning. Greene told Carlson that Adams was responsible for the "mess" after he "put out a dog whistle about violence against me" by warning her to behave.
Greene previously accused a protester armed with a whistle of "assault" after her speech was drowned out following a visit to the January 6 defendants at a DC jail last month.
In an interview with far-right Right Side Broadcasting Network shortly after her aborted protest on Tuesday, the congresswoman compared the "persecution" of Trump, who was charged with 34 counts of forging business records, to that of figures like Nelson Mandela and Jesus Christ.
news week emailed Greene's office for comment.
https://www.newsweek.com/aoc-slams-marjorie-taylor-greene-over-petty-new-york-city-complaint-1792848 AOC slams Marjorie Taylor Greene over 'petty' complaint in New York City