AOC tears up Marjorie Taylor Greene's 'insurgency' claim as Rogen feud heats up
Rep. Alexandria Ocasio-Cortez slammed Rep. Marjorie Taylor Greene's claim that she inspired the "insurgency" by encouraging protests as congressmen argued over the reversal Roe v. calf.
Greene, a Republican from Georgia, tweeted Friday that Ocasio-Cortez "started an uprising" by urging abortion-rights supporters to protest the Supreme Court, which struck down the landmark 1973 ruling, adding that " any violence or rioting is a direct result of Democratic marching orders." The New York Democrat soon hit back, suggesting Greene was guilty of attempting to "overthrow democracy," alluding to recent claims that she had is trying to get a pardon from former President Donald Trump after the Jan. 6 Capitol riots.
"I'll explain this to you slowly: Exercising our right to protest is neither an obstruction of Congress nor an attempt to overthrow democracy," Ocasio-Cortez said tweeted. "If someone were despicable enough to do something like that, they would probably apologize for it too. But only one of us here did. And I'm not."
Greene has accused the Jan. 6 House Special Committee of "spreading gossip and lies" in response to claims she asked for a pardon. Greene didn't directly address the issue when he responded to Ocasio-Cortez's tweet a short time later.
However, Greene accused her Democratic rival of supporting "baby-killing riots" and urged her instead to "explain" why she was a "shill" for the war in Ukraine and not push for the secret document leaks Julian Assange and Edward Snowden are pardoned.
"How about you slowly explain why you will not support pardons for Julian Assange and Edward Snowden?" tweeted Green. "And then go on explaining why you're a moron to them [military industrial complex] Funding war in Ukraine Or are you too busy organizing riots to kill babies?"
Greene's original tweet included video of Ocasio-Cortez chanting "illegitimate" and "into the street" alongside protesters outside the Supreme Court. Earlier in the day tweets from the progressive lawmaker said that it was "time to get organized" and that "we will never stop until abortion rights are restored in the United States of America."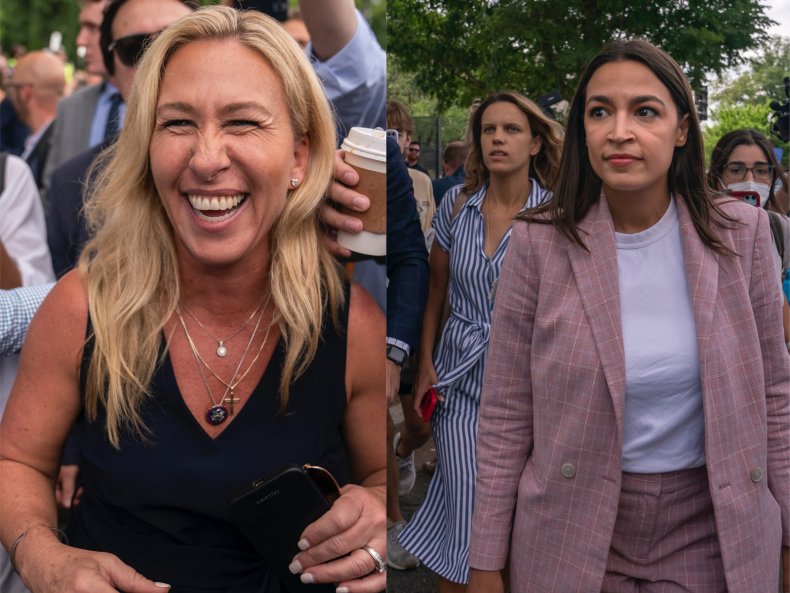 Ocasio-Cortez's support for protesting the decision did not include calls for violence or rioting. However, the independent group Jane's Revenge, which arose after the majority draft opinion of the court, continued to develop roe leaked last month, has vowed a "night of anger" in Washington, DC over the decision.
"The night SCOTUS falls over Roe v. calf Take to the streets, you said you would riot," read a flyer reportedly distributed around town by the group. "To our oppressors, if abortion isn't safe, then neither are you."
news week contacted the offices of Greene and Ocasio-Cortez for comment.
https://www.newsweek.com/aoc-rips-marjorie-taylor-greenes-insurrection-claim-roe-feud-heats-1719130 AOC tears up Marjorie Taylor Greene's 'insurgency' claim as Rogen feud heats up