Are You a 'Spare' Like Prince Harry? What Are Replacement Children?
Prince Harry's controversial new memoir Spare has focused attention on what it feels like to be constantly in the shadow of your sibling, feeling like your only purpose in life is to be a replacement in case they die.
But there are some people, whose lives were struck by tragedy before they were even born, who have spent a lifetime feeling they are just a substitute for a deeply mourned dead brother or sister. These siblings are known as a 'replacement child.' Some of them struggle to forge their own identity; others find themselves in failed relationships. Some even call themselves a 'haunted', 'bound', or 'resurrection' child, who struggle to have a happy childhood and relationship with parental figures.
Newsweek spoke to three people who call themselves a 'replacement child', to find out how being the 'other' child affected their childhood, and how it has shaped them as an adult.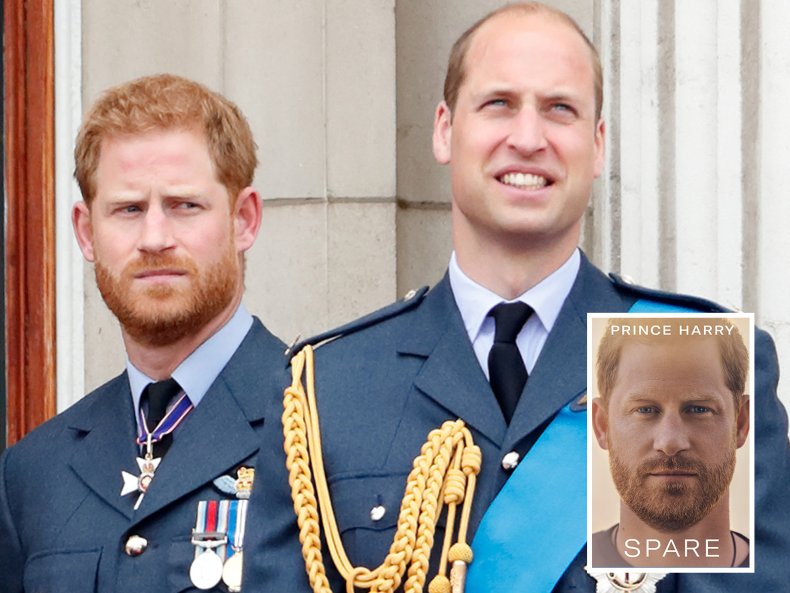 What Is A Replacement Child?
Even though little literature is available on the subject, a replacement child is defined in psychological terms as a child who is "born to take the place of a deceased child." These are children who will grow up living in the shadow of the sibling they're replacing, "constantly competing with a perfect ghost," as some replacement children describe their experience.
Through the years, the definition of replacement child has expanded to include children whose role within the family shifted in order to replace a deceased sibling, children who are made to feel responsible for their disabled sibling, and children who are adopted to take the place of a biological child the parents were unable to have, among other cases.
Historically, this practice has been widespread, especially among royal families, who have made sure to have an heir and at least a spare to replace the heir in case something happened to them. Prince Harry goes further, claiming in his book that he was born to act as a potential organ donor to his older brother Prince William.
"I was brought into the world in case something happened to Willy [William]. I was summoned to provide back-up, distraction, diversion and, if necessary, a spare part. Kidney, perhaps. Blood transfusion. Speck of bone marrow. This was all made explicitly clear to me from the start of life's journey and regularly reinforced thereafter," Harry writes in Spare.
'After The Death Of My Sister, My Whole Life Was Filled With Resentment And Grief'
Judy Mandel defines herself as a replacement child born to replace her dead sister, who died when a plane crashed into her family home in 1952 in Elizabeth, New Jersey. Mandel, who is also the author of the book Replacement Child, told Newsweek that this made it difficult to forge her own identity.
She said: "I think the main challenge is figuring out who you are as just yourself. For me, there was always that shadow of this perfect daughter who was only seven. I mean, she was absolutely perfect. So not being good enough is something that resonates with me, but also trying to stand out as your own person and prove that you're worthy too."
Mandel explained that before she was born, a series of plane crashes took place within eight weeks of each other in the area where her parents live. One of the aircraft crashed into her parents' home, spilling jet fuel in the kitchen, which set everything on fire.
"My sister Donna was lost in that crash at just seven years old, and my sister Linda, who was two at the time, got very badly burned. My mother rolled her down the stairs and got her out of the building. She saved three people that day, her own mother, my sister Linda, and a friend of Donna, who was just visiting that day," she said.
According to Mandel's account, her mother rushed them all out of the building, which then collapsed before she could get back in to try to save Donna, which she says she wouldn't have been able to do in any case. Mandel was then born in 1954 while her parents were still grieving the loss of a young daughter and treating another who had been critically injured.
For Mandel life was full of resentment and grief. Her father never stopped grieving his "angel daughter" who was taken away from him far too young, and Mandel never had the chance to form a meaningful bond with him. It was a constant struggle to live up to the "perfect" little sister who no longer was, and a struggle to find herself, which landed her in several failed relationships.
"I kept looking for that kind of a relationship, which was not going to be good for me, that distance, withholding that kind of relationship that felt familiar to me, because, of course, that's all you know."
'I Was Only Born To Replace My Dead Brother'
Rita Battat Silverman, co-author of Replacement Children: The Unconscious Script, who describes herself as a child born to replace her dead brother who died as a teenager, told Newsweek that growing up she knew she was different—she just wasn't sure how.
She explained that she was born 18 months after her older brother, Robert, died at age 14, bringing some disappointment in the family because she wasn't a boy, and therefore not the perfect replacement. Still, her mom chose a name beginning with R, as a tribute to the lost son.
"I was lucky being a girl after a boy, I think being a boy would have been unbearable. Because I was a girl, she had to separate us, but she also wanted me to be the perfect girl, who basically had blonde curly hair, played the piano, and did ballet.
"When you're in a certain situation, you do develop survival skills, and I think my resilience was one of them. But I also was a people pleaser, which was very hurtful to me," she said.
In her book, Battat recalls how throughout her life since she was very young, she always felt that in her mother's eyes, she was supposed to be somebody else, but she didn't understand who it was that she was supposed to be until much later in life.
She added: "My mother was a kind woman who meant well and worked hard to give me all the advantages, but she was always supercritical in dealing with me, I could never be relaxed or comfortable with her, and she probably never felt completely comfortable with me, or even really knew me for who I was."
'After My Brother Died, I Could No Longer Feel My Mother's Love. When I Started Dating, I Looked For My Brother In Different Men'
Replacement children can also be those who were already on the way when their sibling died. They come into the world with the weight of having to deal with a distraught family grieving an indescribable loss. This was the case for Kristina Schellinski, a psychoanalyst in Switzerland and author of Individuation for Adult Replacement Children.
Schellinski told Newsweek that she was already three months on the way when her brother Wolfgang died at just two years old of undiagnosed appendicitis. She was born six months later, into grief and loss.
"My parents build their house in front of the cemetery where my brother is buried. 'Close to the heart, far from the eye' was engraved on the white marble of his gravestone, while I felt I was close to [my mom's] eye, but far from her heart.
"I knew the facts, that Wolfgang had died, what had happened. His photo was prominently displayed on the credenza in the living room and on my mother's bedside table. I felt his absence and I longed for him, I felt so alone. I could not feel my mother's love, I suppose because she was in mourning; she was destroyed by his death, hopeless, and depressed," she said.
Because of this lack of love in her life, Schellinski, like Mandel, found herself looking in partners for what she thought she was missing, which in her case was her brother.
"The effects were more relationally for me, the experience of his loss really determined the way I experienced love and the love that I was seeking. I was missing my brother so I looked for a replacement lover. I wanted my brother back and anybody who would fit the bill would make me fall in love. And so in a sense, I handed on this replacement wish to another person."
The Different Types of Replacement Children
Not all replacement children live the same experiences. It mostly depends on how the parents handle their grief, and the challenge of raising and protecting another child.
Chloe Carmichael, Ph.D., a clinical psychologist and the author of Nervous Energy: Harness the Power of Your Anxiety, told Newsweek that there are three main categories of replacement children, including the haunted, the bound, and the resurrected.
1. Haunted child
According to Carmichael, a haunted child grows up with a family that pretends the dead child never existed, even though the replacement child is fully aware of it. In these families it's a taboo topic that must never be brought up.
"The way you deal with the first category is to break the pattern of non-acknowledgment and begin to reflect on how that pattern as a child might have shaped the way that you handle problems in general," she said.
2. Bound child
Some parents who experience the loss of a child tend to put the replacement child on a pedestal, trying to make up for what they couldn't do for the lost one.
Carmichael said: "The parents might overindulge the child, they might be overly protective of the child, putting them in a bubble like a doll because they're so afraid of something happening to this child, or because they're just so focused on appreciating them.
"They may fail to discipline the child or to allow them to go through life struggles which actually help to build up resilience, just because they're trying so hard to protect them."
3. Resurrected child
According to Carmichael, this is the most complex of the categories, where the parents make the new child vicariously live as the child who died.
She said: "Maybe you feel pressure to do baseball because the lost child also loved baseball games and if it feels like the positive feedback you get from your parents, centers around your similarities with the lost child.
"You feel like your worth and the way that you get love is connected to how much you emulate the child who died, you feel like a replacement in the most literal sense, like a duplication of the lost child and so it can be hard to separate how much of your personality is truly you and how much of it is just trying to contort yourself into being like this other person."
Is Prince Harry A Replacement Child?
Another 'type' of replacement child could include the 'heir and a spare' tradition within the British royal family.
The 'the heir and the spare' phrase was in use for a long time before it was applied to Prince William and Harry. It was originally attributed to Consuelo Vanderbilt, wife of the Duke of Marlborough, who is said to have used it to refer to her sons John and Ivor Spencer-Churchill after Ivor's birth in 1898.
Before modern medicine, the death of an heir was much more likely, so the common practice among monarchs was to try to have a "spare" heir to ensure the throne would be passed down their bloodline, rather than an extended family member.
However, Prince Harry's new claim brings a whole new meaning to 'spare'. His suggestion, in his book, means that not only was he born in case of the death of the heir, Prince William, but he was born to provide his organs to the heir too.
Harry recounts that he was 20 when he was first told a story of the then-Prince Charles' reaction to Princess Diana when she gave birth to Harry in 1984.
"Wonderful, now you've given me an heir and a spare my work is done," he is alleged to have said.
Some social media users pointed out that Harry's claims closely resemble a plot point of the 2004 novel by Jodi Picoult titled My Sister's Keeper. In the novel, and later the 2009 movie starring Cameron Diaz, a young girl sues her parents for emancipation after being told to donate a kidney to her critically ill older sister.
Signs You Are a Replacement Child
Not all replacement children are aware of their circumstances. In fact, Schellinski, Mandel, and Battat all found out their truth once they were older and began to research into their pain. They then set up the "Replacement children forum," to spread awareness of the replacement child condition and the long-term influences it has on adult replacement children.
1. You Want To Be Center Of Attention
According to Schellinski, as both a psychoanalyst and a replacement child herself, a sign could be a child that is attention-grabbing. This was confirmed by Mandel, who said that throughout her childhood she had to be a "little performer" to get the attention that she was deprived of.
She said: "I tried to be the center of attention because I was not. My sister was in the hospital every year, and she got all the attention, so I would dress up, I would dance, I would sing, I became like a little performer to get that attention that I needed."
2. You Had To Parent Your Grieving Parents
Another sign, according to Schellinski, is a child who is basically parenting their grieving parent(s), trying to constantly please them and make them happy.
3. You Were An Aggressive and/or Rebellious child
It could be an aggressive and/or rebellious child, according to Schellinski, recalling an event she witnessed during her training, where a child had so much repressed anger that he told his psychologist he was going to kill her.
She said: "This child was acting out something in his psyche that needed to be seen, the dead child needed to be gone, and he projected that child onto the therapist," who she said, with the limited resources they had at the time, wasn't able to truly unpack his anger.
"The dead child is a phantom into the replacement child, and that phantom needs to be killed in a sense, or needs to be get rid of symbolically. Of course, nobody's supposed to kill anybody, but it needs to be recognized that this dead child is living in them and needs to get out," she added.
https://www.newsweek.com/prince-harry-prince-william-heir-spare-replacement-children-childloss-1773101 Are You a 'Spare' Like Prince Harry? What Are Replacement Children?