Arrests in 'dead' Hong Kong as Tiananmen Square anniversary gatherings banned
Hong Kong authorities on Saturday arrested several people and banned gatherings to commemorate the victims who lost their lives in the Tiananmen Square protests decades ago.
Police arrested several people amid China's efforts to tame any attempt at public commemoration of the conflict's 33rd anniversary, AFP reported on Saturday.
The Tiananmen demonstrations took place in Beijing on June 4, 1989, when Chinese troops opened fire on student demonstrators demanding more freedoms. It is estimated that between several hundred and several thousand people were killed.
Police searched a man for over 20 minutes before telling him to leave on Saturday. "They're even scared of an old person like me, I'm over 60," the man, identified only as Chan, told AFP. "Hong Kong is already dead."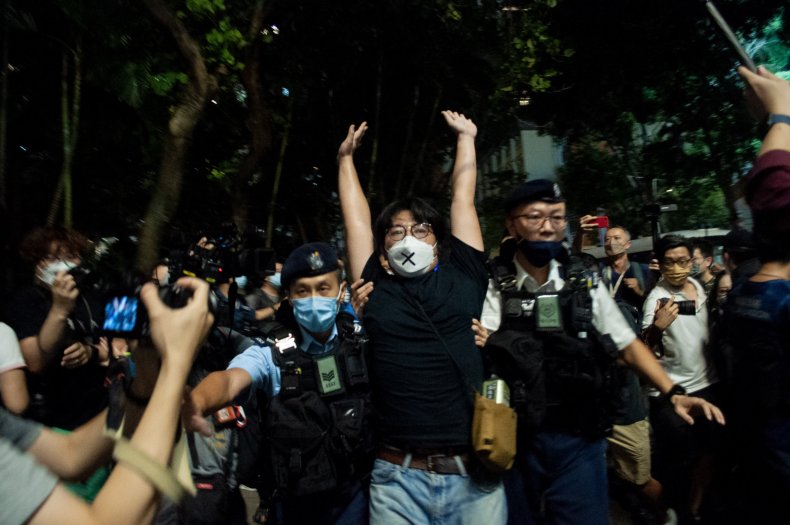 Chinese authorities had previously warned that those "attending an unauthorized gathering" could face up to five years in prison.
Hong Kong and nearby Macau were the only places in China allowed to hold large commemorations of the 1989 Tiananmen Square protests. That all changed three years ago, however, when China pushed through a national security law to crack down on dissent following pro-democracy protests in 2019.
Police also arrested activist Yu Wai-pan, who is a member of the League of Social Democrats (LSD), according to AFP. According to LSD, Yu was later released.
Another party member, Lau San-ching, was arrested for wearing a mask that read "Mourning on June 4th" and a shirt bearing the picture of the late Chinese democracy activist Li Wangyang.
Before Yu's arrest, two other party members wearing white masks with a black cross over their mouths were taken away by police within 30 seconds after standing silently in Causeway Bay, according to AFP.
They were later released but then stopped again. This time, Yu was arrested by police after approaching Victoria Park, a place that used to be packed with crowds who held annual candlelight vigils during Tiananmen Square anniversaries.
Hong Kong's Victoria Park saw a heavy police presence when authorities said parts of the park would be closed amid fears it could be used for "illegal activities," NPR reported.
"It has always been peaceful for 33 years, but today it looks like (the police) are facing a big enemy," Chan Po-ying, head of the LSD, told AFP. "The candlelight will not go out; people's hearts will live on."
news week reached out to the Hong Kong League of Social Democrats party for comment.
https://www.newsweek.com/arrests-made-dead-hong-kong-tiananmen-anniversary-gatherings-banned-1712854 Arrests in 'dead' Hong Kong as Tiananmen Square anniversary gatherings banned