Artist defends 'offensive' mural depicting Ukrainian and Russian troops embracing
An artist whose streetscape of Russian and Ukrainian soldiers embracing was condemned as offensive defended his work as a message of peace.
Peter Seaton painted the picture on a building in Melbourne, Australia, in August, but for the past week he has faced objections from the country's Ukrainian community over the message it portrayed about the Russian invasion.
Titled the artwork peace before pieces was released digitally as an NFT, or non-fungible token, and made available on its Instagram page as an animation showing a mushroom cloud appearing over the soldiers.
"The artwork says if we don't find peace, whether in this war or any other, we will eventually blow each other up," he said news week from Melbourne.
Ukrainian Ambassador to Australia Vasyl Myroshnychenko had called the work "completely offensive to all Ukrainians," while the Australian Association of Ukrainian Organizations [AFUO] among other critics said it drew a false moral equivalence between the attacker and the victim.
AFUO co-chairman Stefan Romaniw likened the image to "a rapist and a victim hugging."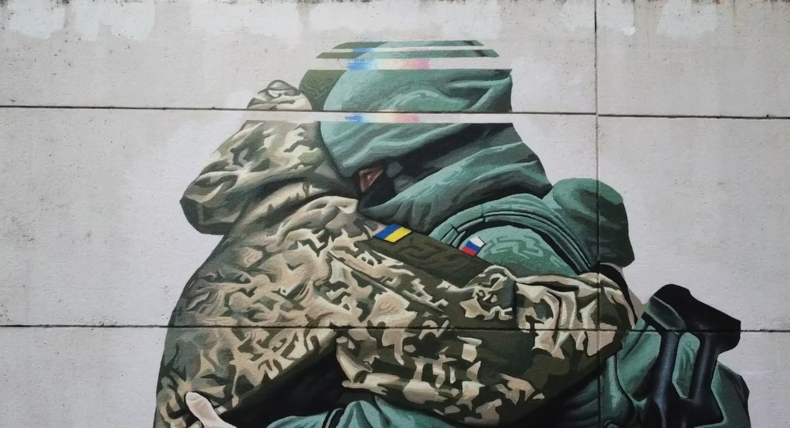 Seaton, 29, also known by the nickname CTO, painted over the mural Monday and apologized for the distress he caused. "Obviously there are a lot of hurt people and I had no intention of doing that," he said news week.
He said he created the image when he was asked by the Ukrainian community to produce a work about the war shortly after Vladimir Putin's February 24 invasion.
He said that initially this received some positive feedback, although many raised concerns about its potential to cause offense when it was presented to the Ukrainian community.
"I sat on the idea for six months and asked dozens of people what they thought the mural represented, and the overwhelming feedback was that it's about peace between two nations."
"I've been thinking about so many different ways I could do another one, but it just didn't come to me. There is nothing I can do that speaks to me more on a deeper level than this particular concept."
"I did it because I just feel that a message of peace is so important in times of war. That was all my intention was – to create a message of peace, to de-escalate a conflict that could endanger the entire planet. "
He denied that it was like a rapist hugging his victim. "Soldiers are people. Some Russian soldiers don't want to be there. So to say that all Russian soldiers are rapists is racist."
"It was art. It's not a chart. It's metaphorical and it's about love," he said. "It's two opposing forces of soldiers at war literally blowing each other up."
"When you fight a country that has more nuclear weapons than any other country and you hope to win, it puts everyone on the planet at risk. Then I have the right to speak."
"They are [Ukrainians] They have to defend their country, they have to defend their country…having a defense against aggression is absolutely essential," he said, "that's not what I'm trying to say with the artwork."
"When innocent civilians die every day, politicians fail, not my art," he added.
He has sold six of the pieces, and another six are still available. Proceeds went to United24, an initiative by President Volodymyr Zelenskyy to help rebuild Ukraine, and to the World Beyond War charity.
While understanding that the work "may have fallen short of its intentions" and that people objected, he said, "Maybe there's a bigger point about censorship and art. What kind of world do we live in when art is censored?"
29-year-old Seaton was born in Surrey, England before moving to Auckland, New Zealand at the age of 6. At 18 he moved to Australia, where he has lived ever since.
Australian artist Peter Seaton has been criticized for his Ukraine War mural on a wall in central Melbourne, Australia.
Many took offense at Seaton's theme of the work, that a negotiated settlement was the key to ending the war.
In a widely shared Twitter thread, Olga Boichak, a lecturer in digital cultures at the University of Sydney, said the work "implies that peace can be achieved if both parties agree to lay down their arms".
"By now we all have a clear idea of ​​what would happen if Ukraine stopped fighting, so this 'art' delegitimizes the lived experiences of the resistance," she added.
Romaniv told news week that in addition to his apology, Seaton "should do cross-cultural training to help him understand the pain he's caused so he doesn't repeat the same mistake."
Representation of the war in Ukraine by foreign artists
Michael Skop is a Ukrainian artist who has created a series of works depicting the horrors of the Russian invasion, which he posts on his Instagram page to his more than 15,000 followers.
He has criticized Seaton's play as evidence that there is a simple solution to a "terrible situation", but believed that non-Ukrainian artists should be encouraged to depict the war.
"A lot of foreigners paint pictures of the war in Ukraine and I'm glad most of them make great art," he said news week from Kyiv, "but many of them are geographically too far away to understand how terrible the reality is."
He said the danger for foreign artists is that they may simplify war as a "quarrel" between nations and that all it takes is negotiation for "peace to reign".
"It's very easy for foreigners to talk about peace and forgiveness when you're a spectator and not a victim," he said.
Skop has a work about the war available on The Revival Project, a digital initiative by agency Deposit Photos that aims to raise funds for the restoration of war-ravaged heritage sites.
Skop's own view of the war has changed since the invasion began, as he was more open to compromises with Moscow that could end the fighting. With reports of Russian atrocities, that view has changed, and he urges foreign artists to keep up to date with the war if they want to express something meaningful and accurate.
"I hope these artists will read more and see more videos and photos to understand what exactly happened in Ukraine," he said. "You need to understand war more deeply."
https://www.newsweek.com/russia-ukraine-art-melbourne-seaton-krop-1740978 Artist defends 'offensive' mural depicting Ukrainian and Russian troops embracing