At least 174 dead, videos show panic
At least 174 people were killed and 180 injured in a stampede and riot at a soccer game in Indonesia, officials said.
Riots broke out after Saturday night's game ended when home team Arena FC from the city of Malang in East Java lost 3-2 to Persebaya from Surabaya. The loss ended 23 years of unbeaten home games for the team.
Thousands of supporters of the losing home team responded by throwing bottles and other objects at players and officials, The Associated Press reported.
Officials fired tear gas as fans rushed into the pitch at Kanjuruhan Stadium, sparking a stampede and cases of asphyxiation, East Java Police Chief Nico Afinta told reporters.
More than 300 people were hospitalized, Afinta said, but many died along the way and during treatment.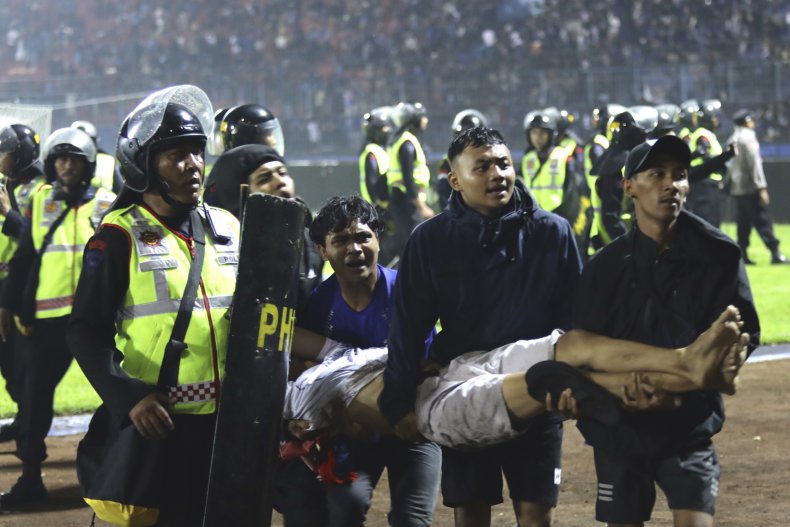 "It had become anarchic. They started attacking officers, they damaged cars," Afinta said, according to Reuters.
Videos from local news stations and on social media showed fans on the pitch clashing with police and fleeing what appeared to be tear gas in the air. Some images showed people who appeared to have lost consciousness on the pitch.
Warning. Graphic Content
Indonesian President Joko Widodo said authorities needed to thoroughly examine security at matches, adding he hoped this would be "the last football tragedy in the nation".
He ordered all matches in Indonesia's top division BRI Liga 1 to be suspended pending the completion of an investigation.
The Football Association of Indonesia, known as PSSI, suspended League 1 indefinitely and banned Arema FC from hosting football matches for the remainder of the season.
Persebaya's fans were banned from buying tickets for Saturday's game over fears of brawls. But Indonesia's top security minister Mahfud MD posted on Instagram that the stadium was overcrowded. He said 42,000 tickets had been sold for the game at a stadium with a stated capacity of 38,000.
Warning. Graphic Content
Attention has focused on police use of tear gas, which has been banned in football stadiums by world football's governing body FIFA.
In a statement, FIFA President Gianni Infantino called it "a dark day for all involved in football and a tragedy beyond imagination". His testimony did not mention the use of tear gas.
Amnesty International Indonesia blamed the use of tear gas by the police for the tragedy.
"We call on the authorities to conduct a swift, thorough and independent investigation into the use of tear gas in the stadium and to ensure that those who committed violations are brought to justice and not just internal or administrative sanctions. ' said the organization's chief executive, Usman Hamid.
Hamid said tear gas should only be used to disperse crowds when there has been widespread violence and other methods have failed.
"This loss of life cannot go unanswered," he said. "Police themselves have said the deaths occurred after police used tear gas on the crowd, prompting a stampede at the stadium exits."
https://www.newsweek.com/indonesia-stadium-tragedy-174-dead-videos-show-panic-1748206 At least 174 dead, videos show panic