Austin Airport sees an influx of people when weather temperatures drop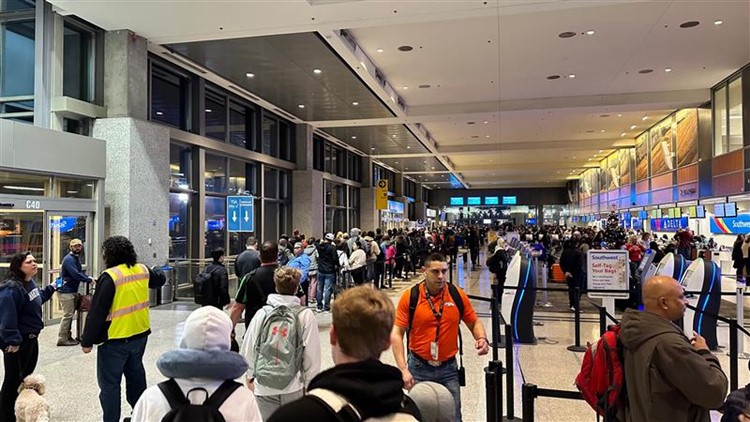 There is an increase in travelers leaving Austin Airport ahead of the Christmas holidays.
Austin, Texas –
Thursday is expected to be the busiest travel day of the holiday season and the Austin Airport (AUS) expects more traffic than usual.
AUS staff are prepared to deal with a surge in crowds in addition to the drop in cold temperatures that cities across the country are beginning to see. In order to make the travel day smooth, AUS provides extra staff to solve any problems.
"You know what people forget is that the weather here in Texas is good, but it's bad. Anywhere else can be bad," Austin Airport spokeswoman Elizabeth Ferrer said.
Ferrer says they expect between 26,000 and 29,000 passengers by the weekend.
"There will be a lot of people. There will also be many people who are not used to travel. They're, you know, family members who don't usually travel regularly, like business travelers, people who are new to our airport," Ferrer explains.
This is one of the busiest times for the airport, but it's not the busiest. Towards the end of October, AUS saw just over 43,000 passengers depart through the gates in one day.
"They're going to move a little slower through the airport, trying to get their bearings, trying to figure out where the gates are, trying to figure out how to get to TSA in the first place. So the other big thing we recommend packing your bags is patience," Ferrer said.
While no freezing rain or snow is forecast for our area, not all destinations are.
"At Austin Airport, we are responsible for maintaining the facility, terminal, roads leading to the airport, and the runways and tarmac to allow airplanes to land and take off safely. As far as flight schedules and whether a flight is going to depart or arrive on time, that's really up to the airline. Because of that, it's really best to just keep in touch with the airline," Ferrer said.
The advice AUS shares with passengers is to try to follow the weather conditions for your destination. If your flight is still on schedule, it is recommended to arrive at the airport at least two and a half hours before a domestic flight and three hours before an international flight.
If passengers are nervous about making it through AUS on time, avoid packing large amounts of liquids in your suitcase or other items that could delay passing through TSA checkpoints.
https://www.kvue.com/article/travel/airport-busy-holiday-travel/269-2e11d6a2-f920-456e-9350-fc2f6f1a2abc Austin Airport sees an influx of people when weather temperatures drop