Austin conducts a citywide construction site safety campaign following the death of debris on West Campus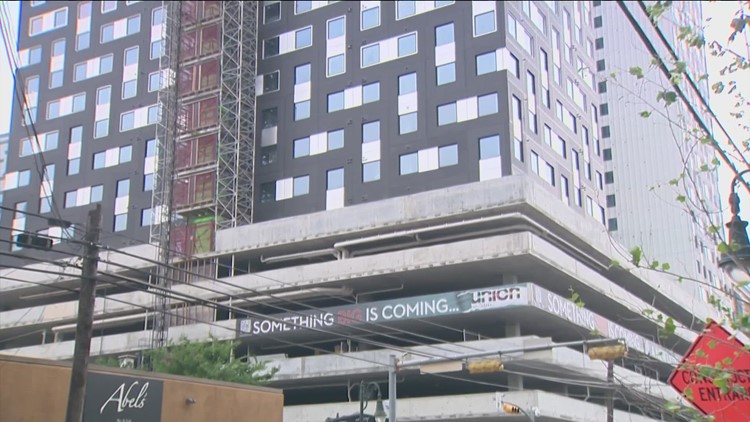 In March, at least two debris incidents were reported at construction sites on the 24th and Rio Grande, including one fatality.
AUSTIN, Texas – After a man was struck and killed by possible debris from a high-rise building on West Campus, city officials said a citywide safety campaign was underway.
The area near the high-rise construction site at the intersection of 24th Street and Rio Grande Street is an active part of the west campus near the University of Texas.
A spokesman for Austin's Department of Development Services said the city's chief building inspector worked with the construction team to identify and address debris management following two incidents in March.
The last happened at the end of March. A viewer sent photos of paint falling from the Greystar construction site onto several vehicles in a nearby parking lot. The viewer, who wished to remain anonymous, told site management that it was "paint mud" that could not be washed off. The city of Austin said the site's general contractor is working to have the vehicles repaired.
A few weeks earlier, on March 2, surveillance video of a Shell gas station showed a large piece of debris falling from the site, hitting 29-year-old Michael Delgado, who later died.
DSD said the general contractor at the site had already made several safety changes. The DSD spokesman said the contractor installed barriers to keep building materials at the site. It has also hired an outside team to oversee safety conditions inside and around the facility. The contractor will take additional steps to remove rubbish and debris and log site safety activities. City inspectors now conduct routine, unannounced site visits to monitor the site and review site safety logs.
The city is also working with contractors and organizations like Safehorns who have requested increased construction safety measures at UT.
"We had a great conversation, really a starting point," said SafeHorns President Joell McNew. "So I feel good about these talks and the need to address the issues. This is a very high pedestrian street. The community currently has over a dozen construction projects underway, several of which are coming online. So construction continues. So we have to make sure that we're addressing these issues now, that we don't have to react after a person's been murdered."
The citywide safety campaign will be rolled out over the coming months.
https://www.kvue.com/article/news/local/austin-west-campus-debris-death-safety-campaign/269-9465a626-b962-4f96-adef-1dabed3ccb3a Austin conducts a citywide construction site safety campaign following the death of debris on West Campus