Austin family among 450 households participating in Skeletons for St. Jude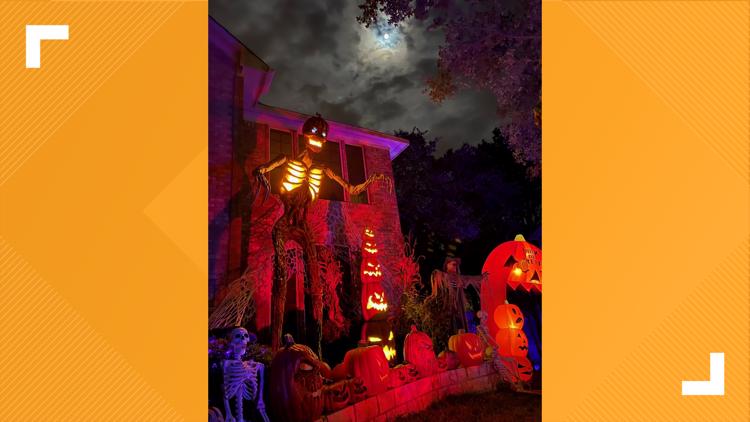 Everything for a good cause – children's cancer research.
AUSTIN, Texas — An Austin family is hoping their over-the-top Halloween display can do more good than evil this holiday season.
Michelle Kordinak told KVUE that this year they decided to decorate their house with spooky skeletons as part of "Skeletons for St. Jude," a nationwide fundraiser for St. Jude Children's Research Hospital.
The goal is to raise as much money as possible to get sick children healthy and out of the hospital so they too can enjoy these performances.
"The fundraiser originated in 2020 in Holly Springs, North Carolina, when the Robertson family placed a St. Jude donation sign in their yard after a local television station aired their skeleton Halloween show," the event organizers wrote in a press release. "After raising $8,200 in just a few weeks and meeting several families affected by childhood cancer, the Robertsons were moved to make the fundraiser an annual event."
RELATED: Cemetery of Old Austin goes viral to highlight local favorites who left Austin
The campaign was rolled out nationwide last year, involving more than 400 homes across the US in 45 states. That year, they made about $152,000 from 2,000 donors, including a $45,000 donation from The Home Depot.
This year, Skeletons for St. Jude hopes to raise more than $250,000.
You can visit the Kordinaks exhibit at 11305 Pompey Court in Austin. Signs will be posted in the courtyard with instructions on how to donate.
PHOTOS: Skeletons for St. Jude
Boy George and Culture Club's set was canceled at ACL Fest due to lack of time, but fans got what they wanted
Timeline: Widespread rain and a major cooldown en route to central Texas
No. 22 Texas rallies in the 4th quarter to beat Iowa State 24-21
https://www.kvue.com/article/news/local/austin-family-among-450-homes-participating-in-skeletons-for-st-jude/269-30386949-0465-4b28-aa86-74c3b9984269 Austin family among 450 households participating in Skeletons for St. Jude