Austin-Travis County EMS and local organizations are preparing to reach out to those in need of protection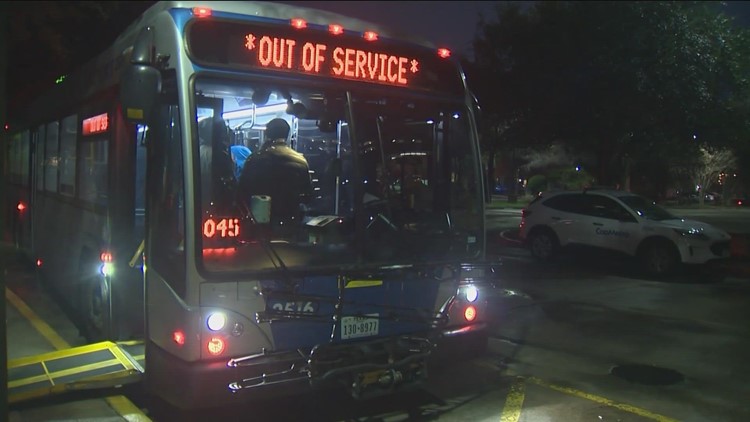 An hour before the doors opened at One Texas Center, people were lining up to get food and lodging during the freezing weather.
ATCEMS has provided additional resources and staff to better respond during this freeze for everyone, including the homeless.
"We have added additional resources for EMTs in the community to ensure we are taking care of everyone," said ATCEMS Cpt. Christa Stedman.
Cap Stedman said they had all hands on deck. Medics will be working 12-hour shifts over the next few days to be able to respond better. She said she knows dealing with those temps for long periods of time without the right gear could be deadly.
She said if people need free transportation to a warming shelter, call 311 and they will send help.
Over at One Texas Center, the homeless had their bags in their bags and were waiting in line an hour before registration for the warming shelters opened.
Darrel James, homeless for more than a year, spends his first night in warm shelter.
"I decided to come today because it was very cold, rainy and wet last night," said James.
It was too cold and wet to stay out in the elements.
"I was here for the last cold snap when it was getting into the teens and stayed with them," said Mathew Yeck. "It was a good experience, you know, warm coffee, a warm place to sleep, you know, out of the freezing cold."
Yasmin Smith and the Austin Area Urban League The team spent the day briefing people on the shelters they plan to put into operation this week.
"You're looking at individuals who are in the midst of destitute," Smith said.
It's something they do every time they freeze.
"We're going to make sure our people are protected," Smith said. "We're going to make sure our people are well fed and warm, and most importantly, we're going to make sure our people feel that love everywhere."
Yeck prays for everyone else's safety.
"I just pray that people stay warm and stay safe tonight because the last thing I want is deaths from this cold," Yeck said.
The city of Austin said its three shelters can accommodate 270 people. They added that they are ready to open three more with the same capacity if needed.
https://www.kvue.com/article/news/local/homeless/austin-travis-county-ems-homeless-icy-weather/269-707ec9b0-e329-4d43-87e1-267d385c14a3 Austin-Travis County EMS and local organizations are preparing to reach out to those in need of protection