Austin-Travis County EMS training bar owners to stop bleeding at mass casualty events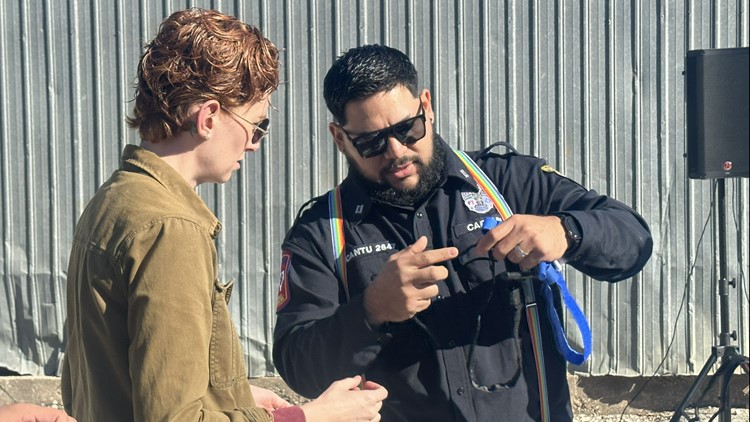 ATCEMS hopes to expand the training program to include "Stop the Bleed" kits on corporate walls for easy access – and eventually educate the community.
Austin, Texas – Austin-Travis County EMS and firefighters explained Monday how to help save a life in mass casualty situations through the Stop The Bleed course.
According to Archive gun violenceLast year, there were more mass shootings than days in the US, with 647 incidents. His data also shows that this year we've seen almost 40 mass shootings before January is out.
"So there's been quite a spike in gun violence over the last few years, especially downtown," said Courtney Meyer, an Austin-Travis County EMS specialist.
Meyer and Cpt. Shannon Koesterer said they couldn't stop gun violence, but they could stop surviving deaths.
"I shoot every weekend," says Meyer. "I only directed one on Sunday morning. It's pretty widespread, and because we have so much foot traffic downtown and we have all these big festivals and all these people, we really want to force proliferation."
The department is driving multiplication by training people to become immediate responders through its Stop the Bleed course.
After-action reviews of many mass casualty incidents have consistently found that some fatalities could have been prevented by simple and effective hemostasis techniques immediately after the injury.
"The Pulse nightclub shooting that day killed 49 people and 14 were deemed viable by the coroner's office," Meyer said. "No one should die from a gunshot wound to the arm because that's something we can manage on a very basic level."
The life-saving training can be illustrated. When someone has a life-threatening hemorrhage and is bleeding through a penetrating injury, such as a stab or gunshot wound in the extremity, medical professionals recommend applying pressure first.
If the person is still bleeding after continuously applying pressure, use a tourniquet, but be sure to keep applying pressure.
"It always has to be over the wound," says Meyer. "So that first pull, that initial pull is your money shot that's going to give you all the tension you need to do this effectively, get this around the tourniquet, and then you're going to spin that bar."
Meyer said higher and narrower is always the way to go. She added, never remove it unless professionals tell you to. If it's removed before help arrives, it could do more harm than good, according to Meyer. She added never use a makeshift tourniquet as it could also do more damage.
If you don't have a tourniquet, Meyer said, pack the wound with gauze or something like a clean shirt.
"It's about not letting up that pressure," Meyer said. "So you will never pull out a finger. They'll just switch fingers. So you take a little piece of your gauze and you roll it up into a little ball and then you put that finger over there where that bleeding is happening and then you just keep switching fingers quickly and put deep pressure on that wound and you kind of want the stuff the entire cave.
Once the cavity is full, keep the pressure on until help arrives. Meyer said that releasing the pressure too soon will cause the wound to start bleeding again and ruin all your work.
If someone has a penetrating wound to their chest, abdomen, or back, Meyer recommends fitting a commercially available chest protector.
"Realistically, you probably aren't going to use that training in an attacking act," Meyer said. "It's really going to be at home where you or your loved one are injured and you need to intervene while emergency services are on their way."
ATCEMS hosted its first Stop The Bleed course with LGTBQ bar owners and community members over the weekend.
Medical professionals are hoping to expand the training to other bars, posting "stop the bleed" kits to store walls for easy access — and then eventually educating the community.
ATCEMS is working to get a grant to make all of this possible.
https://www.kvue.com/article/news/local/atcems-community-training-bars/269-26327047-c473-470d-86f6-1e53f3ba9b4c Austin-Travis County EMS training bar owners to stop bleeding at mass casualty events