"Avatar" faces calls for a boycott over allegations of racism
Director James Cameron has faced allegations of cultural appropriation by Native Americans and Native Americans over the themes and imagery in his latest blockbuster. Avatar: The Way of Water.
The sequel to his 2009 film avatar, the highest-grossing film in history, opened at No. 1 at the box office last weekend. Like its predecessor, the sequel revolves around a story about colonizers taking over lands from tribes. In Cameron's tale, the colonizers are people who need a new habitable planet because Earth's resources are becoming increasingly depleted.
Also like its predecessor, the new one avatar Film is accused of using an amalgamation of the stories of different indigenous cultures for a film with a predominantly white cast. (Notable casting exceptions include Zoe Saldaña, a black Latina actress, and Cliff Curtis, who is of Maori descent.)
Among those upset by Cameron's film is Yuè Begay, a Native American influencer and co-chair of Indigenous Pride LA
"DO NOT watch Avatar: The Way of Water," Begay wrote on Twitter Sunday. "Join indigenous people and other indigenous groups around the world in boycotting this horrific and racist film."
Begay also said that Indigenous cultures were "harmfully appropriated" to gratify a white man's "savior complex."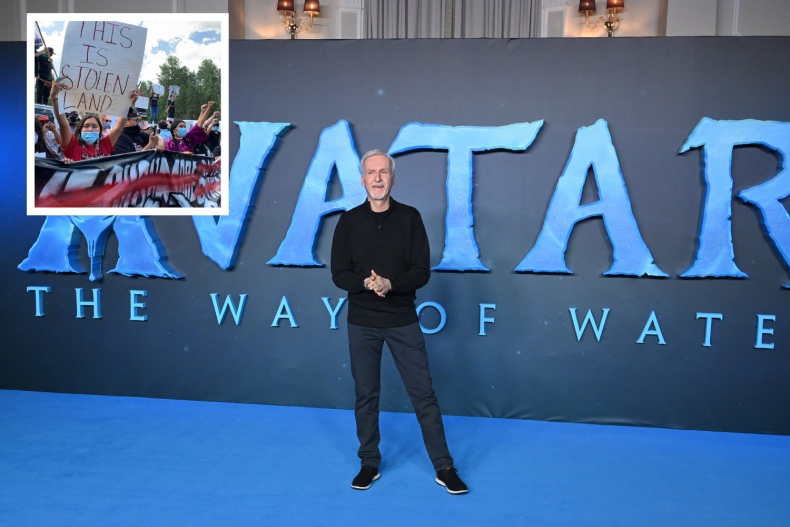 Elsewhere in her post, Begay referenced a 2010 interview with Cameron The guard with Cameron. Other social media users have also cited the interview and his remark about the "dead end society," which caused controversy when the Canadian filmmaker was first released.
In the interview, Cameron described the visit of Brazil's Xingu people to the Amazon and spoke of the inspiration for Native Americans to make the first avatar.
"That was a driving force for me in writing avatar– I couldn't help but think that when she [the Lakota Sioux] had had a window of opportunity and they could see into the future… and they could see their children commit suicide, with the highest suicide rates in the nation… because they were hopeless and a dead-end society – and that's what's happening now – they would have fought a lot harder," Cameron said The guard.
Begay also wrote in her post, "No more blueface!"
The term "blueface" emerged after allegations of appropriation followed the release of the first avatar, and its usage is similar to usage of the terms "black face" or "yellow face".
While fighting a legal claim, he stole the idea avatarCameron even said outright that his story was drawn from Native American history.
"avatar is a sci-fi retelling of the history of early colonial North and South America," reads a section of a legal document filed by Cameron and published by Business Insider in 2012.avatar pointedly referred to the colonial era in America with all its conflicts and bloodshed between the military aggressors from Europe and the indigenous peoples. Europe is equal to earth. The Native Americans are the Na'vi. It's not meant to be subtle."
Another Twitter user whose criticism of avatar Autumn Asher BlackDeer, an assistant professor at the Graduate School of Social Work at the University of Denver, has caused a stir.
"Why watch a ridiculous movie about blue aliens when you could just support the indigenous people and our fight for clean water here on earth? Yes, we exist," BlackDeer wrote. She followed up with a thread listing sci-fi films made by indigenous peoples.
While many people signaled their support for the boycott calls, avatar has many messages of support, including some from people who identify as Indigenous.
"I'm a 'native' (just an indigenous person) and Avatar is good." a Twitter usager wrote partially. "The films are eclectic enough for the general public to swallow the big pill of talk about colonization."
news week contacted a representative from Cameron and 20th Century Studios for comment.
https://www.newsweek.com/avatar-faces-calls-boycott-over-accusations-racism-1768217 "Avatar" faces calls for a boycott over allegations of racism