Avatar: Frontiers of Pandora Preview – A great game for your dad
Avatar: Borders of Pandora has positioned itself quite well in this hellish year for video game releases. While Baldur's Gate 3 digs up trees, the Dead Space remake pours oil into the water and Resident Evil 4 pours concrete on flowers, Avatar sits apart from the madness in December. Therefore, it is not unreasonable to consider it a nice end to the year. A Christmas gift for a loved one or a way to have fun over the holidays. But how well does it actually play?
I got a glimpse of that answer courtesy of Ubisoft, which provided a two-hour preview window earlier this month. When I landed on Pandora at the beginning of the story with the unmistakable lush greenery in front of me, I set to work exploring the game.

To view this content, please enable targeting cookies.

Manage cookie settings

The main thought entering and exiting the preview was whether Avatar: Frontiers of Pandora was essentially a Far Cry game with a coat of blue. It's kind of like that! You can definitely feel the bones of a Far Cry game in it. The first-person action is punchy but simple. There is room to experiment and develop your style, but not too much. Getting started with the game is incredibly easy – and that makes sense! If you're making an avatar game, you want avatar fans to get involved. This means that, for better or worse, Avatar is a harmless product.
Now, I wouldn't disparage the game's avatar character as a "paint." The game inspires awe for the intellectual property in a way that will make people who like the films swoon. Running around the world and hitting a plumb line 20 feet is insanely fun, flying around on a Toruk and touching the orange plants that burst and retract when touched. It's incredibly tempting to sit back and immerse yourself in the world Massive Entertainment has created here. Even if I'm not the greatest avatar or Ubisoft fan everywhere, it's clear that the game was made by talented people who care about making the avatar feel right.
But here's the thing. If you're a fan of Avatar, you probably want to give the game a try, and you should! This is a game that was practically developed in a laboratory for you to enjoy. If you want to shoot arrows and help wounded animals, there seems to be everything you need here. However, if you're bored with collecting resources, crafting, creating skill trees, and taking over enemy camps on the map, the game has just that to offer. If you hate pizza and you bite into a slice, it doesn't matter how good that slice is. As good as the forwarding to the IP is, it won't distract you from genre fatigue if it's tied to you.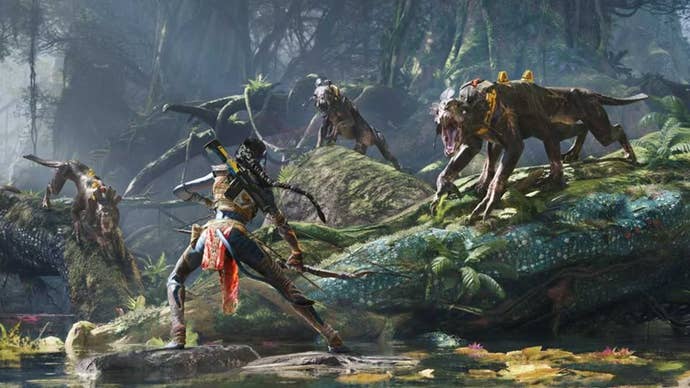 That's not to say there isn't a unique kind of joy here. I find that flying the Toruk is quite fun, although a bit slow. I like that the game allows you to jump off and sit back up at will, even in the air. This resulted in a 10 minute window where I tried to shoot enemies from the air with my bow without crashing into the ground. When the game really gets going, it's one hell of a theme park that could even make James Cameron happy.
The game is also great, although I played it on a giga-powerful Ubisoft PC, so of course I can't say how that translates to less powerful machines or console versions. There was actually a moment while playing through a main story mission – a mission that attempts and succeeds in recreating the moment in the film where Jake gets his own flying companion – where I stopped and just looked around. I shamefully did the E3 demo thing. It's a habit I've developed as I've gotten older to pay attention to the prospects in the game when they present themselves. This game isn't afraid to show off Pandora whenever possible.
There's one part of Avatar: Frontiers of Pandora that I'm not a huge fan of. It's a full-price game, selling for just under £70, but features an in-game shop full of cosmetic items and various armor pieces that you can attach to your character. It's simply unnecessary. In a primarily single player game, why are you selling this crap, even with arbitrary in-game currency? If you're okay with this type of addition or can ignore the smell, that's fine.
All in all, Avatar: Frontiers of Pandora is…okay? I don't mean that in an exaggerated way, it's a perfectly tasty product for the average person. That's what I think it's about. It's a game with no sharp edges that would cause someone to walk away. However, this loses a certain level of interest or mystery that might be found in a "more." specialized FPS? I think so. Buy it for your father or your brother with a short haircut on the back and sides. It's a game for Facebook Messenger users, those who like milk and a sugar for tea, and dogs named Max. Vanilla ice cream in a year full of colorful flavors for everyone who has a taste for simple pleasures.
Avatar: Frontiers of Pandora will be released on December 7th for PS5, Xbox Series X/S and PC. Avatar fans should mark their calendars.