AZ police detain two parents and arrest another for allegedly trying to take their children from the elementary school where an armed intruder was reported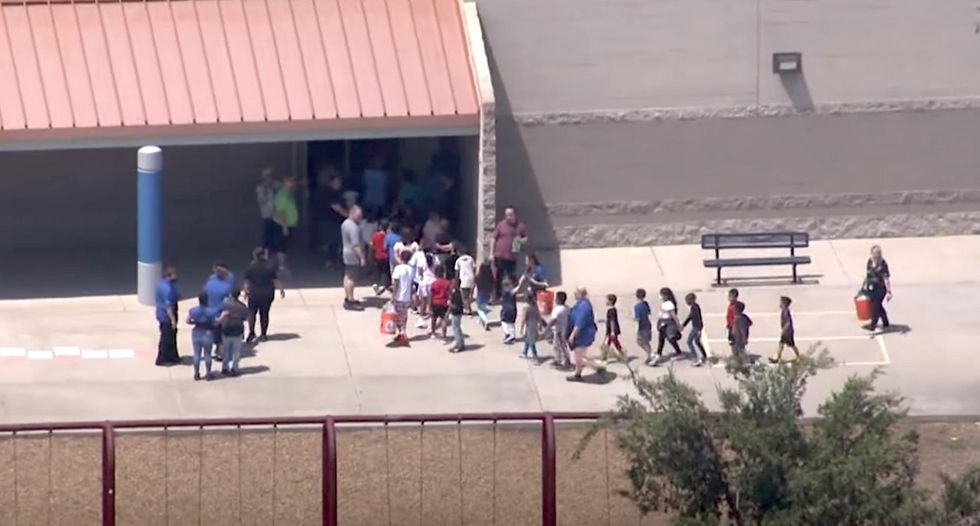 Police arrested a parent and verbally abused two others after they allegedly tried to force their way into an elementary school where an armed intruder had been reported.
The shaking
incident unfolded at El Mirage Elementary School in El Mirage, Arizona on Friday.
Officers were called to the school around 10:30 a.m. after receiving reports of a man who may have been armed with a handgun attempting to break into the school. As school staff approached the man, he ran into a riverbed.
The school was locked down and police searched the campus for the man.
During the search, a suspicious package was found and destroyed.
Police said some were parents
to attempt to enter the school to retrieve their children and two were tased while another was arrested for carrying a pistol. A parent was hospitalized.
Video from an ABC News reporter showed people getting agitated outside of school and confronting cops.
No shooter was found by police.
"Today we received a call from a man with a gun at the school," the El Mirage Police Department said in a statement. "PD responded and never found the person or was able to confirm a subject with a gun."
The man was described as a black male with a tattoo on his forehead and was wearing a yellow shirt and black shorts. The lockdown was later lifted, and some police officers stayed on campus to investigate.
It's unclear what charges the parents could face, but a gun charge is a possibility.
Here is a local news report on the incident:


Parents tased, 1 arrested after trying to get onto El Mirage elementary school campus during lockdown

www.youtube.com

https://www.theblaze.com/news/el-mirage-lockdown-parents-arrested AZ police detain two parents and arrest another for allegedly trying to take their children from the elementary school where an armed intruder was reported