Barr, who called Trump's 2020 claims false, meets with Jan. 6 committee
Former Attorney General William Barr was spotted by journalists leaving a meeting with investigators from the House Select Committee to investigate the events surrounding the Jan. 6, 2021 Capitol riot.
Barr, who served under former President Donald Trump from February 2019 to December 2020, resigned after the 2020 election. The former attorney general drew Trump's ire after he dismissed his conspiracy theories and baseless claims that the results of the presidential election were "rigged" or "stolen". He reportedly told Trump directly that the often bizarre claims were "bulls**t."
CNN previously reported in May that Barr was in talks with House investigators to meet with the January 6 committee to testify. On Thursday, a video of Barr exiting a room where investigators are meeting with witnesses was shared by Fox News producer James Levinson. CNN and NBC News later reported that Barr was spotted following a meeting with House investigators.
In his 2022 book One Damned Thing at a Time: Memoirs of an Attorney General, Barr described Trump's vote fraud allegations as "bulls**t". Although he had the Justice Department investigate some of the allegations, Barr eventually found that there was "no evidence" that President Joe Biden's victory was the result of widespread fraud.
In a March comment published in The Wall Street JournalBarr wrote of confronting Trump over the claims before resigning in December 2020.
"Our mission is to investigate and prosecute actual fraud," Barr wrote, telling the President. "Fact is, we've looked at the main claims your people are making, and they're bullshit."
Barr went on to criticize Trump's legal team, which had filed dozens of unsuccessful election-challenge lawsuits. "The reason you are in this position is that you have put together a clown show and no qualified attorney who would otherwise be willing to help comes anywhere near," he wrote, telling the president .
Barr has since said he doesn't think Trump should be the Republican presidential nominee in 2024 — an idea the former president and his allies have repeatedly floated.
"I think he would be one of the weaker candidates. We have a lot of young candidates who will fight for principles but don't have the kind of obnoxious personal traits that alienate many voters," he told NPR in March.
Trump has consistently dismissed the work of the House committee investigating Jan. 6. The former president said investigators are openly partisan — even though two Republicans, Reps. Liz Cheney and Adam Kinzinger, serve on the commission. Trump and his allies have called the investigation a "witch hunt" designed to prevent him from seeking future elective office if he chooses to run.
Trump, meanwhile, has dubbed Barr a "swamp creature" for not backing his false claims about winning the election.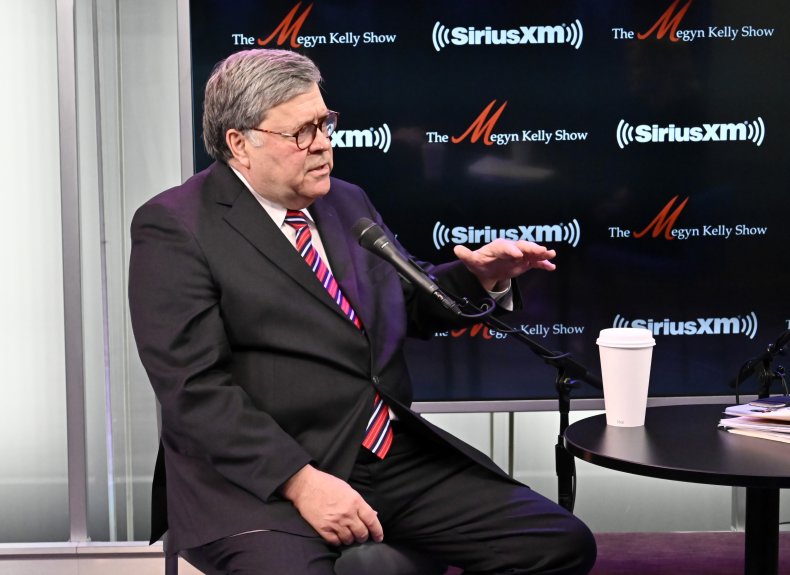 Hundreds of Trump supporters attacked the US Capitol on January 6th. The attack came right after Trump told them to go to the federal legislature building and "fight like hell" to save their country. Many did just that. Some of those arrested after the violence later argued in court that they believed they were acting on orders from the President.
The rioters were largely animated by Trump's claims of a "rigged" election. Barr has stated multiple times that there is "no evidence" to support this conspiracy theory. Dozens of election lawsuits filed by Trump and his allies have failed in state and federal courts. Even Trump-appointed judges firmly opposed the legal challenges.
news week turned to the House Select Committee for comment.
https://www.newsweek.com/barr-who-called-trumps-2020-claims-bogus-meets-jan-6-committee-1712480 Barr, who called Trump's 2020 claims false, meets with Jan. 6 committee