'Best Ad I've Ever Seen': Woman Gives Golden Retriever Epic Curls With Hair Dryer
A woman gave her dog epic curls with a Dyson Airwrap, comparing the golden retriever to a character in a Disney film.
The owner, believed to be Linda Budzyn, regularly shares clips of her father-son pets Tucker and Todd to the @tuckerbudzyn TikTok account.
The father, Tucker, sports an impressive golden mane and has seen his owner previously braid his fur in an elaborate style.
But she went one step further after a fan suggested using the pricey hair styler on him. Sharing Tucker's thoughts, she captioned the video, "Who keeps giving Linda ideas?! I just want to talk."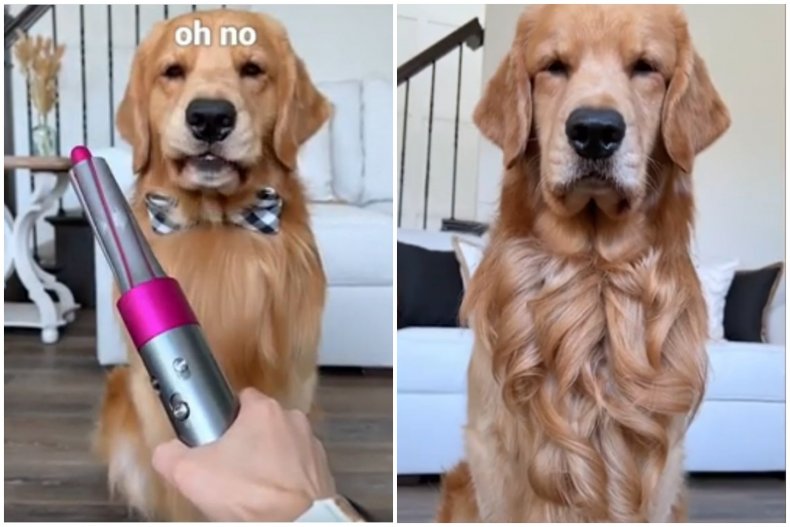 In the video, Tucker sits still like a good boy while Budzyn uses the device to give him trendy curls.
"Oh no. Don't you dare, Linda," says the text on the screen, while Budzyn first brushes his fur and then sections it for curling.
The end result is an impressive lion-like mane that was a hit with viewers. The clip, shared last month, has been viewed more than 67 million times.
Numerous people drew parallels to a certain scene in Disney's Beauty and the Beastas Smooshysmash wrote, "Reminds me of beast hairdo!"
Mo_mo thought, "He's a real gentleman now."
Aili joked, "Honestly the best advertisement I've seen for the Airwrap."
Franciss reckoned, "He's about to write the Declaration of Independence."
"His new name is Maximilian Cornelius the Third," commented sWhite11993.
Alexia asked, "Why does he look like he just came out of the Bridgeton Epoch?"
BrickedUp3k4k added, "Bro wrote the Articles of Confederation."
Others referred to classic films, The Wizard of Ozas Sandy Lynn commented, "OMG I wonder if the wizard will give him courage."
Theycallhercook added, "It gives me wizard-of-oz-fig-lion vibes."
And Nikkibobaggins wrote: "Give cowardly lion in Emerald City and I'm obsessed."
A video titled "I look ridiculous," in which Linda braids her dog's fur, has been viewed 7 million times.
The Dyson Airwrap costs a whopping $599.99 and comes with numerous attachments for different looks.
The company's website explains that it "uses an aerodynamic phenomenon called the Coanda effect. It curves air to attract hair and wrap around the barrel. Styling with air, not extreme heat."
Dogs, including Golden Retrievers, require regular grooming, although they are not usually blow dried.
Website Groomers.com advises owners to brush their pet's coat at least every two weeks "to avoid painful tangles and too much shedding."
The website added: "Your Golden Retriever's coat doesn't need a full haircut, just a trim." This trimming is usually done on the ears, feet, neck, and tail to keep a golden retriever looking smart."
https://www.newsweek.com/golden-retriever-dog-epic-curls-dyson-airwrap-best-ad-1700132 'Best Ad I've Ever Seen': Woman Gives Golden Retriever Epic Curls With Hair Dryer