Best Movies About Racing, Ranked
Cars inspire many things in people who love them. There's certainly something special about them and a reason why we collect them, give them names, and treat them like beloved members of the family. Aside from their obvious social utility as transport, there's always been a certain romanticism that also comes with cars too.
Consider that back when the manufacturer was still known as Daimler-Benz, after its original founders, when Emil Jellinek was brought on board as the company's new automobile entrepreneur, his only condition was that he got to name the new car model he commissioned after his daughter, Mercedes; thus the world's first Mercedes-Benz was born.
Cars continued to evolve from their earliest models, engineered to go faster and faster over time until that need for speed gave birth to an entirely new genre of sporting competition. Whether it's NASCAR, Formula One, Le Mans, Rallying, or even street competitions, motor racing is a sport that attracts everyone from ardent petrol heads to celebrities for the adrenaline-fueled intrigue it produces as the best drivers in the world compete against each other at breakneck speeds.
These same traits, together with awesome cars, stunts, glamor, and the fact that tragedy is always one mistake away, are also why racing-themed films usually make for a pulsating watch. Living in the fast lane might not be everyone's cup of tea, but if it does perk your excitement, the cinematic world has given us many great portrayals of the lifestyle through some riveting films. So, if racing is your thing, buckle up as we count down our picks for the best movies about racing so far.
10
The Fast and the Furious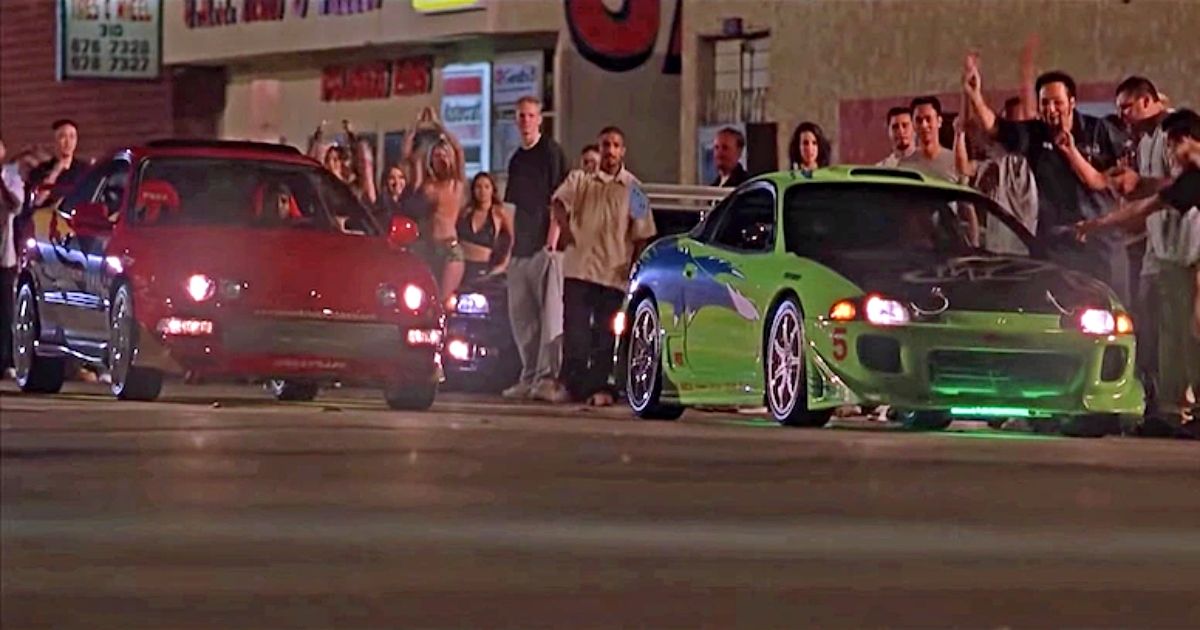 The now iconic first film that launched a massive movie franchise, The Fast and the Furious is still everyone's favorite of the lot. The film was a smash hit and made household names out of Vin Diesel and the late Paul Walker. The original film focused a lot more on the amazing cars and esoteric racing culture it depicted. If this were a list of the coolest racing films, it would have surely been much higher up since the film exuded awesomeness with its counterculture themes and pop icon influence.
Unfortunately, that was also why critics have never been fond of the movie and why no one would seriously argue that it's ever been a film worthy of acclaim. Sadly, the franchise also went on to digress into ridiculous realms that completely ignored reality in favor of bigger stunts, and the films have long since stopped being about what motor enthusiasts loved the first one for — the awesome cars! Nevertheless, the original film remains an icon of racing films and certainly still deserves a mention.
9
Cars
Yes, this is an animated film, but that doesn't stop Cars from being one of the most iconic racing-themed movies around. As a novel animated film that was a stroke of genius, the movie centered around a world where cars are the people, and with it, captured all the nostalgia of why people love cars so much.
Between its great characters like Lightening McQueen and Mater, some fantastic voice acting from the likes of Owen Wilson and Paul Newman, and a redemption racing story at its heart, the film was a hit and has since spawned two sequels, a cartoon series, and two plane-themed spin-offs.
8
Le Mans
An iconic film that shined a cinematic spotlight on an iconic sport, Le Mans actually featured filming that was done during a real 24 Hours of Le Mans race. A legendary endurance-focused race that takes place in the French town of Le Mans, the race is one of the so-called Triple Crown of Motorsport (together with the Formula One Monaco Grand Prix and The Indianapolis 500). Rather than a straight race over a fixed distance, this race subjects drivers to a 24-hour endurance race to see who can cover the most distance in that time.
In 1971, Le Mans portrayed a fictional version of the race and starred Steve McQueen as its lead. The film saw McQueen's character participating in the race while haunted by the memory of another driver who died in it the year before. It also depicted a fierce rivalry between McQueen's character, who drove an iconic Porsche, and another driver who drove a Ferrari, giving viewers a front-row seat to the grueling nature of this prestigious race.
7
Days of Thunder
This classic from the world of NASCAR saw Tom Cruise star with his future first wife Nicole Kidman, whom he met on the set of Days of Thunder. Playing a hotshot rookie driver named Cole Trickle who gets into a bitter rivalry with a veteran racer named Rowdy Burns (Michael Rooker), the film initially sees the pair tussling for dominance on the track. Cole is a true speedster who loves anything fast from cars to motorbikes, and later develops a romance with a neurosurgeon (Kidman).
Related: The 10 Best Anime Movies and TV Shows About Racing
However, after he and Rowdy are both sidelined by injury, they actually become friends, and the film's grand finale sees Cole race Rowdy's car against a newcomer at the Daytona 500. Days of Thunder became iconic for, among other things, its memorable soundtrack, and was basically a race car-themed version of Top Gun.
6
Schumacher
Widely regarded as the greatest race car driver in history, the legendary Michael Schumacher changed the face of Formula One racing with his utter dominance as he won a record seven world championships during his incredible career. Known for his charisma, fearless nature, and aggressive race style, he was admired the world over for his genius understanding of one of the most technical sports in the world, and for bringing back the glory of the iconic Ferrari F1 team.
Tragically, after his retirement, he suffered a horrific skiing accident that has left him in a semi-vegetative state ever since. While the family has remained very secretive about his condition, Netflix thankfully gave his fans some insight into his life now through their 2021 documentary film, Schumacher. Using archival footage of his famous races, and featuring interviews with his wife and son, Mick Schumacher (who also became an F1 driver), the film was a brilliant reminder of why he will always be a legend of the sports world.
5
Gran Turismo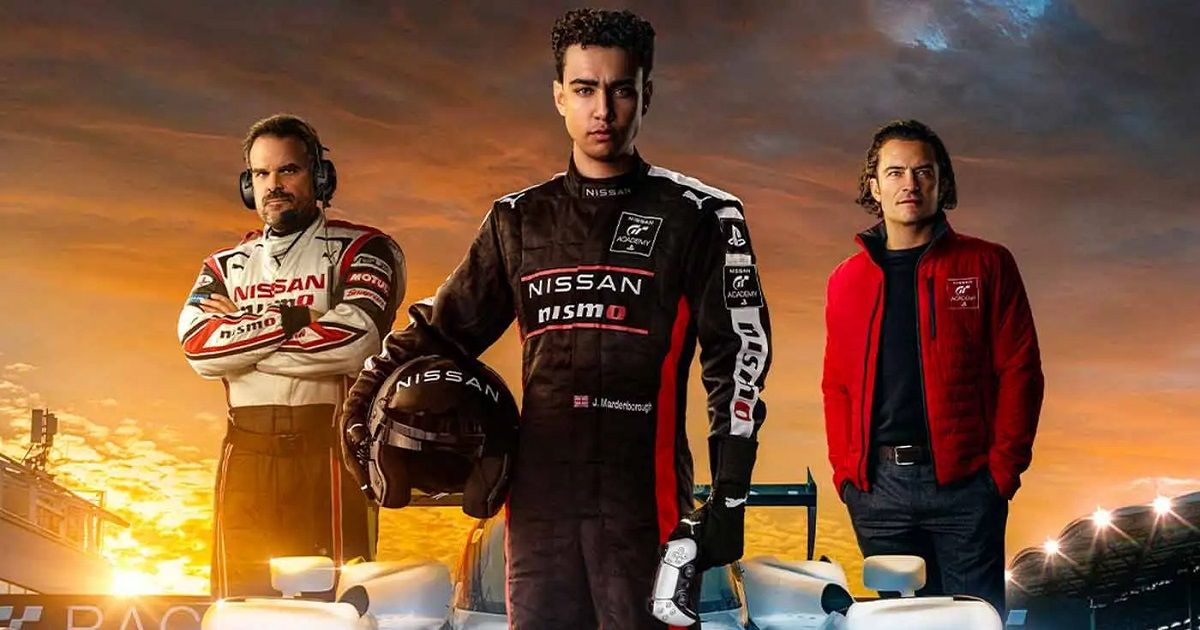 The recently released biographical gaming film, Gran Turismo has been a triumph for millions of gamers all over the world who adore the iconic racing simulator game it's based on. Telling a remarkable story, it features the exploits of an ordinary gamer who becomes so good at the game, that it literally changes his life.
Through a stroke of genius, a marketing executive of Nissan's motorsport division creates the GT Racing Academy and uses it to recruit the most skilled Gran Turismo video game players and turn them into actual race car drivers.
With the game being legendary for its reputation as "the real driving simulator," ardent gamer Jann Mardenborough joins the academy and translates his skills from the game into actual race car driving skills, to eventually compete in and land a podium finish at a Le Mans race for the Nissan team. Every gamer's dream, although seemingly unbelievable, the film's incredible tale is really based on a true story, earning it high praise for its unique style as a video game film adaptation.
4
Senna
Before Netflix's Schumacher, another must-watch sports documentary was made about another F1 racing legend. Senna was based on the iconic driver, Ayrton Senna, whose career intersected with Michael Schumacher's, but sadly ended as the latter's star began rising. While he was just as revered, tragically Aryton Senna's career was cut short when he was involved in a horrific accident at the 1994 San Marino Grand Prix that claimed his life.
Known as a daredevil driver, and a true master of the sport, Senna's career remains almost mythical for his unbelievably daring maneuvers and virtually unmatched skills as a driver. The Brazilian legend, a three-time world champion, was also known for his epic rivalry with fellow driver Alain Prost. His death sent shock waves through the sport and resulted in sweeping changes to make it safer.
3
Rush
Speaking of fierce F1 racing rivalries, the 2013 biographical sports film Rush featured the epic professional tussle between the Brit driver, James Hunt (Chris Hemsworth) and Austrian driver, Nikki Lauda (Daniel Brühl). The pair's mutual enmity came to the fore during the 1976 racing season.
Seen as virtual opposites, they were involved in some ferocious battles on and off the track. While Lauda was known as a precision driver who focused on technical details, Hunt was seen more as a brash and arrogant playboy of the sport who reveled in his fame and lived a hedonistic life despite his talent.
Ultimately, their bitter rivalry led to Lauda suffering a horrific accident that left him badly burnt and out for most of the season, allowing Hunt to claim the championship that year. However, Hunt's continued hedonism would later lead him to vastly underperform in subsequent years, and to his untimely death at just 45. A brilliant depiction of the two drivers' rivalry, the film earned four BAFTA nominations and won one.
2
Grand Prix
There's a reason why Formula One is seen as the pinnacle of professional motor racing, since it's arguably the most technically challenging and complex of all motor racing competitions. Largely revered as the greatest drivers in the world, Netflix's hit show Formula 1: Drive to Survive has given the world a front-row seat to the behind-the-scenes drama that surrounds Formula One drivers, and brought the sport to a whole new audience in the process.
Related: Best Formula One Movies to Watch Next, Ranked
While the sport has traditionally always been more popular in Europe than the USA, the show's popularity changed this and opened up a new Mecca for it with US audiences, with the championship now featuring three races on US soil in 2023, in Miami, Las Vegas, and Austin, Texas.
As more and more fans become F1 converts, it's easier to understand why the 1966 film Grand Prix was so highly acclaimed. It centered around a fictional Formula One championship season in 1966 and followed the fate of four drivers throughout that season.
The film was a cinematic gem that featured real-life racing footage and cameos from legendary star drivers of the time such as Juan Manuel Fangio. One of the highest-grossing films of 1966, it also won three Academy Awards and remains one of the most iconic films about motor racing there's ever been.
1
Ford v Ferrari
Another true gem of racing films, Ford v Ferrari was also a biographical film, but one which told the story of a professional rivalry between legendary car manufacturers, Henry Ford II and Enzo Ferrari. After Ferrari insults Ford, this leads him to instruct the Ford Motor Company's racing division to construct a sports car that can beat Ferrari at the 24 Hours of Le Mans race and finally end the Scuderia Ferrari team's dominance of the sport.
The epic task resulted in the birth of the legendary Ford GT40 Mk sports car which remains an iconic supercar model from the company to this day. Henry Ford II's partnership with the famous Carroll Shelby created a thing of beauty and a true beast of the sports car world. With amazing performances from the film's leads, Matt Damon and Christian Bale, the film went on to earn four Academy Award nominations (including Best Picture), and won two of them.
Its success also showed the potential for such films, which resulted in another iconic supercar rivalry story that deserves an honorable mention here. Just as Enzo Ferrari insulted Henry Ford II, he once also insulted another famous supercar mogul who was only a tractor manufacturer back then. After suggesting a tweak Enzo Ferrari could make to one of his cars to make it faster, he was yelled at and insulted, with Enzo telling him to go back to making his tractors and leave sports car designing to him.
That tractor manufacturer's name was Ferruccio Lamborghini, and Enzo's insult led him to design the world's first Lamborghini to compete with Ferrari – which the company still does to this day. That story can be seen in the biographical film Lamborghini: The Man Behind the Legend.