Best Punk Rock Movies of All Time, Ranked
Good punk movies can be hard to find. The whole point of counterculture is to oppose the mainstream, and sometimes that can drive the underground pretty far underground. Many people think Bill Paxton manifested one of the first depictions of punk in mainstream film. In a scene at the beginning of The Terminator, he's rude, and crude, and he's got spiked hair and attitude. But he was relatively late to the party. Punk rock had violently emerged almost a decade prior.
Punk is a crude and rebellious form of music that started in 1976 with the release of the first Sex Pistols album, which ignited a revolution in culture, including music and film, with many films expressing punk rock values and ideas through their direction, soundtracks, characters, and dialogue. Take a look at these films for a better, very entertaining (and often disturbing) glimpse at punk rock and the punk lifestyle of anarchy, squatting, rebellion, and heavy drinking and drug use.
Updated on September 3rd, 2023, by Ted Bajer: This article has been updated with additional content to keep the discussion fresh and relevant with even more information and new entries.
20
Class of 1999 (1990)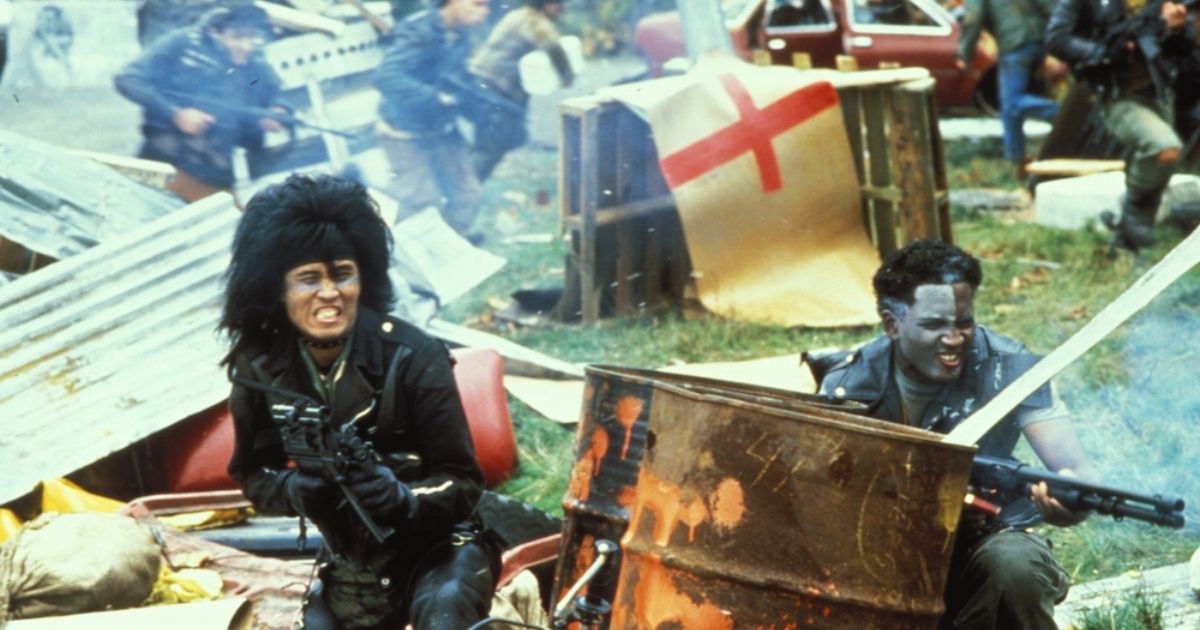 In the odd film Class of 1999, Stacy Keach plays some type of weird alien albino, and Pam Grier and John P. Ryan (who plays a malicious psychopath and is the greatest thing about this flick) play robotic teachers. These killer robots are brought in to help the local school, which has severe problems with gangs, punks, and general anarchy.
Heavily influenced by RoboCop, this 1990 movie follows two opposing gangs, the Razorheads, and the Blackhearts, as they feud with each other. Both are targeted by the robot teachers, who once were part of the military and used extreme force to control gangs. In the best and goriest scene, one of the android teachers shoves his hand down a student's throat, killing him. Meanwhile, everyone is getting hooked on a new drug called 'Edge.' Splatterpunk icon John Skipp co-wrote this bonkers futuristic punk rock sequel which also features Malcolm McDowell.
19
SLC Punk! (1998)
To call SLC Punk! a tone poem might be using the wrong words. The movie was its own punk rock anthem of what it was like to be an anarchist growing up in a heavily conservative Salt Lake City in the 1980s. Starring Matthew Lillard from Scream, our protagonist Stevo takes us through his life of reckless parties and self-destruction as he furiously rebels against…anything. In the movie, we see caricatures of everyone we might meet in a punk rock social circle; freaks from all walks of life united by music. As Stevo skates through his chaotic world trying his hardest not to care, he finds there might be some measure of order inside of him.
SLC Punk! became a combination of Midnight Cowboy and Suburbia. And it holds some surprises for anyone willing to rewatch it today. The film stars Til Schweiger from Inglourious Basterds as a frightening merchant of the underground. Jason Segel is a hidden gem in this film as well. It's one of his first movies. He plays a seemingly nerdy guy with a hardcore streak that runs straight to the core. Underneath his calm exterior is one of the most intense people in SLC's punk community. The movie is a fun romp through a rocker's world but becomes what every coming-of-age film is at its heart: a revelation. Just this time, it's done to the sounds of The Stooges, The Suicide Machines, and The Dead Kennedys.
18
Green Room (2015)
Green Room takes a simplistic premise — a punk band barricades themselves in the green room of a music club as Nazis try to kill them — and stretches it into a taut thing of beauty. It's an immensely suspenseful film that finds two very different groups (gutter punks versus neo-Nazis) killing each other in visually elaborate, viscerally violent ways.
Patrick Stewart is a surprise here as the leader of the Nazi group that's into some very illegal things, and the young cast who fights back (including Anton Yelchin, Imogen Poots, and Alia Shawkat) is delightful.
17
Class of 1984 (1982)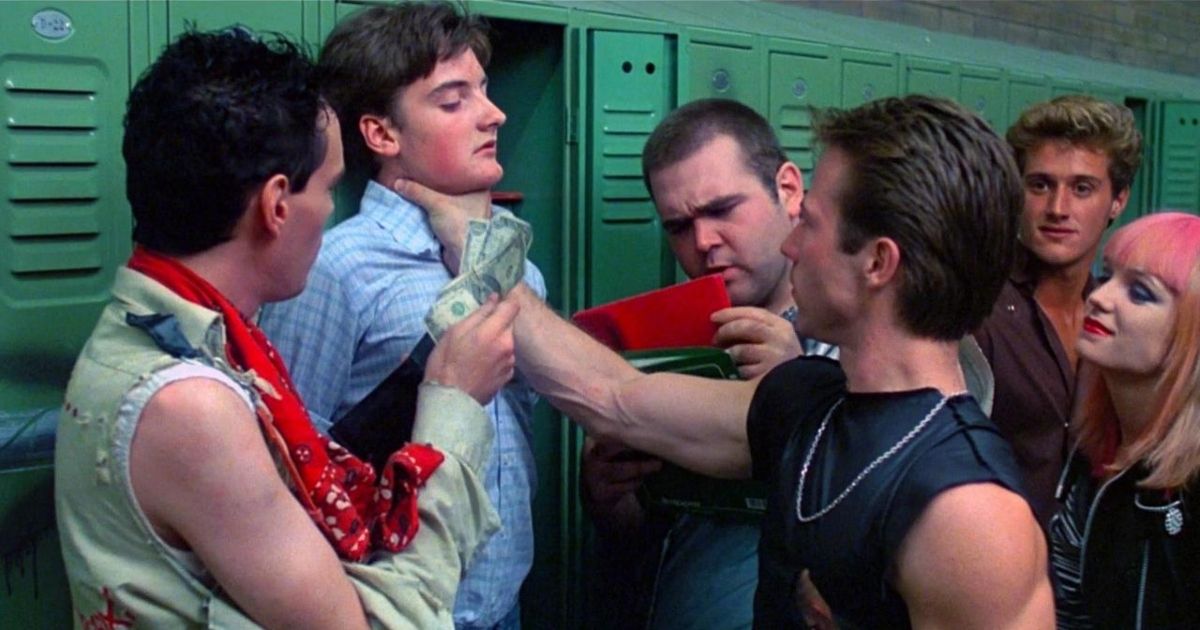 Class of 1984 is a punk rock revenge film from director Mark L. Lester, who later directed Class of 1999 and Stephen King's Firestarter. A new music teacher is shocked by both the amount of violence and the official apathy of the police and authorities who run his new school like a prison. Featuring the great Roddy McDowell and a then-unknown Michael J. Fox, "the edgiest teen film of the '80s" has gang wars, drug pushing, a deadly overdose of PCP, and lots of girls doing cocaine, but is still regarded as a classic.
The new teacher (Perry King) eventually learns that the punk kids he looked down on actually want to learn music and have genuinely good musical skills, so he decides to have the kids put on a school concert. As it is about to begin, he is handed a picture of his brutalized wife, who had been raped by a group of punks. Andrew chases them down, hungry for blood, having finally been pushed past the breaking point. The punk score is led by Alice Cooper's theme "I Am the Future," and contains the song "Let's Have A War" by FEAR, an essential punk song that features in several films on this list, such as Repo Man.
16
Trainspotting (1996)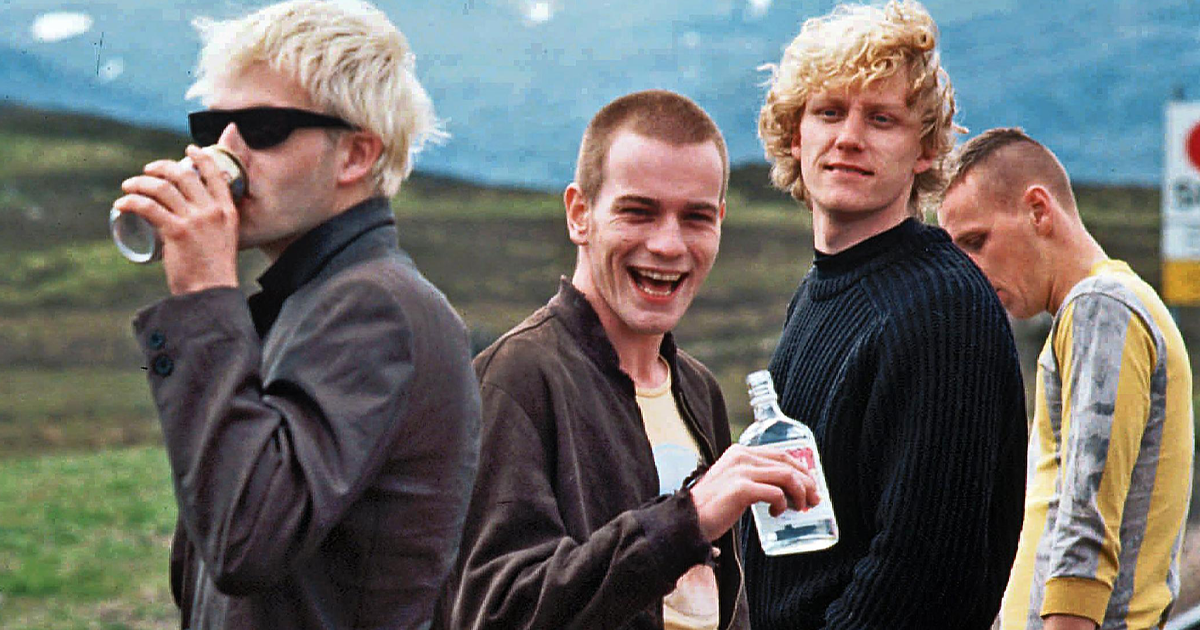 More about heroin than it is about punk culture, this film, adapted from author Irvine Welsh's masterpiece novel, became a pillar of the punk community in its representation of the chaotic life of drug addicts and squatters. Ewan McGregor plays Renton, a young man deeply involved with the drug scene in Edinburgh. As he tries to clean up and get out, he finds himself continually pulled back in by the seductive allure of heroin and the influence of his friends.
Irvine Welsh was influenced by everyone from Iggy Pop to Dostoevsky and director Danny Boyle made sure to show it in the film. Trainspotting featured staple punk rock songs like the cover of Iggy Pop's "Nightclubbing" and Lou Reed's "Perfect Day." The film also included many British post-punk bands like New Order, Blur, and Pulp. The filmmakers released the movie's soundtrack on an album after the film was released, but the fan's reaction to the music was so strong, they were forced to release a second album featuring songs that either didn't make the cut for the film or were simply influential to the filmmakers.
Related: 34 Best Movies on Max to Watch Right Now
15
The Filth and the Fury (2000)
The Filth and The Fury is one of two great documentaries made by director Julian Temple (Ted Lasso actor Juno Temple's father) about the Sex Pistols. For some reason, this film has many irrelevant shots of random British television shows and clips from Shakespeare's Richard III, which slows down the pace of the film. Too much attention is given to Malcolm McLaren, the manager and founder of the Sex Pistols, an arrogant, manipulative strange man responsible for the breakup of the band (according to interviews with Johnny Rotten, lead singer).
There is, however, some great footage in the film of the Sex Pistols playing live, both in England and America. The documentary features an interview with Sid Vicious high on heroin, and contains a surprisingly honest and heartfelt discussion of Sid Vicious' death from an overdose by a very upset and emotional Johnny Rotten.
14
24 Hour Party People (2002)
This movie is a dramatization of the underground culture of the '70s, '80s, and early '90s. The film makes clear that not all of the events had happened, but rather, were based on rumors circulating in the counterculture at the time. It creates a brilliant picture of the mythologized parts of punk rock and what the underground world may have looked like from the perspective of those who helped create it. 24-Hour Party People begins with the punk scene emerging from the '70s into the '80s and then follows the business of rebellion into rave culture, largely following the journey of Joy Division as they became New Order.
In the movie, television presenter Tony Wilson sees a Sex Pistols show and resolves to help give that kind of music a bigger presence in Manchester, England. He founded the infamous record label Factory Records and signed Joy Division as their first band. After the incredible success of the band comes the tragic fate of Ian Curtis, and the remaining musicians rename themselves New Order. Their new music leads Wilson to open a nightclub where punk turns into post-punk and rock turns into rave. What follows is a swirling downward spiral of drug abuse, gang violence, and deceit inside the business. The movie provides an entertaining myth of what it could have been like to be at the center of Manchester's punk-party culture.
13
We Are the Best! (2013)
An immensely sweet and convincing coming-of-age dramedy, We Are the Best! takes punk rock into the 21st century with a group of young Swedish girls attempting to start a punk rock band.
Lukas Moodysson adapts his graphic novel, co-written with his wife, to great success, combining a genuinely impressive cast of young girls with evocative settings and a killer soundtrack of obscure Swedish hardcore.
12
CBGB (2013)
CBGB is a biopic made for America's longstanding heart of punk rock in New York City. The film came out seven years after the legendary venue closed and chronicles the life and history of what was originally meant to be a club for Country and Bluegrass music. It dramatizes the story of owner Hilly Kristal as he journeys along a road of poverty, hardship, and incredible music that may not have existed without him. When the club can't find any country acts, he ends up booking the rock band Television, and more punk bands begin to follow. Soon, Kristal books punk icons like Patti Smith, Blondie, and The Ramones.
Though the movie didn't break the box office, it's still worth a watch. Alan Rickman stars as Hilly Kristal and Rupert Grint appears as Cheetah Chrome. The movie takes the viewers through the mythologized history of this incredible nightclub and gives people a bit of a fictionalized perspective of what might have happened behind the scenes at the headquarters of this incredible counterculture movement.
11
The Great Rock 'N' Roll Swindle (1980)
Another Sex Pistols documentary from Julian Temple, The Great Rock 'N' Roll Swindle features way too much footage of Malcolm McLaren (and his little person sidekick), who managed the Sex Pistols and is a manipulative creep who destroyed the band; apparently, people find him extremely fascinating or magnetic.
Featuring some great live footage of the Sex Pistols from back in 1977 and some unique artistic touches, this is sure to please every Sex Pistols fan, and it is superior to The Filth and The Fury. There are strange animated sequences, shots of Sid Vicious riding a motorcycle, footage from their last ever show, and Sid Vicious performing "My Way," which was re-created in Sid and Nancy.
Related: 10 Films that Use Music to Transport You To a Different Time
10
Suburbia (1983)
The 1983 Roger Corman-produced Suburbia (not to be confused with Richard Linklater's film, SubUrbia) is an underground classic directed by the one and only Penelope Spheeris (who directed three films on this list, along with Wayne's World). Starring Chris Pedersen, (from Platoon and Point Break) as a charismatic punk with an attitude, and Flea (from the bands Fear and Red Hot Chili Peppers), the film centers on the phenomenon of alienated runaway suburban kids "squatting," or communally living in condemned and abandoned buildings.
There are some great live performances by TSOL, The Vandals, and D.I. performing the punk rock classic "Richard Hung Himself," a darkly nihilistic song. The film begins shockingly and disturbingly– a bunch of dogs mauls a baby to death, and "crime-fighting" rednecks drive around shooting and killing dogs. Later on, these disgusting men confront the punks in the name of crime prevention. There's an infamous funeral scene after one of the young punks, who had revealed that her father molested her, dies of a drug overdose; the punks and the abusive father turn the funeral scene into chaos in this anarchic, wild film.
9
Edgeplay: A Film About the Runaways (2004)
Edgeplay: A Film About the Runaways is a documentary about the most iconic female voices of the early punk movement. Known for their big studio hit, "Cherry Bomb," The Runaways were the biggest all-girl band to hit the stage at that time. They started a band when women were still extremely underrepresented in the music industry, especially in the rock genre. It was written and directed by former Runaways bassist Victory Tischley-Blue and provides a unique perspective not just on The Runaways, but what it was like to be one of the only voices for women in the punk genre at that time.
Despite the film's close ties to the actual band, it suffered some difficulties while being produced. A part of The Runaways' history isn't just their incredible rise to fame, but the intense emotional drama and selfish manager that ultimately caused the band to break up. Some of these wounds never fully healed, and so, when the movie was being made, Tischler-Blue ran into difficulties while trying to interview the band's manager Kim Fowley and find permission to use the band's music from Joan Jett, who would not appear in the film. See also the entertaining biopic The Runaways starring Kristen Stewart and Dakota Fanning.
8
Sid and Nancy (1986)
The story of the destructive love between Sex Pistols bassist Sid Vicious and his girlfriend Nancy Spungen is well-known by anyone familiar with punk rock. Iconic director Alex Cox' Sid and Nancy is the true tale of two heroin addicts who both died tragic deaths– Nancy was stabbed to death in a hotel room she was sharing with Sid (the obvious suspect in the murder), who died shortly afterward from a heroin overdose.
Gary Oldman's performance is incredible; he simply is Sid Vicious. Chloe Webb is also excellent as Nancy, though she's very different from the real Nancy Spungen seen in Julian Temple's two Sex Pistols documentaries. The biggest problem with the movie is the portrayal of Johnny Rotten, a terrible performance that brings the movie down. The film even has a small part from Courtney Love, in a perverse bit of irony on the part of the universe.
7
Repo Man (1984)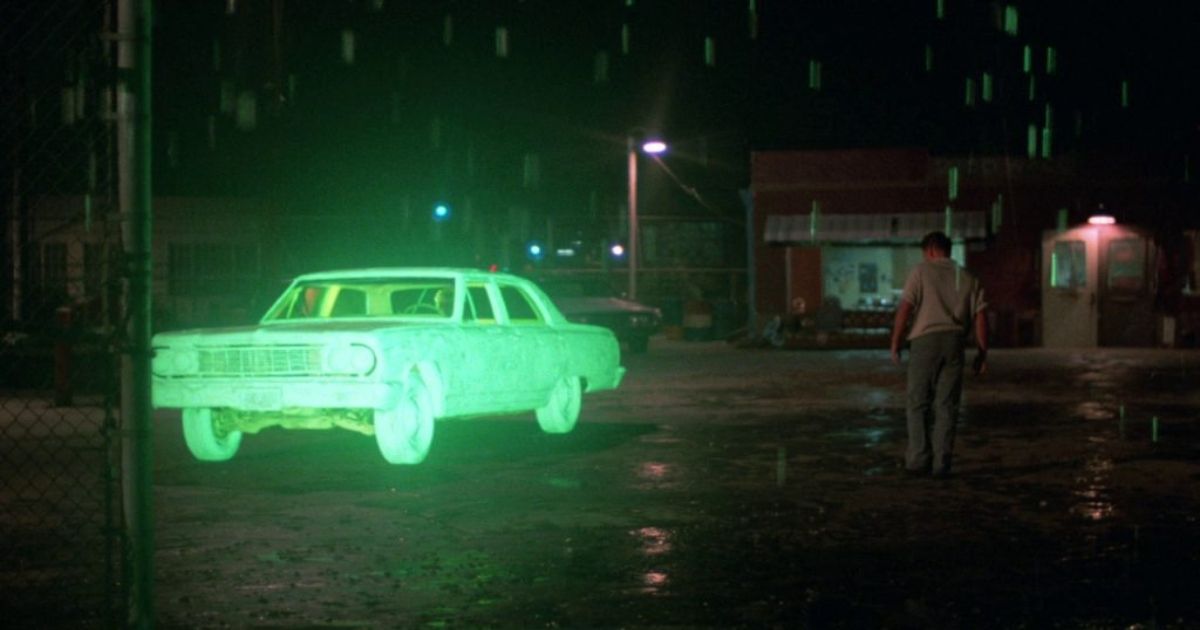 To quote Evan Jacobs of MovieWeb, Repo Man "is a movie that should be re-released every 10 years, forever," and is one of the best punk films with the most attitude. Alex Cox's film is about Otto, an aimless young kid who finds pleasure and purpose in repossessing cars. Otto has the task of hunting down an old car worth a lot of money because of the contents of the trunk — which kills anyone who opens it, and that's not the only outlandish, unusual thing about this very far-out film.
Starring Zander Schloss of the Circle Jerks (and with a performance from the band), the seminal punk rock film's soundtrack has Fear, the Circle Jerks, Suicidal Tendencies, Black Flag, Iggy Pop, and more. Harry Dean Stanton is incredible as always, and this is undoubtedly Emilio Estevez's best performance.
6
The Decline of Western Civilization (1981)
Penelope Spheeris's hugely influential film The Decline of Western Civilization chronicles the Los Angeles punk scene around the turn of 1980, which produced such bands as Circle Jerks, X, the Germs, FEAR, and many more. It is the absolute best cinematic introduction to the punk mythos a person can have. The film contains some incredible live concerts of the bands, as well as footage of them in their daily lives, which is fascinating.
For instance, we see Darby Crash of the Germs (who looks a lot like Sid Vicious of the Sex Pistols) cook an egg as he answers questions about his life and the band before dying of a heroin overdose at the age of 21. It's this kind of intimacy and curiosity that made Spheeris' three documentaries so incredible.
Related: The Best Punk Rock Soundtracks in Movies
5
The Decline of Western Civilization, Part 3 (1998)
The Decline of Western Civilization Part 3 features several musical acts, including Final Conflict, and there's footage of Flea (FEAR, Red Hot Chili Peppers). What makes the film so special and unique, however, is not its coverage of punk rock bands, but its coverage of very young punk rock fans. Called "gutter punks," these are homeless teens who make money by panhandling and stealing. They live as squatters, living communally wherever they can find a spot to sleep.
Adorned with mohawks and piercings, they all come from broken and dysfunctional homes, and they have one reason to live — alcohol. Their advanced alcoholism at such a young age is heartbreaking and sad, and so are their individual stories. Spheeris interviews these kids on the street and at their parties and gets honest answers from them. Filmed between 1996 and 1997, most of the kids in the film had not even been born in 1980 when the first film in the series came out. It is a melancholic, powerful look at the dark side of punk and perhaps its cultural death.
4
La Haine (1995)
Released in the United States simply as Hate, the film follows three young punks through Paris as they riot against police brutality. The three friends travel through the brutal concrete architecture that is the lower-income part of Paris. As we get updates throughout the day about the city-wide riot through news reports, we learn that one of the group's friends has been captured and tortured by police. As a heated discussion of what the three friends can do slowly begins to boil, we secretly discover that Vinz (Vincent Cassel) has stolen a cop's gun.
As the situation escalates, the group eventually threatens to kill a police officer if their friend dies. The frightening conflict shows the audience how a political rebellion can quickly turn into emotional violence without reason. The film premiered at Cannes and was added to the Criterion Collection as one of the films that defined France's 1995 strikes. It's one of the best foreign films of the 90s. Filmmaker Mathieu Kassovitz creates a dark sociological picture that draws a fine line between what it means to rebel and what it means to hate.
3
Another State of Mind (1984)
Another State of Mind is the story of a 1982 tour by punk bands Social Distortion and Youth Brigade. It begins with 11 guys in a broken-down school bus; by the end of the film, there are only four people left. Faced with a lack of money and personality conflicts, the tour spirals into tragedy and is finally abandoned.
The film is about the DIY ethic, and it is a classic tale of the difficulties of being an unknown underground band on tour. Another State of Mind remains memorable for some of its unique and odd interviews and access — along with that tour bus, there's an interview with a Christian punk band, live footage of Minor Threat, fun shots of the bands skateboarding, and great segments with punk rock icon Keith Morris, who founded Black Flag before forming the Circle Jerks.
2
HATED: GG Allin and the Murder Junkies (1993)
HATED: GG Allin and the Murder Junkies is the nasty, filthy story of the most infamous rock and roll outlaw to ever walk this Earth. GG Allin was a loaded gun, pointed at his audience. Because of the violent, anarchistic nature of his shows, they more often than not were shut down by the police, often after just a few songs, resulting in GG getting arrested over 50 times. He spent significant time in jail after blinding a fan by smashing a beer bottle and jabbing it into her eye.
At his shows, he would tear off all of his clothes and walk around nude except for his combat boots, defecate on the stage, and throw feces at the audience. He would run into the small crowds and hit, punch, kick, and headbutt anyone who got in his way. He sliced himself up with broken bottles and his body was covered with obscene and crude tattoos that would make a sailor blush. He was the darkest, most nihilistic embodiment of punk. This documentary perfectly covers Allin's daily life of mayhem, covering his career until he (too) died from an overdose of heroin. Weirdly enough, the film was directed by Todd Phillips, who went on to gain fame directing The Hangover trilogy and his similarly nihilistic Joker.
1
Pussy Riot: A Punk Prayer (2013)
Pussy Riot: A Punk Prayer is a 2013 documentary tracing the court case of the now-famous Pussy Riot. The feminist, anti-Putinist art group was arrested in 2012 for performing a satirical song on church grounds under the official charge of "hooliganism." Their song "Punk Prayer – Mother of God, Chase Putin Away" was aimed at the Orthodox church leader's support for Putin's election campaign. And Putin said that they "undermined the moral foundations" of Russia. Three members of the group were arrested and two were held for their sentence of two years in prison. Amnesty International identified the women as political prisoners.
The film brought international attention to the political women's art group, gaining their support largely in the West. Pussy Riot has continued to perform their punk music in opposition to Putin's oppressive regime, famously being attacked with pepper spray and whips at the Sochi Winter Olympics by Cossacks employed as security guards. The activist group has since expanded its repertoire, performing protest songs aimed at Donald Trump, and others in support of the Black Lives Matter movement. This film gave the women of Pussy Riot a global stage on which to perform and remains an important testament to how punk rock can be used to defy powerful fascists. It's also a dark reminder of how dangerous meaningful protest can be, as Pussy Riot's Nadya Tolokonnikova remains on Russia's wanted list to this day.