Beto O'Rouke Surges, Closing the Greg Abbott Gap in Texas: Poll
Democratic Texas gubernatorial candidate Beto O'Rourke is within 2 percentage points of Republican Gov. Greg Abbott in the latest poll released Sunday by Beacon Research, showing a potential shift in momentum just two weeks before the midterm elections.
The poll shows Abbott with 48 percent of the vote compared to O'Rourke's 46 percent. The poll polled 1,125 Americans who said they "definitely plan to" vote and was conducted Oct. 15-19. The margin of error for the survey is 2.8 percentage points.
Meanwhile, a Texas Democratic strategist, who declined to be named, said news week on Sunday: "I can't imagine Beto not capitalizing on this. Local people are fed up with Abbott."
While this shows a glimmer of hope for Democrats in the Lone Star State, other polls have not been so favorable to O'Rourke, who was a former congressman. According to the latest FiveThirtyEight average of recent polls, the Republican governor has a strong lead over his Democratic challenger by nearly 8 points. On the RealClearPolitics average, Abbott increased his lead over O'Rourke to 8.7 percentage points.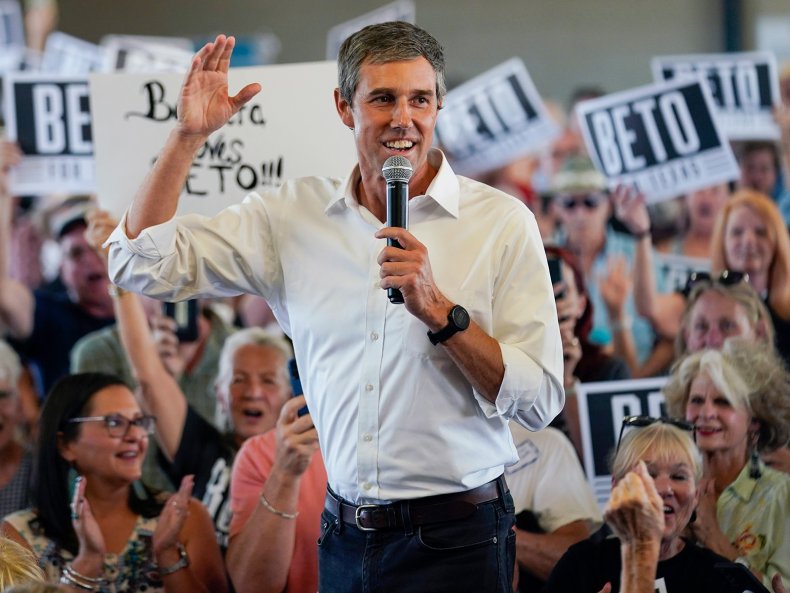 Former President Donald Trump took aim at O'Rourke at a rally in Robstown, Texas on Saturday night, saying, "In seventeen days, the people of Texas will defeat Beto O'Rourke, a Flake. He's a flake! And we're going to keep Greg Abbott, a wonderful man, a great man, a great governor, we're going to keep him at the governor's mansion."
Trump added that he plans to bring the "MAGA movement" to Texas next month. The former president's rally came just two days before early voting began in the state.
"Voters in this state are ready to turn the page on Greg Abbott's failure and vote for change after eight years of pushing his extreme agenda over the people of Texas," O'Rourke said, according to the Texas Democratic Party. "With over 100,000 volunteers, we have the largest on-site organizational program in Texas history dedicated to bringing out the new, rare and overlooked voters who will claim victory on November 8th."
In the most recent Quinnipiac University poll, the "most pressing" issues facing Texans are the Texas-Mexico border, abortion and inflation. At the national level, economic issues such as jobs, inflation and unemployment were the top issues for voters. The poll also shows likely voters are divided over Abbott's buses of migrants to Democratic-ruled states. He shows a 51 percent approval rating on the subject versus a 47 percent disagreement rating.
Political science professor and analyst Dr. Susan MacManus with news week am Sonntag: "At this point with weeks left until the election, it's really Abbott's to lose.
"We're such a polarized country, people see Americans through two different lenses," MacManus added of the sky-high interest in this cycle's midterm elections.
Meanwhile, the new Beacon Research poll also shows that Abbot and O'Rourke hold on to 90 percent of their party, but showed independents tilting in favor of O'Rourke.
https://www.newsweek.com/beto-orouke-surges-closing-gap-greg-abbott-texas-poll-1754125 Beto O'Rouke Surges, Closing the Greg Abbott Gap in Texas: Poll