Beto O'Rourke heckles during Uvalde talk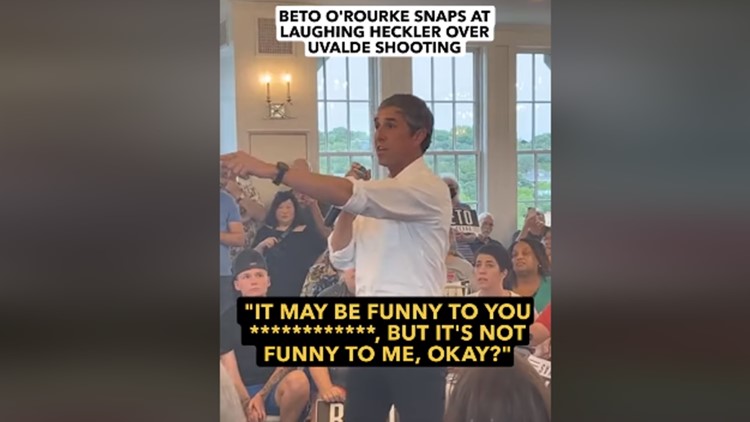 MINERAL WELLS, Texas – "It may be funny to you, ************, but not funny to me, okay?"
Texas gubernatorial candidate Beto O'Rourke snapped at a heckler who appeared to be laughing as he spoke about the Uvalde mass shooting at a town hall meeting in Mineral Wells on Wednesday.
"19 children and their two teachers shot with a gun originally designed for use in combat and bought legally by an 18 year old who didn't try to get one when he was 16 or 17 but was adapting to it Law kept that's in the books, ladies and gentlemen," O'Rourke said during the town hall meeting. "That means you can't buy one, you can buy two or more if you want, AR 15s, hundreds of rounds of ammunition and take this weapon, originally developed for use on the battlefields of Vietnam, to pierce the helmet of an enemy soldier at 500ft and knock him dead – against children at 5ft. It may be funny to you (beeps ), but it's not funny to me, okay?"
O'Rourke has long pushed for stricter gun laws.
O'Rourke is currently making his case where he can in many counties in Texas, where former President Donald Trump received nearly 70 percent or more of the vote.
O'Rourke will face Greg Abbott in the Texas gubernatorial campaign in November.
More from 3News on KIIITV.com:
https://www.kvue.com/article/news/local/texas/beto-orourke-slams-heckler-for-laughing-while-discussing-uvalde/503-6d033717-40d0-43de-8a89-8bc11fb6749f Beto O'Rourke heckles during Uvalde talk