Biden administration cancels $9 billion in student debt as payments resume
The Biden administration approved $9 billion in student debt relief on Wednesday, just days after payments resumed following a three-year pause triggered by the pandemic.
According to the White House, this move provides student loan forgiveness to 125,000 Americans. Federal student loan payments began again on Oct. 1 after pausing during the pandemic, affecting about 28 million borrowers.
"President Biden has long believed that college should be a ticket to the middle class, not a burden that weighs on families," the White House said in a statement.
"That's why, from day one, his administration has taken unprecedented steps to fix the broken student loan system, make college more affordable, and put the promise of higher education within reach of more Americans," the White House said.
Wednesday's announcement affects three different categories of borrowers.
The government approved $5.2 billion in debt relief for 53,000 borrowers under public sector lending programs. This move will allow eligible public sector and nonprofit workers to have their debt forgiven after making direct student loan payments for 10 years.
The government also canceled nearly $2.8 billion in debt for nearly 51,000 borrowers who were eligible for debt relief based on previous payments but were never granted loan relief.
An additional 22,000 borrowers with total or permanent disabilities will receive $1.2 billion in student loan cancellation.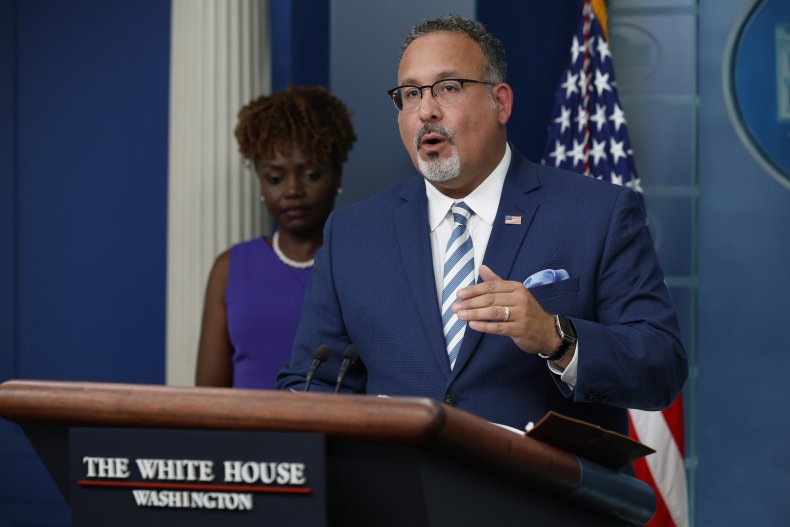 With Wednesday's announcement, the administration has now approved a total of $127 billion in student debt relief for 3.6 million borrowers, according to the White House.
This includes student debt relief for 715,000 public workers and 855,000 borrowers who the Biden administration determined were eligible for forgiveness in the past but did not receive loan forgiveness due to administrative errors.
"Today's announcement builds on everything our administration has already done to protect students from unaffordable debt, make repayment more affordable and ensure investments in higher education pay off for students and working families," said Education Secretary Miguel Cardona in a statement.
The latest push for student loan forgiveness comes about three months after the Supreme Court blocked a Biden administration program aimed at forgiving up to $20,000 in student loans for millions of borrowers.
The court ruled June 30 in a 6-3 decision that the administration needed congressional approval to create the student loan forgiveness program.
The decision was a blow to Biden and forced the administration to look for alternative paths, such as the student debt relief steps announced Wednesday.
Biden will deliver a speech on student loan debt at the White House on Wednesday afternoon.