Biden deserves bipartisan SOTU applause for Medicare and Social Security
President Joe Biden received a standing ovation from across Congress during Tuesday's State of the Union address as both Republicans and Democrats showed their support for securing funding for Medicare and Social Security.
Biden has been in a long-running battle with Republican lawmakers over raising the country's debt ceiling since it hit its limit in mid-January. GOP leaders like House Speaker Kevin McCarthy have promised to raise Biden's credit limit if Democrats agree to "structural" budget changes, with some Republicans suggesting those cuts come from federal programs like Social Security and Medicare.
In his Tuesday address, Biden attacked the GOP's reluctance to raise the debt limit, noting the fact that Republicans had voted to raise the ceiling three times under Trump's administration.
"Some of my Republican friends want to hold the economy hostage, I understand, unless I agree with their economic plans," Biden said. "You all at home should know what those plans are."
"Rather than getting the rich to pay their fair share, some Republicans want Social Security and Medicare to go under," Biden continued. "I'm not saying it's the majority of you."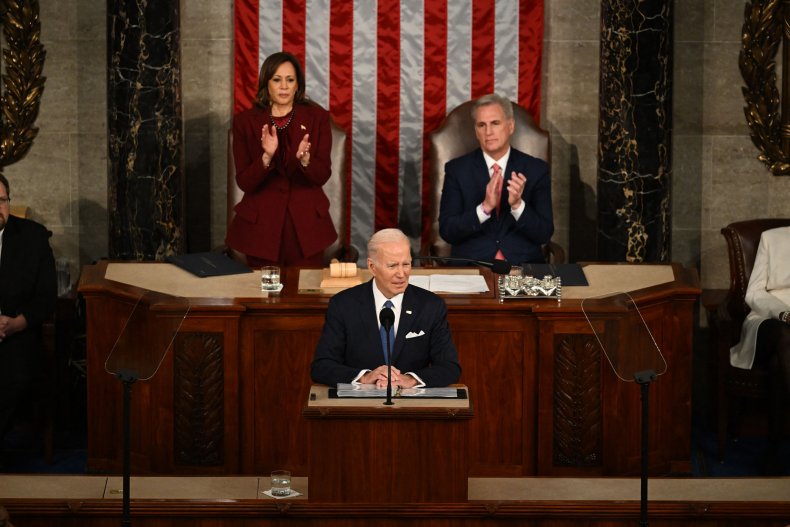 Biden's assertion was met with loud boos from the Republican side of the room, to which the President replied, "Anyone who doubts this, contact my office. I will give you a copy of the proposal."
After the chamber calmed down, Biden said, "Well folks, it seems we can all agree that Social Security and Medicare are off the books now."
The agreement was met with applause from across the room, and the President shouted over cheers, "We've reached unanimity!"
On Monday, McCarthy addressed the nation's deficits in his own address to the nation, promising that cuts to Social Security and Medicare are "off the table" as the debt ceiling debate continues.
This is an evolving story. It will be updated as information becomes available.
https://www.newsweek.com/joe-biden-earns-bipartisan-state-union-applause-medicare-social-security-1779657 Biden deserves bipartisan SOTU applause for Medicare and Social Security