Biden Leaves Troops Stuck in Syria Limbo As Russia, Iran, Turkey Escalate
President Joe Biden's administration has kept hundreds of U.S. soldiers in place in Syria with no major policy plans, even as Russia, Iran and Turkey turn up the heat in the long-running conflict.
Since supporting rebels in the 2011 uprising that sought to overthrow Syrian President Bashar al-Assad, and later intervening directly in 2014 to take on the Islamic State militant group (ISIS), Washington's policy in the country has undergone several major shifts. The most recent overhaul occurred in 2019, when then-President Donald Trump drew back U.S. positions to focus solely on the oil-rich northeast and a desert garrison in the south, part of stated plans to withdraw that never materialized.
That was the situation on the ground when Biden came to office, and little has changed in the 18 months since. The White House argues it is acting according to plan.
"The Biden Administration's priorities for Syria are clear: promote commitment to ceasefires, expand humanitarian access, and ensure the enduring defeat of ISIS, while continuing to support the UN-led political process pursuant to UNSCR 2254," a National Security Council spokesperson told Newsweek.
"The U.S. military mission in eastern Syria is to ensure the enduring defeat of ISIS," the spokesperson added. "There is no military mission beyond that objective."
The group's self-proclaimed caliphate was declared defeated in 2019, but there are still remnants of the jihadi forces. The National Security Council spokesperson said that the U.S. mission "has proven highly effective since it was first designed in 2015 through now, including with targeted operations against ISIS's leader in February 2021 and with targeted strikes earlier this month against other senior leaders."
And no changes in the plan are anticipated.
"This important mission is essential to protecting the American people and our partners and it continues," the spokesperson said. "We do not anticipate any near-term changes to the U.S. military presence in eastern Syria."
But these positions ran contrary to that of other powers currently investing in means to enforce their own vision of settling the Syrian crisis, including that of Damascus, whose mission to the United Nations told Newsweek that "the presence of the U.S. military on Syrian territory is an illegal act, an act of aggression, and violates all international legitimacy resolutions related to the situation in the Syrian Arab Republic."
"The Syrian state did not ask the United States of America to send its forces to Syria under the cover of what was falsely called the 'international coalition against ISIS,'" the mission said. "Also, the United Nations Security Council did not issue any resolution to send international forces to Syria to fight ISIS; therefore the US military presence in Syria was and will remain illegal."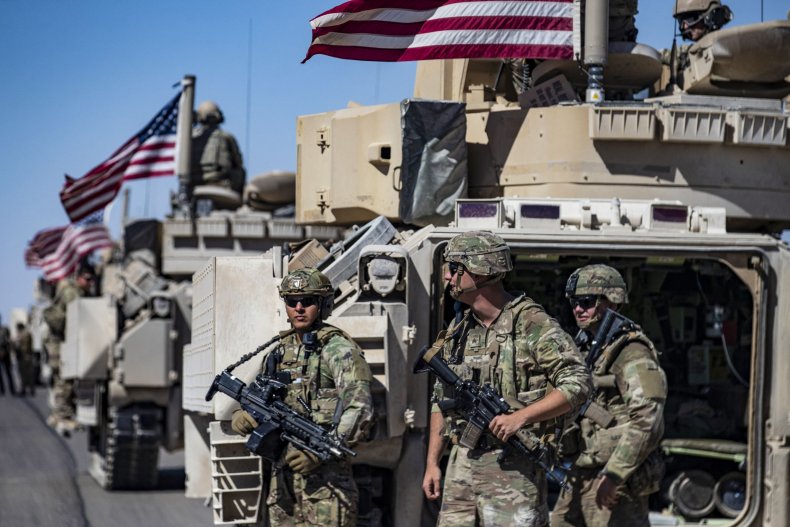 Damascus does not stand alone. As Iran and Russia intervened in the conflict on behalf of Assad, they have echoed his government's protests against the U.S. military's enduring footprint in Syria.
Last week, Iranian President Ebrahim Raisi and Russian President Vladimir Putin both issued demands that U.S. forces leave northeastern Syria. They were joined in trilateral talks in Tehran by a U.S. ally, Turkish President Recep Tayyip Erdogan, who has accused Washington of supporting the outlawed Kurdistan Workers' Party (PKK), of which Ankara views the Pentagon-backed Syrian Democratic Forces (SDF) and their People's Protection Units (YPG) to be a direct offshoot.
"SDF is a terror syndicate and Syria branch of PKK," the Turkish embassy in Washington, D.C. told Newsweek. "The PKK is formally regarded as a terrorist organization by the United States and the EU. Their operating manual relies on terrorism on the ground and black propaganda in international press against us."
The embassy also highlighted Ankara's own fight against ISIS, also known as Daesh, claiming that Turkish operations have killed more than 4,500 of the jihadis. The embassy alleged that the SDF collaborated with ISIS, while the SDF has accused Turkey of doing the same with the insurgents it sponsors, some of whom have ties to Islamist groups.
And just as the SDF has accused Turkey of targeting its positions with drones, including a series of recent deadly strikes, the Turkish embassy argues that the PKK and its local affiliates have launched cross-border unmanned aerial system attacks against Turkish territory, and have conducted up to 1,800 attacks over the past two years.
"We have been consistently underscoring persistent wrongdoings and ill-advised strategies since the beginning of this fight," the embassy said. "Continuous ignorance of our calls and ensuing appeasement of PKK/YPG terror elements in Syria have resulted in the resurgence of DAESH."
The embassy also said that Turkish officials have "communicated our concerns with the U.S." and, as Price said, "they acknowledged our security concerns."
"Yet no action has been taken," the Turkish embassy added. "We will act at a time and place of our choice to respond to the ongoing terrorist attacks, that inflict casualties and damage against civilians Syrians and Turks alike."
The warning came as Erdogan threatened to conduct a fourth large-scale intervention into northern Syria. Moscow and Tehran have joined Washington in opposing such an action, which is likely to target the SDF.
Deployed across the front lines of the conflict, sometimes right beside U.S. troops, the SDF has issued protests to major powers about Turkey's plans. Speaking during a conference earlier this month, Syrian Democratic Council co-leader Ilham Ahmed said the SDF's political wing had been appealing to both Washington and Moscow to halt Ankara's plans, which she warned were only "helping ISIS to reorganize itself and revive again."
Responding to Newsweek's question about the Biden administration's position, she said she was grateful that the U.S. had lifted some sanctions on doing business in northeastern Syria, a move that could promote economic investment in the region. But she worried that Washington ultimately may be distracted by Russia's ongoing war in Ukraine, leaving a vacuum into which others are moving.
"We know, unfortunately, that the war in Ukraine has affected all the world and we know that the U.S. especially is preoccupied and engaged in solving this crisis," Ahmed said. "So, this has given an opportunity for all the international powers who want to grow their influence in Syria to take advantage of this situation."
"And also, when the U.S. and other influential powers in Syria don't have that strict position against the attacks and threats of Turkey," she added, "Turkey is considering this as a green light to start the military operation."
The Syrian government is also opposed to such Turkish action. Its military released a rare warning Tuesday that it "is ready to confront any possible aggression by this regime and its terrorist organizations."
Though attempts to reconcile their differing visions for Syria's post-war future have continued to fail, the SDF and the Syrian military have occasionally fought alongside one another against Turkey and Turkish-backed factions. The Syrian Observatory for Human Rights, a U.K.-based monitor with ties to Syria's exiled opposition, reported Tuesday that the two sides were already both clashing with Turkish troops and allied Syrian rebels.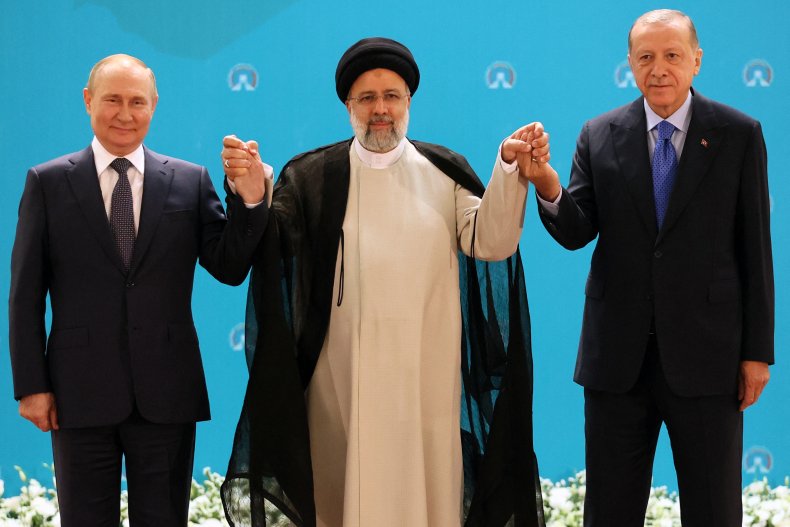 Escalations were emerging on other fronts in Syria as well. As Iran continued to support friendly militias in Syria, Israel has engaged in a years-long campaign of strikes targeting suspected Iran-linked positions as well as Syrian military posts seeking to defend the country's skies.
One such attack in May saw Russia's anti-aircraft batteries open fire on an Israeli jet, as Israeli Defense Minister Benny Gantz revealed Tuesday. He called it a "one-off incident," even as Moscow has continued to protest against such Israeli strikes that appear to continue unabated. A new attack Friday was reported to have killed three Syrian soldiers near Damascus.
Tensions have been high between the two powers, as Israel has grown increasingly critical of Russia's intervention in Ukraine. Meanwhile, Russia has ramped up its own air campaign in Syria, mostly targeting rebels in the northwest. In another case of near-confrontation among rival powers, Russia last month conducted rare airstrikes targeting the Maghawir al-Thawra opposition group operating within the Al-Tanf exclusion zone claimed by the U.S. military in the southwest.
In the face of these developments, the White House National Security Council spokesperson with whom Newsweek spoke asserted that U.S. forces could hold their own in Syria.
"U.S. forces are well protected and retain the inherent right of self-defense," the spokesperson said. "We have contingencies in place to handle potential escalations."
On the matter of Ankara's threats, the spokesperson stated that "we do not support a Turkish-led incursion, and believe ceasefire lines should be respected by all parties." As for the U.S.' other Middle Eastern ally, Israel, the spokesperson asserted that "we recognize Israel's freedom of action and right to defend itself."
Damascus, still under U.S. sanctions due to allegations of widespread human rights abuses, remained confident in the partners it's chosen in the conflict.
"We trust the policies and intentions of our friends in Moscow and Tehran," the Syrian mission told Newsweek. "These governments and many others have stood with Syria since it was exposed to this violent terrorist war, and provided every possible support in confronting terrorist armed groups such as Al-Qaeda and ISIS."
"Today, Beijing, Moscow, and other governments support our efforts in the field of reconstruction and getting Syria back on the track to sustainable development," it added. "They also stand with Syria in facing one of the most important challenges represented by the unilateral coercive measures imposed by the United States and the European Union on the Syrian people, the impacts of these measures have increased in an inhumane and unprecedented manner in recent years."
While China has not played a military role in Syria's civil war, Beijing joined Moscow just months into developing crisis to halt international invention through a joint veto at the U.N. Security Council in October 2011. The vote came just two weeks before Libyan leader Muammar el-Qaddafi was killed by insurgents supported by a NATO intervention approved earlier that year by a U.N. resolution in which China and Russia abstained.
Today, Chinese officials also rail against U.S. actions in Syria, with Chinese Foreign Ministry spokesperson Wang Wenbin accusing U.S. troops last week of a strategy that "borders on banditry."
"The U.S. claims to hold itself to the 'highest standards' on human rights and rule of law," Wang told reporters at the time. "But what it did in Syria is clear evidence that these standards mean little to the U.S."
"The U.S. must respect Syria's sovereignty and territorial integrity, respond to the appeal of the Syrian people, lift at once unilateral sanctions on Syria, immediately stop plundering Syria's national resources, and take real actions to remedy the harm it has inflicted on the Syrian people," he added.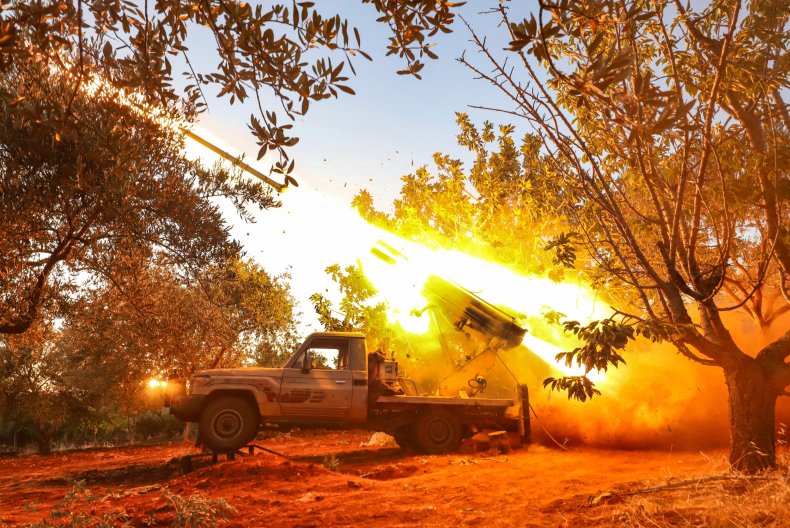 While Biden and Trump have differed significantly on a number of issues, their foreign policies have seen substantial continuity in certain areas. Among these areas was an effort to end the "forever wars" fought by the U.S. military across the Middle East and its periphery since the early years of the 21st century.
Having followed through with Trump's withdrawal from the two-decade war in Afghanistan and announcing an end to the "combat mission" in Iraq last year, Biden declared himself "the first president to visit the Middle East since 9/11 without U.S. troops engaged in a combat mission there" when he set off for Israel, the West Bank and Saudi Arabia earlier this month.
But as Syria's unpredictable conflict continued to edge toward greater uncertainties as rival players pressed forward, the only common ground established by parties to the conflict other than the Pentagon's partner, the SDF, has been the withdrawal of U.S. forces.
"Whoever reads in-depth and with impartiality the facts and details of the U.S. President's recent tour in the region," the Syrian mission told Newsweek, "will reach an absolute conviction that the U.S. administration is no different from its predecessors in adopting a foreign policy based on seeking to escalate the situation in the Middle East and preparing for new hotbeds of tension in the world."
The mission then suggested that Biden tailor his policy toward regional conflicts along the lines of medical advice that emerged in the face of the global COVID-19 pandemic, "Stay home for the safety of everyone."
"We believe the U.S. administration should adopt this slogan to draw and implement its foreign policy," the mission said.
"In other words," the Syrian mission added, "if the U.S. is unable, till today, to understand what peoples of the world need in the areas of security, freedom, and welfare, then it must reconsider its foreign policies and stop playing the role of 'the world's policeman' who believes that he has the right to determine the fate of countries and the choices of peoples."
https://www.newsweek.com/biden-leaves-troops-stuck-syria-limbo-russia-iran-turkey-escalate-1727750 Biden Leaves Troops Stuck in Syria Limbo As Russia, Iran, Turkey Escalate