Biden Says US Will Defend Taiwan If China Invades: 'Commitment We Made'
President Joe Biden said Monday the US would help defend Taiwan from a Chinese invasion should Beijing attempt to claim the independent island nation as its own territory.
China has repeatedly claimed Taiwan as part of its own territory, though the two countries have split and governed separately since the 1949 civil war.
China has not ruled out the use of military force to achieve its ambitions with Taiwan, but the US continues to support Taiwan's autonomy by providing it with state-of-the-art weapons and military training.
Tensions in the region have been particularly high over the past year and a half, with China flying planes towards Taiwan almost every day. The largest deployment involved 56 military jets in one day on Oct. 4 last year.
Biden told reporters in Tokyo on Monday that China was flirting with the danger in Taiwan by flying near the island.
Discussing whether the US would defend the island if Beijing attacks, Biden said, "That's the commitment we made."
Biden met with Japanese Prime Minister Fumio Kishida on Monday as part of a tour with leaders of the "Quad" group, which includes leaders of Australia, Japan and India.
Meanwhile, after talks with his Pakistani counterpart Bilawal Bhutto Zardari in Guangzhou on Sunday, Chinese Foreign Minister Wang Yi said the US Indo-Pacific strategy is fueling hostility and undermining peace.
"The United States' Indo-Pacific strategy is raising major concerns around the world, especially in Asia-Pacific countries," he said, according to China's foreign ministry.
Wang said the US wants to rein in China and make Asia-Pacific countries pawns in the face of American hegemony.
"Facts will prove that the so-called Indo-Pacific strategy is essentially a strategy to create division, foment confrontation and undermine peace," Wang said.
This is an evolving story…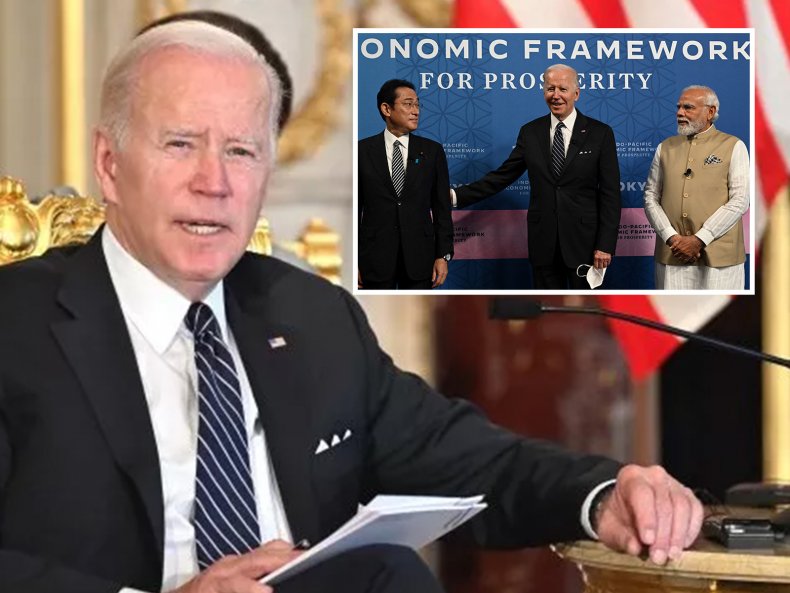 https://www.newsweek.com/joe-biden-defend-taiwan-china-invaded-commitment-made-1708982 Biden Says US Will Defend Taiwan If China Invades: 'Commitment We Made'