Biden's open border funds organized crime and cartels
NEWYou can now listen to Fox News articles!
"We've been hungry, cold, hot, but here we're chasing the American dream, a better life for our family," a migrant who wanted to enter the US illegally told CNN recently.
It's an understandable instinct. All parents want a better life for their children. Over three billion people live on less than $6.85 a day. There is no doubt that economic ruin in developing countries is driving mass migration. And America remains, no matter what people say, a beacon of hope, freedom and opportunity for the desperate.
We are the most generous country on earth, welcoming more than a million immigrants every year. But even America cannot open its doors to everyone.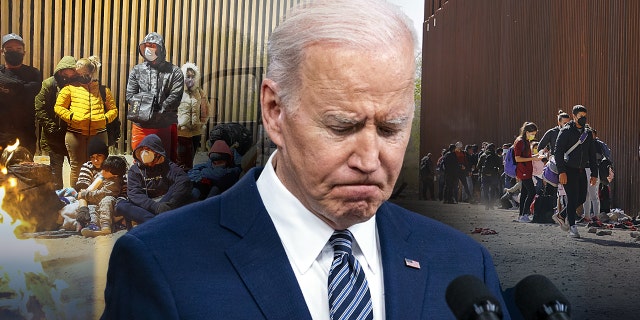 Yet for more than two years, that is exactly what the Biden administration has been signaling to the outside world with "open doors." When Joe Biden ran for president in 2020, he declared that he would welcome all people fleeing conflict and oppression. Illegal immigration at the southern border increased.
MOURNING MOTHER DEMANDS A 'SAFE' BORDER AND VOWS TO BE DAUGHTER'S 'VOICE' AFTER AN ALLEGED MS-13 MEMBER MURDERED HER
At the White House, President Biden said he would repeal Title 42. Illegal immigration continued to rise. Now Title 42 has been repealed and progressive interest groups are already suing to reverse the symbolic restrictions put in place in its place. The result: illegal immigration will continue to increase.
The greatest beneficiaries of this mass movement are not poor migrants but predatory criminal organizations. The reason for this is simple. Take, for example, the story of a Guatemalan woman who left her young daughter behind in 2014. The New York Times reported that "with a new president in the White House," the woman decided it was time to bring her daughter to the US and "agreed to pay $3,400 to a smuggler." Multiply that price by hundreds of thousands and you get a lot of money.
In short, human smuggling is one of the most lucrative criminal enterprises on the planet today, and our southern border is the coyote's equivalent of a gold mine. The cartels, which already have decades of experience smuggling drugs like cocaine, meth and fentanyl across our border, are seizing the opportunity.
CLICK HERE TO RECEIVE THE OPINION NEWSLETTER
Human smuggling made the cartels $500 million in 2018. Today, they earn $13 billion or more a year doing it. That's a nearly 3,000% increase in sales in five years – a thriving business by anyone's standards.
Who is paying the price for these criminals' profits? The migrants were beaten, mutilated and raped in the service of financial extortion by coyote traders. The countless migrant children who are sexually abused on their way to the USA. The tens of thousands of Americans who die from fentanyl every year. US law enforcement officials, many injured at or near the border. And the nations that are losing their young and healthy population day by day as the cartels gain power.
Responsible for this suffering are those who explicitly or implicitly, directly or indirectly, demand open borders. By giving people hope for something that just isn't possible—the possibility of anyone in need entering the United States—they unleash a spirit of lawlessness that organized criminals are bound to commit to their own benefit and the detriment of all benefit others.
CLICK HERE TO GET THE FOX NEWS APP
For all the talk by the Biden administration that it wants to help stabilize poorer countries so that their citizens won't want to leave, the administration's policies aim to do just the opposite. Luring people out of their homes with political promises and boosting cartel industries is making things worse in Mexico, Guatemala and beyond. And yes, it makes things worse in the US as well.
What kind of world do we want to leave our children? One with an ever larger and more desperate pool of potential immigrants? Or a situation where people don't feel the need to leave their communities to find a better life elsewhere? The latter sounds much better to me than the former. But we won't achieve it unless we secure the border and deprive drug dealers and human traffickers of their greatest source of income.
CLICK HERE TO READ MORE FROM SEN. MARCO RUBIO