Bill Barr says evidence against Trump in Jan. 6 Justice Department probe "piling up"
Former Attorney General William Barr on Friday gave his assessment of the Justice Department's investigation into former President Donald Trump and last year's US Capitol riots, noting that allegedly incriminating evidence appears to be mounting.
Barr was widely regarded as one of Trump's most loyal cabinet members, serving as the former president's attorney general from February 2019 to December 2020. But the former Justice Department chief was extremely critical of Trump's actions on Jan. 6, 2021. He has also repeatedly said Trump's claims that the 2020 election was fraudulent are "bullsh*t."
Speaking to CBS News, Barr offered his assessment of recent reported developments in the Justice Department's investigation, saying the recent grand jury subpoenas for senior Trump administration officials are "significant."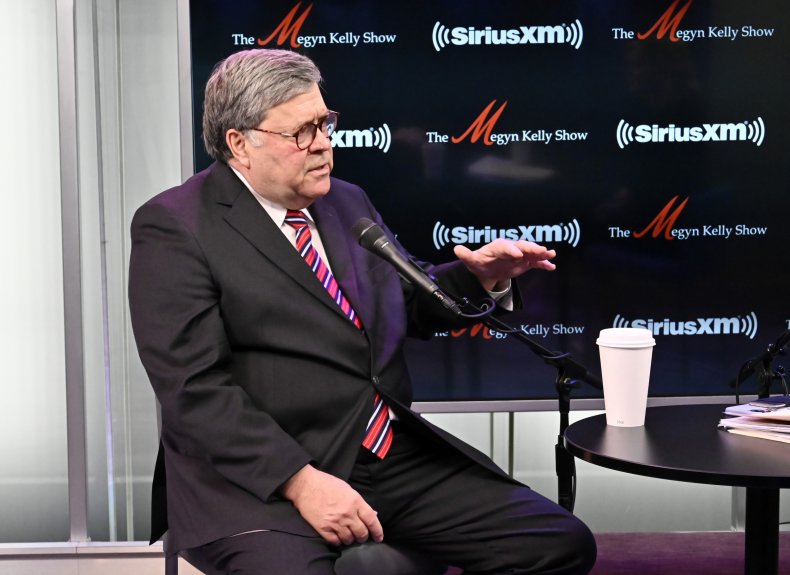 "That suggests to me that they are looking closely at the group at the top, including the president and those close to him who were involved," the legal expert said.
Barr went on to say that he believes the "evidence" against Trump has "definitely been piling up." But the former attorney general said what he has seen of the House of Representatives investigating the Jan. 6 attack in its publicly televised hearings has not yet been convinced there is enough to prove beyond a reasonable doubt that the former president committed a crime. He went on to say that the Justice Department is still investigating the Jan. 6 events.
"I'm sure they're getting deeper and deeper into this," he said, referring to the Justice Department. "Well, I think something [Attorney General] Merrick Garland is trying to say here, 'Hey, look, I'm looking into this and if we find a crime, we're going to prosecute it.'"
news week has reached out to Trump's press office for comment.
The ex-president insists he did nothing on Jan. 6 or in his efforts to overturn President Joe Biden's election victory. Trump continues to insist the election was "rigged" or "stolen" from him. He describes all investigations against him and his allies as part of a partisan "witch hunt," while routinely referring to Republicans targeting him as "RINOs," an acronym meaning "Republicans in name only."
Despite Trump's claims, no evidence has surfaced that the election was fraudulent. To the contrary, dozens of election challenge lawsuits have failed in state and federal courts. Even Trump-appointed judges have dismissed the challenges. Meanwhile, audits and recounts — including in areas where the election was monitored by pro-Trump GOP officials — have confirmed Biden's victory.
Barr and a number of other senior Republicans from the former president's administration testified before the House Inquiry Committee on Jan. 6 "believes this stuff," Barr told the committee about the often bizarre conspiracy theories surrounding voter fraud.
Whether Garland actually determines there is enough evidence to press charges against Trump remains to be seen. Such a decision would be unprecedented in United States history, as no past president has ever faced a criminal charge. At the same time, the Attorney General said that such a move is not off the table.
"No one is above the law in this country. I can't be clearer than that," Garland said in July. His remark came in response to a question about whether the Justice Department would hypothetically indict a former president.
https://www.newsweek.com/bill-barr-says-evidence-building-against-trump-dojs-jan-6-probe-1731529 Bill Barr says evidence against Trump in Jan. 6 Justice Department probe "piling up"