Bill Barr says he's "happy" Durham exposed Clinton campaign's role in Trump-Russia conspiracy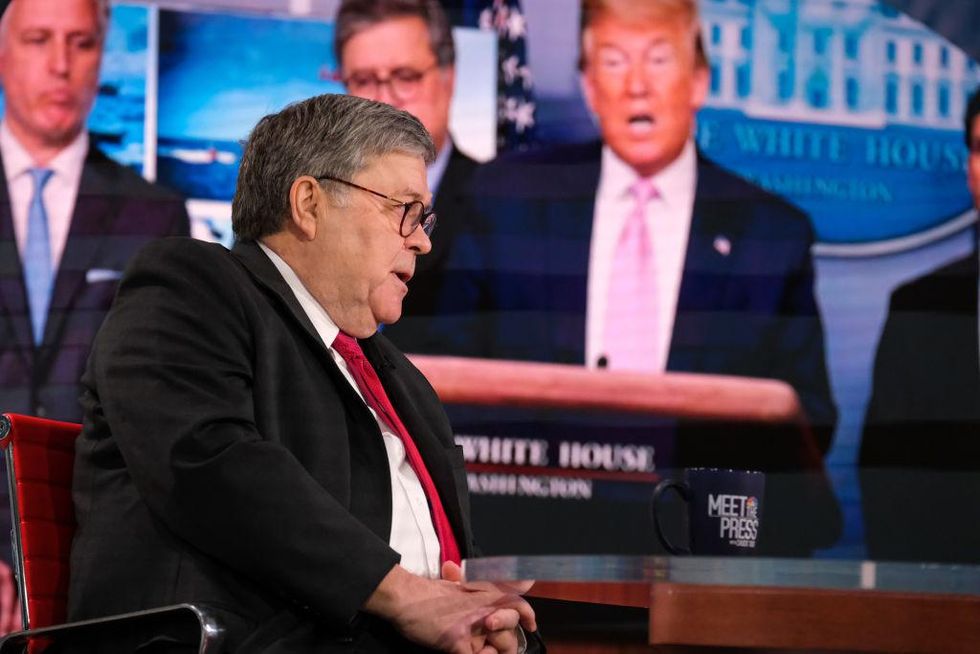 Former Attorney General William Barr said Friday he was "disappointed" that Special Counsel John Durham was unable to secure a conviction in his case against ex-Clinton attorney Michael Sussmann, but added several reasons why he was cooperating with the FBI's investigation Trump-Russia investigation has failed so far.
BlazeTV host Glenn Beck interviewed Barr on Friday and asked the two-time attorney general for his thoughts on where Durham's investigation is headed next.
Barr said there were "two distinct goals" for the Durham Inquiry. The first is to "reveal the facts" and gain some "accountability" for the FBI's handling of the Trump-Russia investigation by showing the American people how it was conducted.
"The other goal, of course, would be to punish people to the point where convictions are possible," Barr said. "The latter goal is more difficult because of how the system works. The high standard of proof. You need admissible evidence. And you know, DC juries are far from the most favorable forum for these cases. And I think everyone recognized that."
Sussmann, a former attorney for Perkins Coie, was charged with lying to the FBI in September 2016 when he presented since-debunked evidence that the Trump Organization had ties to a Russian bank. Durham prosecutors alleged that Sussmann pretended to be a concerned citizen without disclosing that he worked for Hillary Clinton's 2016 campaign. They alleged that Sussmann went to the FBI with unverified information to have the FBI investigate Donald Trump, and that the Clinton campaign subsequently used leaked information from the investigation to attack their Republican rival ahead of the presidential election.
However, a jury in Washington DC found Sussmann not guilty.
Barr said Durham knew "there would be a hard jury," but likely "he felt a duty to bring this case up."
"I am disappointed with the result. But I'm actually happy about it [Durham] blew up the case," he told Beck.
He continued, "I think it's actually made a big step forward on the truth-telling issue. He shed a lot of light and demonstrated the central role of Hillary Clinton's campaign. And also the very disturbing behavior of the FBI leadership that — that has misled its own agents about the source of this information. And that is great progress."
Barr said he looks forward to the trial of Igor Danchenko later this year. Danchenko was a source for the infamous and debunked Steele dossier, a discredited opposition research report that falsely claimed that Trump's campaign colluded with the Russian government. He predicted that Durham "will write a very insightful account of how this went down" once his investigation is complete.
He also warned that Trump supporters, who may be frustrated that no one has yet been jailed for FBI behavior, need to understand that there is a huge gap between what they think happened and what happened can be proven in court.
"One of the things that's always frustrated me about Trump's allies' frustration, and I'm drawing on that in this issue, is this idea that it should be easy to throw people in jail just because we think we know what happened." Barr said.
This case illustrates that in a way. We knew, or thought we knew, that Hillary Clinton had given the green light to this thing in July – with the idea that she would publish a story to link Trump to Putin. But the reason we knew this is because the CIA came up with a report saying they had some leads on it. And immediately – well, 'throw her in jail.'

This is not admissible evidence. And you could never base a case on that. Hard work had to be done to actually get hearsay evidence. But direct evidence that happened. And through a lot of hard work [the] persons [who] tried to bring people to justice, they could tell that story.

With direct evidence of the campaign's role. And that's the kind of hard work that it takes to actually bring a case to court. And to achieve a…conviction. But I think the public has been conditioned that just because… there is information in the ether that suggests something that should suffice. And it's not enough.
https://www.theblaze.com/news/bill-barr-sussmann-verdict-trump Bill Barr says he's "happy" Durham exposed Clinton campaign's role in Trump-Russia conspiracy