Billie Lee Explains Pump Rules Finale Fight, Addressing 'Previous Stalker'
Just this morning, September 4th, we were reporting an alleged assault while the murder was being taped Vanderpump Rules Season 11 finale. Although Tom Sandoval was involved in the altercation, he was reportedly not the intended target, but a security guard.
Now though Billie Lee announced more details about the event. Thank goodness she joined the Season 11 cast. Billie explained the events her Instagram History and Reddit Users u/denisemischaele archived her account of the events.
Some guy "knew things" about Billie
"When I walked in I was about to go to the bar to meet Tom. And this guy came running up to me and said, 'Oh my God, Billie, I know you.' He said, 'I know you, but you don't know me.' And I was like, 'Oh, okay.' And then he said, 'You're from western Indiana.' I was like, 'Oh, so he knows where I'm from.'"
She kept talking to him and making sure where she came from. "And then he's like, 'Wait, why don't you go by your last name?' And he knew my last name…I was like, "Oh, I just don't know." Whenever I'm feeling uncomfortable, I just try to get out of the situation…I'm not even going to tell you, but he knew things about me, which are not public."
She continued with her experience, "I immediately felt uncomfortable, and then I ran away from him and went to the bar." A few hours later, the same guy attacks us. We're just in a group talking and he throws glasses or flowers or whatever he says and storms off. And security is running after him. He walks past Tom and me."
He grabbed a chair and Tom stepped in
She continued, "He runs towards me and I take a step back … Security, he's chasing him." Then he grabs a glass of wine, throws it and starts picking up the chair, and that's when Tom ran like Tom behind him and grabbed the chair."
She concluded the report by saying: "Well, I don't know this guy. Apparently nobody knows him. I don't know how he came to a private event. All I knew was that he was creepy to begin with…then he went insane. It was scary."
As she narrated the events, she had two separate text boxes on the screen. In the first half, she wrote, "My last name is private because I had a previous stalker in 2016." And for the second half of the video, she wrote, "[Tom] Didn't start anything or had anything [sic] It's not just about protecting us from this guy." Still, skepticism will abound.
TELL US – DO YOU BELIEVE BILLIE'S ACCOUNT? Or do you still have a suspicion? If yes, what are they?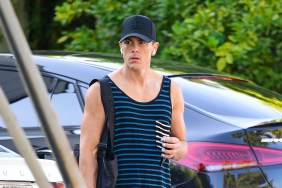 The taping went into chaos.
Does Sandoval benefit from Scandoval?
Not awkward at all.