Blind and Senior Rescue Dog Howard Named Pet of the Week: "So Proud"
We love seeing what pets are up to, and this week is no exception. From a giant dog that sniffed out a woman's breast cancer to a greedy dachshund trying to eat pizza through a box, pet antics have wowed commentators online.
This week we faced the difficult task of once again choosing ours news week pet of the week This week, it's the perfect pooch, Howard, who takes the top spot. This very special pup was abandoned in Massachusetts where he was discovered alone on a street. The blind pup weighed just 5 pounds when found.
If you think your pet has what it takes to be our pet of the week, see what to do at the end of this story.
The winner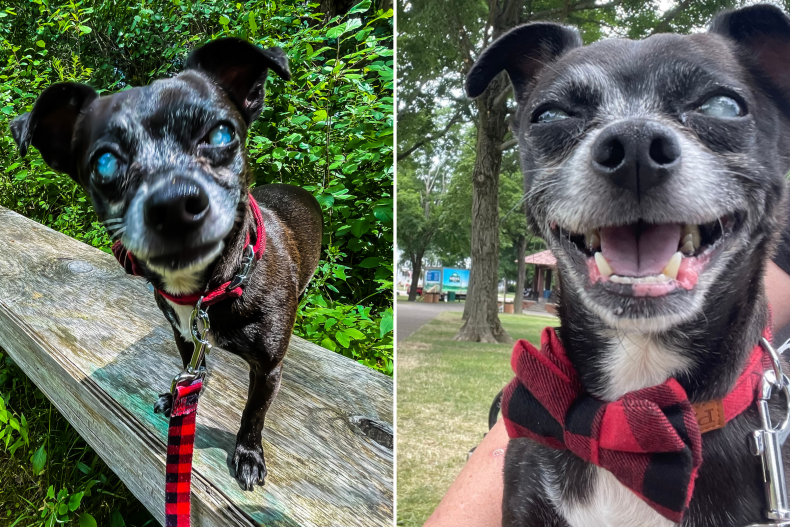 Howard has been living with his owner Kerry Carlson in Bellingham, Massachusetts for the past year. After being abandoned, he was taken to Vintage Pet Rescue in Foster, Rhode Island, which specializes in senior dogs and people with disabilities who might otherwise not be cared for and have a chance to find new homes.
"I don't even have the words for how wonderful they are," Carlson said. "I would highly recommend them to anyone."
There was very little history about Howard, but it was quickly discovered that he had vision problems. Since his rescue, he has been diagnosed with double glaucoma, which has left him blind.
"We went to Tufts Animal Hospital in Walpole, Massachusetts, to see the best eye doctor in Massachusetts, and unfortunately he wasn't a candidate for surgery," Carlson said. "It was a dark day when I heard this news. I cried all the way home. But he's so happy and navigating the world like a champ. I'm always so proud of him."
Howard's favorite pastimes are going for a walk and lying under his favorite blanket. But he doesn't really understand toys and is often startled by squeaky ones.
"I'm a hiker, so Howard travels with me a lot," Carlson said. "He loves to. Sometimes I swear he smiles."
The runners-up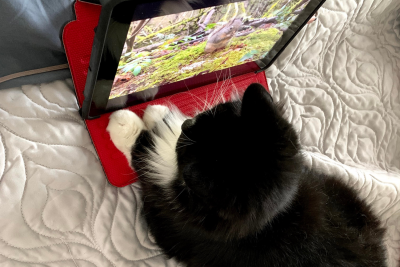 There were even more wonderful pets to choose from, so we included our three runners-up for the week. Belle the cat is our first. Belle, a 13-year-old tuxedo cat from a Florida animal rescue center, now lives in Athens, Alabama, with her owner, Sandra Hart.
In February, Belle needed surgery for an abdominal constipation. After she got home, Hart looked for ways to keep her quiet. "She started watching videos after her surgery. It kept her calm so she wasn't trying to pull her strings."
Now recovered, Belle loves watching bird videos, falling asleep to the sounds of the harp and purring cat videos.
Next in second place for this week is an adorable Schnauzer Shih Tzu mix, Marley. This whimsical 3-year-old pup lives in Hawaii with his owner, Diane Brandt, and loves life on the island.
She enjoys sleeping, walking on the beach and watching turtles. "She shows her teeth when she's tired," Brandt said. "And she loves to play with her friends Emma and Mazzy."
Last but not least, rescue dog Max melted hearts. He was adopted by owner Anne Rickey from a shelter in Tustin, California.
Rickey said: "He was handed over by his owner when they went to jail for the third time. Max was unrecognizable when he was brought to the shelter. He was neutered and got a haircut before I brought him home. As Max and I walked to my car he went to the passenger door and waited for me to open it and jumped in. He crawled in [my] lap and fell asleep on the drive home."
Max gave Rickey a new life after she was the victim of an armed burglary three years ago.
"I had nightmares and woke up screaming," she said. "Those dreams stopped when Max moved in with me. He is a great watchdog and protector."
dinner and breakfast are Max's favorite words and his favorite treat is cheese.
"We're both so lucky to have each other," Rickey said. "He really is my best friend."
Do you have funny and adorable videos or pictures of your pet that you want to share? We want to see the best, and they might even make Pet of the Week. Send them to life@newsweek.com and they may appear on our website.
https://www.newsweek.com/blind-elderly-rescue-dog-howard-wins-pet-week-1739028 Blind and Senior Rescue Dog Howard Named Pet of the Week: "So Proud"