Blizzard would like to inform you that Diablo 4's Legendary drop rate in Season 2 is not a bug
With the start of the second season, Diablo 4 has apparently turned the corner. Many of the game's long-standing problems have been fixed, but the solution to one particular problem initially caused a bit of distrust among players.
That's loot, of course. More specifically, the frequency of legendary drops.

To view this content, please enable targeting cookies.

Manage cookie settings

Ahead of Season of Blood's launch, Blizzard confirmed a long list of systemic changes, including optimizing loot delivery for players level 50 and above – an area where the game has struggled greatly in the past.
But the players apparently weren't quite ready for it yet but how The mid to late game reward now feels such that some believed it was an unintentional change that would soon be reverted. But that is not the case!
Blizzard President Mike Ybarra highlighted the frequency of legendary loot drops in Season 2 on Twitter, specifically drawing attention to the Blood Harvest seasonal event.
That's a lot of loot for Rob and his crew to farm. The loot drops in Diablo IV Season 2 = pretty crazy. Be sure to check out the new Blood Harvest zones and bring out the bosses that drop tons of loot (these are the greenish areas on the map)! pic.twitter.com/TuIMxag6zR

— Mike Ybarra (@Qwik) October 19, 2023

To view this content, please enable targeting cookies.

Manage cookie settings

Blood Harvest is an in-game event available to all players and is essentially a more accessible version of Helltide Events. Blood Harvest moves from one area of ​​the map to the next and is never turned off – another difference from Helltides.
The main reason Blood Harvest is so generous has to do with the enemy density and spawn rate within it, but also the fact that it allows players to spawn large bosses to fight frequently and these automatically have higher drop rates. Have rates of better equipment.
As Ybarra explained, Season of Blood has changed the way loot scales based on monster level, meaning you'll get better and better loot as you level up. While this helps all players, it makes a huge difference for anyone above level 50, especially in the 60-100 range.
"Every level you reach, higher [level] Equipment goes down to 100. So screens like this are much more meaningful," he added.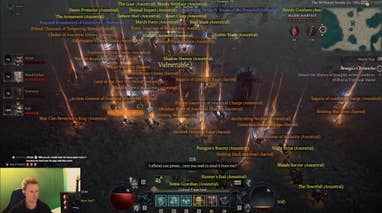 It's quite amusing that Blizzard is coming out and confirming that this is in fact not a bug. This is the same studio that, just a few months ago, quickly cracked down on unintended farming spots that players discovered were increasing their chances of landing certain drops.
Granted, exploits can't be equated with intentional changes that take multiple aspects into account, but it's good to see Blizzard moving away from the stinginess of the first season.