Blogger Vladlen Tatarski killed in explosion at Russian cafe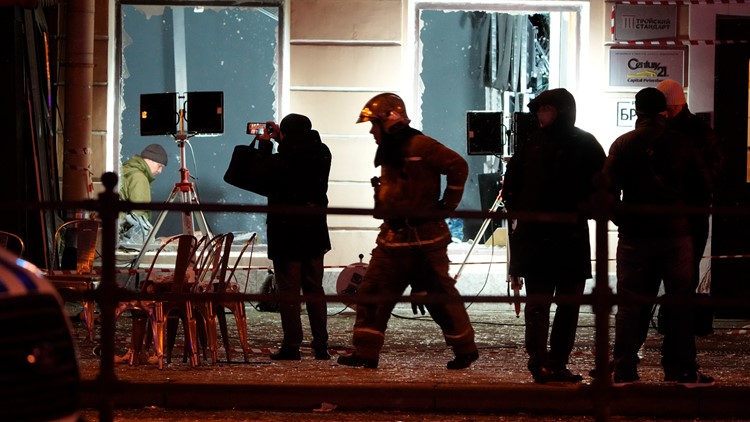 Russian media described the moments before the explosion, but details are still limited.
ST. PETERSBURG, Russia — An explosion rocked a cafe in Russia's second-largest city on Sunday, killing a prominent military blogger who had supported fighting in Ukraine and was speaking at a patriotic forum.
According to Russian news reports, blogger Vladlen Tatarsky was killed in the explosion at Cafe Street Food Bar No. 1 in St. Petersburg. According to regional governor Alexander Beglov, 25 people were injured and 19 of them were hospitalized.
Russian media and military bloggers said Tatarsky met with members of the public and a woman presented him with a box containing a statuette that appeared to have exploded. A patriotic Russian group that organized the event said it had taken safety precautions, but added that "unfortunately, they have proved insufficient".
No confession of responsibility was mentioned in the reports. The Home Office said everyone was "screened for involvement" at the time of the blast at the cafe.
Since fighting began in Ukraine on February 24, 2022, Russia has experienced various fires, explosions and apparent assassinations with no clear connection to the conflict.
Tatarsky had regularly submitted reports from Ukraine. Tatarsky is the pseudonym of Maxim Fomin, who amassed more than 560,000 followers on his messaging app channel Telegram. He was known for his stormy outbursts and passionate pro-war rhetoric.
Following the Kremlin's annexation of four regions of Ukraine last year, Tatarsky released a video vowing, "This is it. We will defeat everyone, kill everyone, rob everyone we need. Everything will be the way we like it. God is with you."
Many countries have condemned the annexation as illegal.
A senior Ukrainian government official speculated that internal Russian resistance to the Kremlin invasion was behind the blast.
"Spiders eat each other in a jar," Ukrainian Presidential Advisor Mykhailo Podolyak wrote on Twitter in English. "The question of when domestic terrorism would become an instrument of domestic political struggle was a matter of time."
Last August, Darya Dugina, a 29-year-old commentator for a Russian nationalist TV channel, died when a remote-controlled explosive device detonated in her SUV as she drove on the outskirts of Moscow. She and her father – a philosopher, writer and political theorist – strongly supported Russian President Vladimir Putin's decision to send troops to Ukraine.
Russian authorities blamed Ukraine for the attack, but Kiev denied involvement.
https://www.kvue.com/article/news/nation-world/explosion-in-russian-cafe-kills-military-blogger/507-86de4f07-1032-44e2-b3f9-b3f8a0007a56 Blogger Vladlen Tatarski killed in explosion at Russian cafe