Blue Jays pitcher Anthony Bass appears to support Target and Bud Light boycotts
Anthony Bass, reserve player for the Toronto Blue Jays Apparently endorsing the massive boycotts of Target and Bud Light over recent controversies surrounding their LGBTQ merch, he posted a video on social media calling on Christians to support the protests.
The 35-year-old bass on his Instagram Stories on Monday shared a video of a YouTuber named Ryan Miller calling on Christians to join the boycotts after the retail giant faced massive backlash this month over its follow-up Pride Month collection The Bud Light partnership with transgender influencer Dylan Mulvaney back in March.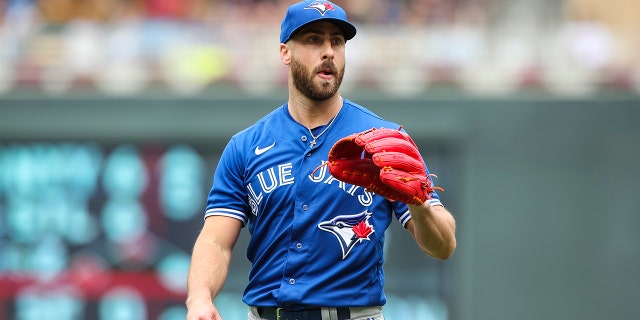 "Here's the biblical reason I believe Christen should boycott Target and Bud Light and every other company that's moving the things that they're moving forward," Miller said in the video.
DODGERS' CLAYTON KERSHAW disagreed with the organization's decision to honor the Sisters of Perpetual Indulgences
"I think a lot of people make it a political issue or say, 'Oh, what's so bad? Will it really make that much of a difference if I shop there or not?' Here's what the Bible says. She tells us in Ephesians chapter 5 what we should do as Christians."
Miller continued reading the verse and claimed that supporting these corporations resulted in "participating in the darkness they spread" and "shoving it in the children's faces."
Bass did not comment on the post.
FOR MORE SPORTS COVERAGE, CLICK HERE AT FOXNEWS.COM
The Blue Jays said in a statement to the Toronto Star that "individual player feelings are not representative of the club's beliefs."
"The Blue Jays bring together millions of fans across Canada and are committed to providing an inclusive and welcoming experience for all," the statement continued. "The Blue Jays are proud to celebrate LGBTQ2S+ Pride Month, including a special fourth annual Pride weekend on June 9th and 10th at the ballpark and solidarity demonstrations around the ballpark throughout the month."
Both Target and Bud Light have suffered significant losses as a result of their recent marketing decisions.
CLICK HERE TO GET THE FOX NEWS APP
Bass' social media post follows comments from Los Angeles Dodgers pitcher Clayton Kershaw, who said he was concerned with the organization's decision to support the Sisters of Perpetual Indulgence ahead of the team's Pride Night game on June 16 honor, disagree.
"I don't agree with making fun of other people's religions," Kershaw told the Los Angeles Times Monday. "It has nothing to do with that. I just don't think you should make fun of someone else's religion, no matter what religion you belong to. So that's something I definitely disagree with."